VietNamNet Bridge – Vietnam's preferential import tariff rates for 2015-2018 were introduced to domestic firms during a workshop in Hanoi on July 15 as the country realises its commitments under the ASEAN Trade in Goods Agreement (ATIGA).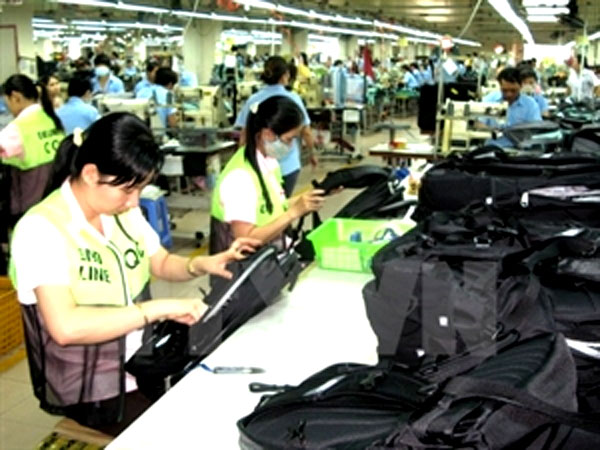 Workers make backpacks at a factory (Photo: VNA)
As of late 2014, Vietnam had cut approximately 6,860 tariff lines, or 72 percent of the total exports and imports, to zero.
On January 1, 2015, the country further cut 1,720 tariff lines, around 18 percent of the total, to zero. Another 687 lines will be eliminated by 2018, predominantly automobiles and motorbikes.
The ten ASEAN member countries generate a manufacturing and market base with over 600 million consumers and a gross domestic product worth more than 1.3 trillion USD.
The region is seen as the world's most vibrant economy and one of Vietnam's top four trade partners, Cao Sy Kiem, Chairman of the Vietnam Small- and Medium-Sized Enterprises Association told the event.
Tran Quoc Khanh, Deputy Minister of Industry and Trade and chief government negotiator for global economic and trade affairs, said the ASEAN is the second largest goods supplier behind China and the third largest export market of Vietnam, trailing the US and EU.
Vietnam has achieved the top performance in the roadmap for a single ASEAN Economic Community (AEC), reflecting its serious efforts to deliver on regional commitments, he added.
Delving deeper into challenges once Vietnam commences deep tariff cuts in line with several free trade agreements, Deputy Head of the Finance Ministry's International Cooperation Department Ha Duy Tung admitted that limited financial, technology and corporate governance prowess has translated into weak business competitiveness.
For his part, Vice Director of the Central Institute for Economic Management (CIEM) Vo Tri Thanh called for FTA commitments and implementation to be aligned with Vietnam's economic restructuring and shifts to new growth models.
VNA