Vietnam's producers meet difficulties as yuan weakens.

In an effort to encourage exports in the context of the trade war, the Chinese central bank PBOC has set the yuan/US dollar reference exchange rate at 6.8365 yuan per US dollar, the lowest level since January 2019.
The weakened Chinese yuan has raised big concerns for Vietnam, because China is one of the biggest export markets of the country. This will make Vietnamese exports to China more expensive.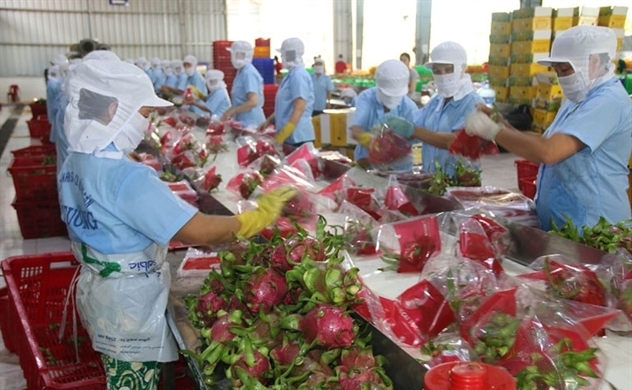 Seafood, fruits, farm produce and rubber, the biggest export items, are expected to suffer the most.
According to the Ministry of Agriculture and Rural Development (MARD), Vietnam exported $1.4 billion worth of vegetables and fruits in the first four months of the year, an increase of 7.2 percent over the same period last year.
China is now the biggest consumer of Vietnam's vegetables and fruits, amounting to 72 percent of Vietnam's export value.
China is now the biggest consumer of Vietnam's vegetables and fruits, amounting to 72 percent of Vietnam's export value.
Bui Thanh Van, director of Van Phat Trade and Service Co, confirmed that he is meeting difficulties when exporting to China.
"The weaker yuan has had a big impact on our business," he said.
"The export price remains unchanged, while we have to pay higher production cost. And now, one more problem has arisen: the Chinese yuan is depreciating," he complained, adding that he has to look for new markets.
As the yuan is depreciating, Chinese merchants who come to Vietnam to collect materials to carry to China now offer lower prices for Vietnam's farm produce.
The General Statistics Office (GSO) reported that Vietnam's export turnover to China was $10.4 billion, a decrease of 5.8 percent compared with the same period last year. Seafood, mobile phones and phone accessories saw the sharpest decreases.
Explaining this, a representative of the Vietnam Association of Seafood Exporters and Producers (VASEP) said Chinese importers tend to choose cheap Indian shrimp imports, which has lowered Vietnam's shrimp exports since the beginning of the year.
Meanwhile, China is accelerating catfish farming in order to reduce catfish imports from Vietnam. It remains one of the four biggest markets for Vietnam's seafood products, which have annual import turnover of $1 billion or more.
According to the Ministry of Industry and Trade (MOIT), Vietnam is one of beneficiaries from the US-China trade war as exports to the US are on the rise. However, exports to China are on the decrease.
Experts warned that the devaluation of the Chinese yuan will put pressure on the dong and the state Bank of Vietnam may have to devalue the dong to protect the competitiveness of Vietnam's exports.
RELATED NEWS
Economists: exchange rate increases not a concern for Vietnam
Business continue to worry about exchange rate fluctuations
Mai Lan