Vietnam's ready to assume seat on UN Security Council

Dang Dinh Quy, head of Vietnam's Permanent Mission to the UN, talks about the preparations and challenges the country is facing during its two-year seat on the UN Security Council starting January 1.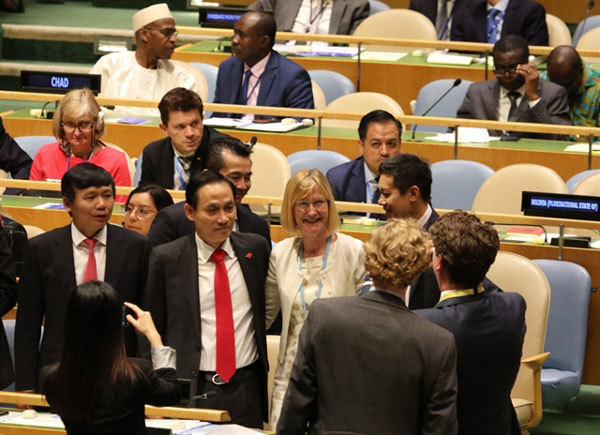 United Nations delegates congratulate Vietnam's Mission to the UN after the country was elected with 192/193 of the votes as a non-permanent member of the UN Security Council on June 7. — VNA/VNS Photo

What can you tell us about Vietnam's preparations for becoming a non-permanent member of the UN Security Council in January when it assumes the rotating presidency?
After Vietnam was elected to the council by a landslide vote, the necessary preparations were put in place and human resources-related matters have been essentially finalised.
More staff have been added to the mission and restructuring has been implemented to successfully switch to our previous area of focus at the UN General Assembly to the UN Security Council.
In addition, we have trialling coordination between Vietnam's UN mission in New York and various State agencies in Hanoi for over a month now.
Starting last October, countries that were elected into UN Security Council have been participating in all the meetings held by the council. This is a great opportunity for Vietnam's UN Mission to "practise", with activities carried out and protocols followed exactly as they would be once we officially assume a seat on the council, which has helped us identify shortcomings and failures that must be corrected.
Training for human resources and operation-related matters are all going rather well.
Regarding the agenda, Vietnam has basically settled on a consensus on the working agenda for January 2020, including both regular activities as per protocol and other activities that Vietnam must do to make its own impression.
Overall, we are ready to take on the position.
What could be challenges for a non-permanent member in the UN Security Council?
A myriad of challenges await, but first of all we will have to deal with unexpected developments and situations. Next month, we anticipate that many issues could grow into clashes the UN Security Council must deal with.
In the face of unpredictable turns of events, co-operation among member countries in the UN Security Council – even between non-permanent members – could change, and we cannot rule out the scenario of countries having conflicting interests.
In these situations, the role of the president becomes increasingly important. Vietnam will need to balance the need to ensure world security and peace and the necessity to uphold our own legitimate interests, while at the same time maintaining an amicable relation with all parties.
I think this is the biggest challenge we will face.
What do you consider Vietnam's strengths are as it takes its position on the UN Security Council?
The strength we have is experience and international support.
We have staff and delegates that already had valuable experience since Vietnam's non-permanent membership on the council for the 2008-09 term, which will prove extremely useful for our upcoming tenure.
Vietnam enjoys friendly relations with the council's five permanent members – China, France, Russia, the UK and the US – as well as the remaining nine non-permanent members.
I think all countries still have a common interest to uphold international security and peace, which promotes the spirit of cooperation.
Of course, there will be differences stemming from conflicting interests and the key will be to at least harness these differences. In this area, Vietnam certainly has an abundance of experience, but of course there is no telling how things could turn out.
What can we expect to gain from membership of the council?
The non-permanent seat for the next two years and our presidency of the council in January 2020 and April 2021 will be a significant boost for Vietnam's profile and credibility.
We must strive to make concrete achievements that bear the markings of our country over the course of the next two years as we contribute to the consolidation of global peace. It's important that our achievements are recognised by other countries. — VNS

  United Nations Under-Secretary-General for Peace Operations Jean-Pierre Lacroix has lauded Việt Nam's contributions to the UN, especially via peacekeeping missions.  

The Ministry of Defence on November 19 held a ceremony to send 29 staff of Vietnam's Level-2 Field Hospital No. 2 to South Sudan to join UN peacekeeping mission.