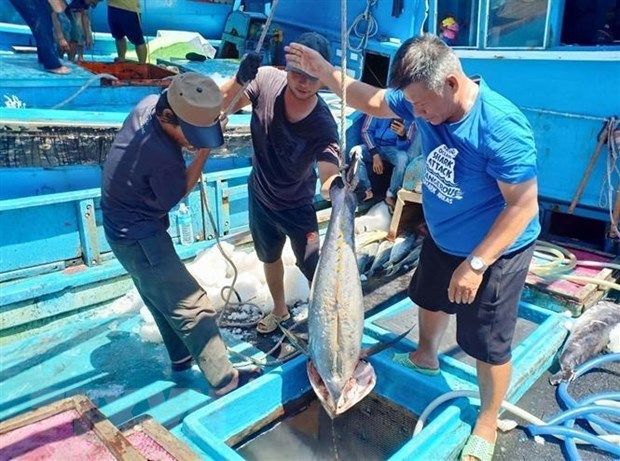 Illustrative image
Chinese authorities have also warned that several batches of frozen Vietnamese shrimp were infected with white dot disease and failed to meet food safety criteria.
Since mid-November, competent agencies at China's border gates have sprayed disinfectant and traced the origin of all frozen aquatic products at most major ports in Shanghai, Wuhan, Tianjin, Qiangdao, and elsewhere.
All products must be tested for COVID-19 soon after berth.
VASEP General Secretary Truong Dinh Hoe said that despite the growing demand in China, many batches of seafood remain stuck at ports due to the rigorous inspections and prolonged customs clearance.
The Ministry of Agriculture and Rural Development has asked seafood exporters to seriously follow the Government and Health Ministry's COVID-19 prevention and control measures and the UN Food and Agriculture Organisation (FAO) and World Health Organisation (WHO)'s guidelines, as well as provide the necessary paperwork to Chinese authorities when requested.
Deputy head of the National Agro-Forestry-Fisheries Quality Assurance Department (Nafiquad) Ngo Hong Phong said his department is actively working with Chinese import control agencies on certifications related to COVID-19 prevention and control.
According to VASEP, China imported aquatic products from Vietnam worth 1.3 billion USD in the first 11 months of this year, up 3.4 percent year-on-year. The annual figure is estimated at 1.48 billion USD, up nearly 5 percent. Following a steep decline due to the pandemic, exports to China rebounded strongly in September, posting a 27 percent growth, followed by 16 percent in October and 19 percent in November.
Many exporters are concerned, however, about maintaining export growth to China given the close import controls./.VNA

Minister of Agriculture and Rural Development Nguyen Xuan Cuong has offered a variety of high-quality farm produce to China. He hopes Vietnam can boost exports through official ways to China in the time to come.