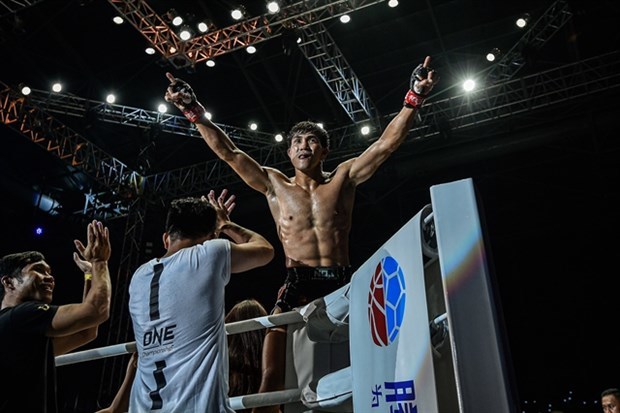 Vietnam's top Muay Thai fighter, Nguyen Tran Duy Nhat will compete in the ONE: Edge of Greatness in Singapore (Photo: techrum.vn)
Vietnam's top Muay Thai fighter Nguyen TranDuy Nhat will compete against Japanese rival Yuta Watanabe in the ONE:Edge of Greatness event to be held at Singapore Indoor Stadium on November 22.
Nhat isan undefeated Muay Thai fighter of Vietnam, triumphing at all nationalchampionships as well as many international tournaments, particularly thevictory over Muay Thai star, Victor Pinto, in Thai Fight championship in 2015.
Thisyear, Nhat also made headlines when he won the World Lethwei Championship forthe second time.
Earlier,Nhat knocked out Malaysian fighter Azwan Che Wi at the Asian biggest martialarts event ONE: Immortal Triumph held in Ho Chi Minh City on September 6.
Watanabeis the champion of many events including MAJKF, J-Network, WPMF SuperBantamweight Championships, and WMC Muay Thai Open. He has had 19 wins, ninelosses and three draws in the professional Muay Thai.
Theupcoming match will be a chance for the Vietnamese star to hone his skills andgain experience for the SEA Games in the Philippines later this year.
Besidesthe match between Nhat and Watanabe, the event will see legend Nong-OGaiyanghadao of Thailand competing against his teammate Saemapetch Fairtex;Singapore's Amir Khan vs Malaysian martial arts star Ev Ting; Tiffany Teoof Singapore vs Maira Mazar of Brazil./. VNA