Vietnam's tourism sector meets 2019 targets

Vietnam's tourism sector has achieved major breakthroughs in 2019, heard the year-end conference of Vietnam National Administration of Tourism (VNAT).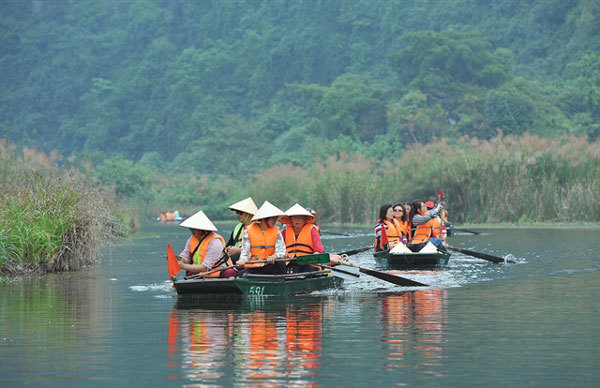 Tourists visit Trang An ecotourism site that is located in the northern province of Ninh Binh. Vietnam's tourism has witnessed an increase in the number of both international and domestic tourists in recent year. VNA/VNS Photo Minh Duc
According to a report by Deputy Director General of VNAT, Nguyen Thi Thanh Huong, all targets for the number of international and domestic tourists as well as revenue gained from tourism have been met.
The country was estimated to welcome 18 million international tourists, up more than 16 per cent from 2018. The number of domestic travellers also rose by 6 per cent to 85 million. The tourism sector earned more than VND720 trillion (nearly US$16.7 billion), up 16 per cent on a yearly basis.
The average growth of tourist figures in the three years from 2016 was 22 per cent a year, putting Vietnam among the 10 countries with highest tourism growth in the world.
Besides, Vietnam received many prestigious global tourism awards, including Asia's Leading Destination for the second year in a row, Asia's Leading Cultural Destination, Asia's Leading Culinary Destination and Asia's Leading Cultural City Destination (Hoi An) at the 26th World Travel Awards.
Furthermore, Vietnam's position has progressed in Travel & Tourism Competitiveness Index 2019 released by the World Economic Forum, ranking 63rd among 140 countries and territories worldwide.
The VNAT also said many international events have been held in Vietnam in the past year, promoting the tourism sector, like the ASEAN Tourism Forum 2019, the 2019 North Korea–US Hanoi Summit and the 16th United Nations Day of Vesak.
In terms of marketing and tourism promotion, the sector has intensified the use of e-marketing to promote the country's tourism on the website vietnam.travel and social networks, including Facebook, Instagram, Pinterest and YouTube, in addition to running the #VietnamNOW campaign to tell inspiring stories of Vietnamese tourism.
According to VNAT, followers on the Facebook and Instagram of vietnam.travel increased 600 per cent from same last year. The interaction rate on Instagram reached 5.61 per cent, three times higher than similar pages for Hong Kong, Singapore and Thailand.
The conference also discussed plans for 2020 together with proposals to improve the sector.
Speaking at the conference, deputy minister of Culture, Sports and Tourism Le Quang Tung had high praise for the achievements of Vietnam's tourism sector in 2019, though he suggested VNAT improve its state administration and public services work.
Culture, Sports and Tourism Minister Nguyen Ngoc Thien also congratulated the sector for its work in the past year with impressive increasing figures and major tourism awards; however, he proposed the results be improved with a more innovative mindset and drastic solutions.
Thien requested that in 2020, Vietnam's tourism sector aim to welcome 20.5 million international tourists.
Next year, the country will host a number of major events that are expected to draw tourists, including the Formula 1 Vietnam Grand Prix. VNS

In 2018, the government approved to establish a public tourism development fund with an initial annual budget of US$4.3 million.
A tourism promotion event was held in Hanoi on November 12 with the participation of 30 travel agencies from ten European countries.