Vietnam's tourism suffers from coronavirus

At some travel firms, a new reception counter has been set up to receive clients who are cancelling tours and want a money refund.
Thu Giang in Dong Da district in Hanoi booked a tour to Nha Trang City for her family members, worth VND50 million. However, she canceled the tour at the last minute because of the fear of the coronavirus.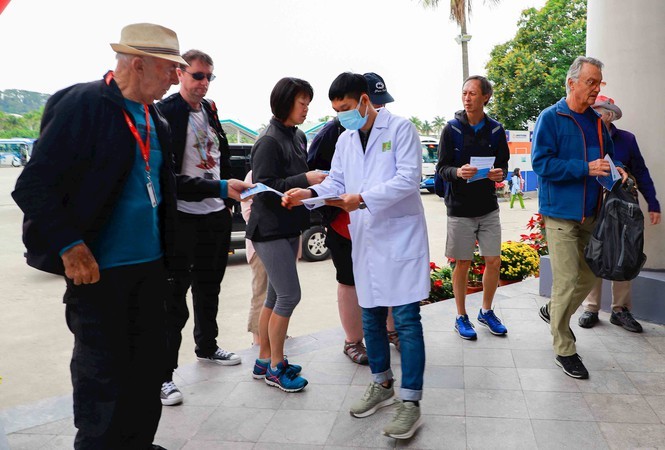 On pre-Tet days, many travel firms had to cancel all the tours to China. Since January 28, or the fourth day of the Lunar New Year, Chinese travel firms have been canceling tours to Vietnam.

At present, nearly all provinces/cities have stopped receiving Chinese travelers in an effort to control the epidemic. 

At some travel firms, a new reception counter has been set up to receive clients who are cancelling tours and want a money refund.
Quang Ninh, Da Nang and Khanh Hoa, known as the major destinations for Chinese travelers, have become deserted.

A senior executive of HanoiRedtours said the travel firm has canceled five tours to China, about 30-35 travelers for each. LienBang Travel has canceled 10 tours with the scheduled departure time in February and Chinese partners have done the same.

Saigontourist decided not to organize tours to China for 500 travelers on Tet days. Vietravel also said it canceled tours to Vietnam for 60 groups of Chinese travelers (about 1,000 travelers). There will be no tour from China to Vietnam until the end of March.

Du Lich Viet also reported that it has canceled the tours to China for 200 groups travelers this season. Meanwhile, a representative of Vietrantour said the company incurred the loss of VND5.6 billion as it has to cancel 20 tours.

The days from Tet holiday to summer are the high season of receiving Chinese travelers. China brings the highest proportion of foreign travelers to Vietnam. Five million Chinese travelers came to Vietnam in 2019 out of total 18.5 million foreign travelers, according to director of Lua Viet Travel Nguyen Van My.

Nguyen Van Tuan, general director of the Vietnam National Tourism Administration (VNAT), said Chinese and South Korean travelers account for nearly 56 percent of foreign travelers to Vietnam.

On January 30, Vietrantour stated that it will refund 100 percent of money and exempt the tour cancelation fee applied for the tours to China.

Pham Trung Luong, former deputy head of the Tourism Development Research Institute, said it is the right time for Vietnam's travel firms to focus on attracting Chinese high-end travelers and exploit the West European and North American markets.
Travel agencies discuss easing impact of coronavirus outbreak
A teleconference was held in Hanoi on February 5 to discuss measures mitigating the impact of coronavirus outbreak on Vietnam's tourism.
Speaking at the event, Vice Chairman of the Vietnam Tourism Association (VTA) and Chairman of the Vietnam Society of Travel Agents (VISTA) Vu The Binh affirmed that domestic travel agencies are determined to partner with the State in the fight against the epidemic.
VISTA Vice Chairman Phung Quang Thang said economic losses caused by the outbreak have amounted to tens of trillion VND.
Participants asked the VTA to seek the State support in overcoming current difficulties.
In the near future, the two organisations will boost domestic tourism, especially in areas outside the epidemic zone.
Training establishments and travel agencies will hold seminars on the 4.0 technology in tourism, its development trend and experiences on building community-based ecological tourism products.
Binh pledged to collect feedbacks at the event to submit to the government and authorities to seek support.
Thanh Lich

The HCM City Children's Hospital No 1 has not admitted any patient with the coronavirus infection yet, the head of its infectious and neurological diseases department has said.

The number of tourists paying a visit to Ho Chi Minh City during the Lunar New Year (Tet) has suffered a decline of approximately 12 per cent as a result of the ongoing novel coronavirus (nCoV) situation.