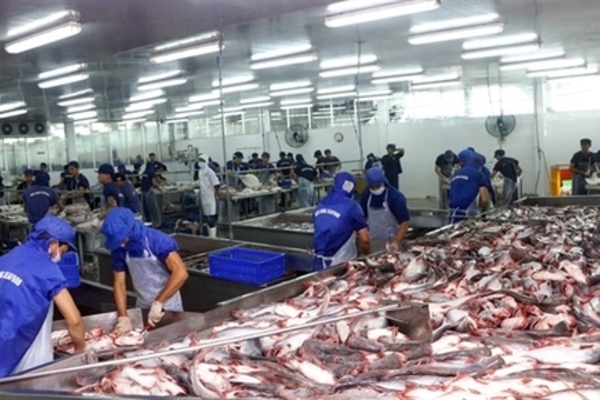 Tra fish is processed for export at Bien Dong Seafood Co Ltd in Tra Noc II Industrial Zone in the southern city of Can Tho.
In July, tra fish export value decreased by 12.7 per cent month-on-month and this was the 5th consecutive month seeing prices falling. In the first seven months of this year, total export value of tra fish dropped by 5.5 per cent to US$1.13 billion.
In 2018, the US made up more than 24 per cent of Viet Nam's tra fish export market, becoming the country's largest tra fish consumer with import value soaring 54.5 per cent year-on-year. China was second with a growth rate in imports of 29 per cent, accounting for 23.7 per cent of Viet Nam's tra fish market.
This year, the Viet Nam Association of Seafood Exporters and Producers (VASEP) forecast that the US imposition of tariffs on Chinese tilapia would create opportunities for Vietnamese tra fish.
However, orders from the US plummeted. In July alone, tra fish exports to the US fell to $167.6 million, sending US to second position after China, with $168 million.
The Dong Thap Province-based tra fish processor Vinh Hoan Company (VHC) saw both revenue and profit in the second quarter slumping, down 9.6 per cent and 7 per cent, respectively.
In July, VHC recorded a 23 per cent decrease in tra fish export value over the same period last year, to $28 million. In seven months, VHC's exports dropped by 4.6 per cent to $186 million. The US, VHC's main export market, saw tra fish value purchased from the company drop by 34 per cent in seven months.
Falling exports caused VHC shares to fall. After reaching a peak of VND107,700 ($4.6) per share at the end of 2018, VHC dropped sharply to hover around VND80,000 per share in late August this year.
Cuu Long Fish Joint Stock Company (ACL) recorded revenue falling 4 per cent in the second quarter, reaching VND373 billion. After-tax profit rose by 18 per cent to VND59 billion. Six-month revenue and profit still gained 13 per cent and 50 per cent to touch VND817 billion and VND113 billion, respectively.
ACL touched its all-time peak of VND46,000 per share in mid-April, but then declined by 24 per cent to VND35,000 per share on Monday.
Another tra fish exporter – I.D.I International Development & Investment Corporation – also witnessed a sharp decline in profits. Although 6-month revenue increased by 31 per cent to VND3.7 trillion, after-tax profit slumped by 29 per cent to VND226 billion.
On the stock market, IDI has lost 40 per cent in the past year and is currently trading at VND6,180 per share.
Hung Vuong Corporation (HVG), one of the biggest seafood processors in Viet Nam, and its affiliate Agifish (AGF) also faced difficulties when the US Department of Commerce announced its final decision of the DOC's 14th Period of Review on anti-dumping tariffs on Viet Nam's tra fish batches imported into the country.
Under the decision, the official tariff on HVG's products is $3.87 per kg, compared to the preliminary level of zero US dollar per kg.
In the third quarter of fiscal year 2019 (April 1-June 30), HVG suffered a big loss of VND129 billion, while revenue fell 64 per cent to VND527 billion.
In the first nine months of the fiscal year 2019 (October 1, 2018 to June 30, 2019), HVG lost nearly VND257 billion.
Its affiliate company, Agifish (AGF), also saw 9-month revenue drop 41 per cent to VND639 billion, thereby suffering a loss of VND118 billion.
In mid-April 2019, HVG hit its one-year peak of VND8,500 per share, but then fell.
Also in mid-April, AGF hit a one-year peak of VND6,900 per share. — VNS

Catfish exports have been unsatisfactory recently. Sales to China and the US have been decreasing since the beginning of the year.

VASEP Secretary General Truong Dinh Hoe says that catfish exports to the EU bounced back in the first months of the year thanks to efforts by processors to improve the quality of products and settle media problems.