China and the US are still the two main import/export markets of Vietnam's textile and apparel industry, so the impacts from the trade war between these two countries continue to have significant effects, particularly on the yarn industry, according to Viet Dragon Securities Company (VDSC). 
Currently, the yarn industry is facing many difficulties because its output mainly depends on China, which accounts for 57% of yarn export value of fiber, while this country is cutting its import of yarn materials.
The main reason is that the US, its largest customer, reduces the demand for fabrics import from China, which are subject to 25% supplement tax rate from the US. 
Thereby, the textile industry fall into a defensive position, suppliers are more cautious in purchasing raw materials, reducing mass production in order to reduce the inventories. In the first nine months, Vietnam's yarn export turnover only rose slightly by 3% year-on-year compared to the growth rate of 14% in the same period last year. Besides, the growth rate tended to slow down.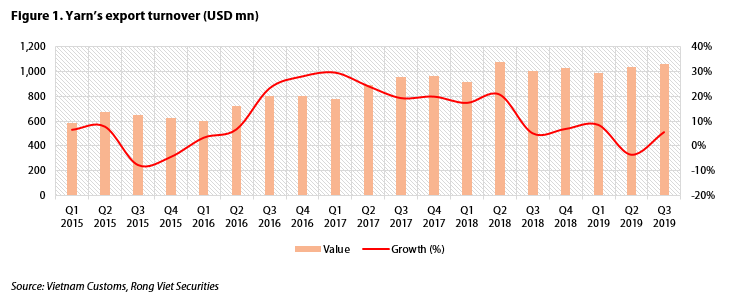 Yarn manufacturers often use two types of contracts such as futures contracts and spot contracts in order to buy raw cotton materials.
The decline in raw cotton price will lead to a drop in the price of output yarn, firms that have purchased large reserves of cotton raw materials under futures contracts at high prices, will face many difficulties when selling products at current low prices under high cost inventories. Their profits could be eroded.
Until now, the average imported price of cotton has reduced by 5% year-to-date, while the yarn selling price has dropped by 8% compared to the beginning of the year.
Although firms are trying to diversify their export markets, with a shift to Thailand, Brazil, Japan, among others, the export value from these markets is still quite small compared to that from China.
​
Therefore in the short run, yarn manufacturing enterprises, especially cotton ones, in Vietnam will continue to face difficulties.
However, it is expected that when the market recovers and China's yarn inventories have been released, fabric manufacturers will continue to place orders to maintain production and business activities.
At that time, the advantage will be largely reserved for firms that having a large production scale and producing high quality products with limited supply in the market. Hanoitimes
Hai Yen

The possibility of Vietnam's textile industry hitting its target of $40 billion in exports this year is getting slimmer.

Concerns about the US-China trade talks have lifted for now, and investors are turning their attention to third quarter earnings reports and how listed companies will perform in the last three months of the year.  

The US-China trade war is giving opportunities to Vietnam to diversify material supply sources, increase imports from the US to reduce the trade surplus with the country, and reduce the trade deficit with China.