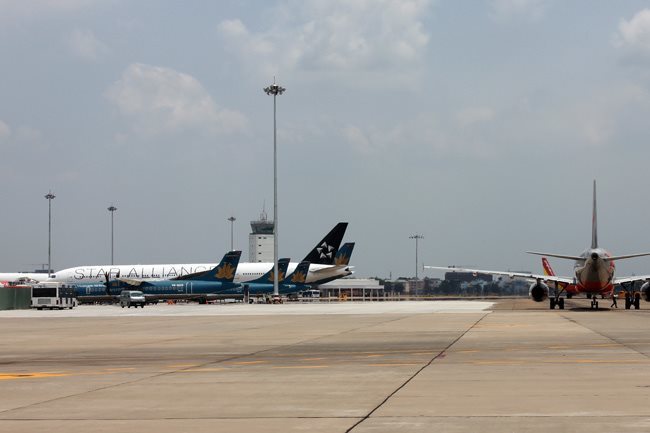 Aircraft are parked at Tan Son Nhat International Airport in HCMC. Vietravel Airlines has named Italian pilot Livio Arizzi as deputy general director 
Arizzi, with over 20,000 flying hours under his belt, will be in charge of the department of international relations at Vietravel Airlines, the local media reported.
Earlier, Vietravel Airlines appointed several senior executives to various positions.
The firm expects to employ foreign pilots in the initial period rather than wooing pilots from other domestic carriers, reducing pressure on Vietnam's human resources.
Arizzi noted that he would be responsible for seeking and buying aircraft and for employing eligible foreign pilots for the airline's upcoming operations.
Vu Duc Bien, general director of Vietravel Airlines, confirmed that the airline's application for an air transport business license was on schedule. The application for the license was sent to the relevant ministries and departments and to the prime minister for approval.
The firm plans to launch its maiden flight in November next year.
Vietravel Airlines will be developed as an airline associated with the tourism industry, mainly operating chartered flights, Bien said.
Vietnam currently has a number of operational airlines such as Vietnam Airlines, Vietjet, Jetstar Pacific, Bamboo Airways and Vasco, so there is great potential for the growth of the sector, Bien stressed, adding that Thailand and other countries in the region have 10 to 20 airlines each.
Vietnam's current carriers are constantly expanding their flight networks and purchasing more aircraft.
Vietnam Airlines has launched its latest services on the Bangkok-Danang and Phuket-HCMC routes.
Meanwhile, Vietjet and aircraft manufacturer Airbus have signed a contract for 20 brand new A321XLR aircraft, making Vietjet one of the first carriers in the world to operate Airbus' newest long-range jetliner when the first of the aircraft arrive in 2023.
A report released at the Boeing Airline Planning Workshop Vietnam 2019 by Boeing Company highlighted that Asia is the world's largest aviation market, with strong growth projected in Southeast Asia and South Asia.
In the Southeast Asian region, Vietnam took the lead in the 2014-2018 period, with average growth of 20.5% in passenger volume and 13.2% in cargo volume.
Some 120 million passengers and 2.5 million tons of cargo are expected to pass through the country's airports by 2020. SGT

With more airlines joining the market and airlines' fleets expanding, there are concerns that there will not be enough flight supervisors.

Vietnam Airlines said that it is fully complying with current regulations on listing airfares which include information about air ticket prices, taxes, fees and charges.