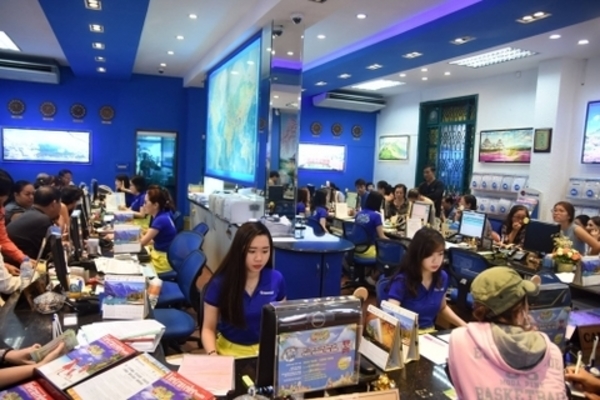 Customers come to Vietravel agency to choose tour package. As of March 31, 2019, Vietravel's total assets and equity were nearly VNÐ1.37 trillion and VNÐ235 billion, respectively. — Photo thoibaonganhang.vn
The Vietnam Travel and Marketing Transport Joint-stock Company (Vietravel) offered non-convertible bonds, not accompanied by warrants, guaranteed by assets.
The form of ownership is book entry, fixed interest rate was 9.25 per cent per year for the first 15 months, then up to 11 per cent per year.
The investors that purchased were all domestic organisations, through VPS Securities as an agent.
On February 19, Vietravel Airlines was granted a business registration certificate with an initial registered charter capital of VND300 billion, 100 per cent owned by Vietravel. After that, the charter capital of Vietravel Airlines was increased to VND700 billion. The company recently submitted an application for an aviation investment licence and expects to fly in the next 18 months.
As of March 31, 2019, Vietravel's total assets and equity were nearly VND1.37 trillion and VND235 billion, respectively. Most of the company's assets are prepaid expenses related to tour operators and customer receivables.
Vietravel shares will start trading on Unlisted Public Company Market (UPCoM) on September 27. At the listing price of VND40,000 per share, Vietravel is valued at more than VND500 billion. — VNS

Vietravel Airlines, an airline just established by local tour operator Vietravel, plans to launch its maiden flight in October next year.