Villager dedicates his life to the forest

Dao ethnic minority man Trieu Tai Cao has devoted his life to nurturing more than 30ha of precious ironwood trees by arterial road 279 which connects northern mountainous provinces.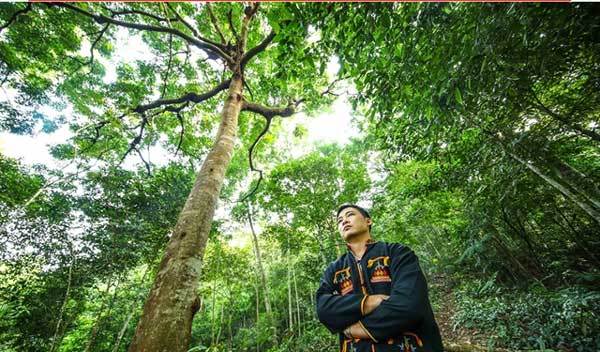 Loc stands in the forest his father spent his life to plant. — Photo tuoitre.vn
"If he sold some ironwood plants and he would have earn hundreds of millions dong to build a bigger house, but Cao simply refuses to do so," Trinh Van Thuy, an official of Tan Dan Commune, Hoanh Bo District, Quang Ninh Province told Tuổi trẻ (Youth) newspaper.
"He said the forest was invaluable property and the legacy was bequeathed for his children. Money comes and goes yet by protecting the forest, we can get valuable heritage," Thuy added.
Hiding under the foliage is the 79-year-old's tiny house, in which he has dedicated an entire room to storing photos and documents of trips to the forest.
Old age and poor health now keep him in bed all day, yet his mind is in the forest.
"This shabby house could easily be fixed with money from selling ironwood plants yet doing that would be contrary to my father's wishes," said Cao's son Trieu Tien Loc, head of Bang Anh Village.
"He wants us to conserve the forest, plant more trees and never exploit it."
Loc understands his father's great effort to protect the woods.
In the 1960s, Cao was handed a large area of forest. Back then, he was among few people who refused huge profits from selling wood and planted more trees.
He picked up and incubated ironwood seeds and roamed in other forests to find small trees.
"As others kept chopping down trees, my father kept planting. Some villagers even started a rumour that he had went crazy," said Loc.
Their doubts could not stop Cao from pursuing his dream of saving the forest.
Despite not having studied forestry, he gained essential experience by trial and error to learn how to grow precious ironwood plants.
"Before 1992, when we had not been granted a land use certificate, loggers trespassed in the forest and cut down many trees my father had planted," Loc said.
After 1992, when land use certificates were provided for villagers, they replaced perennial trees with short-rotation crops which would be used to produce biomass after eight years or so, Loc said.
"Against all odds, my father encouraged us to develop the forest and never dare to cut it down."
He recalled his father saying: "Forests are home of not only humans but other animals".
"Even when being threatened by loggers, he was still persistent to protect the 32ha area of ironwood," Loc said.
Legacy
Loc remembered old days spent in the woods, carving words on trees.
Their childish actions angered Cao and even a week later, he was morose, Loc recalled.
"A tree is like a human. Does it hurt when you are bleeding? That was what my father told us afterwards," he said.
In 2012, Cao divided the forest into five parts for his five sons. Loc, as the youngest child, inherited 9ha with more than 200 ironwood plants.
"Some trees have trunk diametre up to 90cm. Recently, there were dealers asking to buy them at VND50 million (US$2,160) each but I turned them down. They left their phone numbers, promising to come back whenever I changed my mind. But how could I? This is my father's legacy," said Loc.
"We are financially stable now. In the forest, we plant other herbal trees and bamboo. The money we earn is enough for us to sustain our lives," he said.
Linh Du Hong, head of Tan Dan Commune People's Committee, expressed his gratitude to Cao's families.
Thanks to his work, Bang Anh Village established its own forest protection team.
"Cao, Loc and other villagers who pour their hearts and souls to nurture forest help us to conserve and promote a large forestry area of more than 6,000ha with many precious plant species like ironwood. This is the common property of the whole Tan Dan Commune which we commit our lives to protect," said Hong.

The Ministry of Agriculture and Rural Development has launched a project worth VND28trn (USD1.2bn) to protect forests in the Central Highlands.  

Ha Long City residents are concerned as rapid urbanization in recent years has affected mangrove forests in the city.
VNS