VietNamNet Bridge – From November 23, foreigners will pay US$25 for a single-entry visa and US$50 for a visa valid for three months or less when they visit Vietnam, according to a circular recently issued by the Ministry of Finance.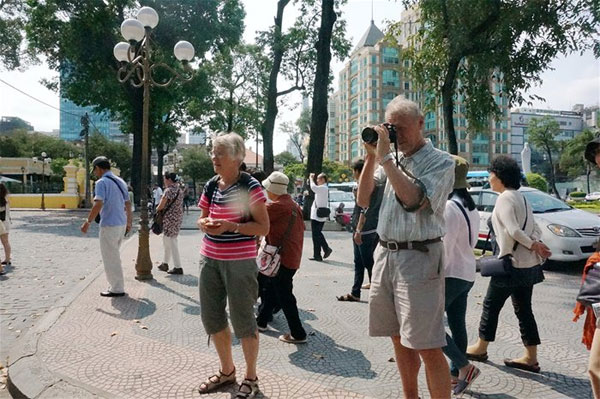 International tourists are seen in downtown HCMC. Foreigners will pay US$25 for a single-entry visa and US$50 for a three-month visa from November 23 this year in line with a circular recently issued by the Ministry of Finance – Photo: Dao Loan
These fees are down from US$45 and US$95 respectively, according to the ministry's Circular No. 157/2015/TT-BTC. However, the circular says the fee for a long-term visa fee will remain unchanged but that for a long-term residence permit will be up.
Particularly, the fees for visas valid for more than three to six months and six months to one year will be kept at US$95 and US$135 respectively. The circular adds the fees for visas valid from one year to two years at US$145, and visas from over two years to five years at US$155.
The fees for residence permits valid from one to two years will increase from US$100 to US$145 and those with over two years to five years will start from US$155, instead of the current US$120.
Some related-fees for visa issuance will also drop. For example, the transfer fees for valid visas and residence permits from old passports to new ones will fall from US$15 to US$5 and the fee for amending and supplementing visa contents will be removed instead of US$10.
With these changes, the fee for a single-entry visa will fall to the 2012 level. In early 2013, the fee rose to US$45 plus US$15-20 for visa procedures pushed tour prices up and sparked concerns among travel firms and hotels about its impact of international arrivals in the country.
In fact, many large tourist groups, especially those joining the MICE (meetings, incentives, conventions, exhibitions) packages, complained about the fee increase. They said while other regional countries granted visa waivers and created conveniences for international visitors, Vietnam did the opposite.
Therefore, travel agencies have hailed the lower visa fees.
Nguyen Thi Khanh, vice chairwoman of the HCMC Tourism Association, told the Daily on October 13 that the move would help attract more international visitors to Vietnam.
Months ago, the Government granted a 15-day visa exemption for passport holders from five European countries, namely the UK, France, Germany, Italy and Spain. But the visa waiver is not enough since the period is short for visitors to travel around Vietnam and to neighboring countries.
Khanh said the association has asked the Ministry of Culture, Sports and Tourism to seek approval from the Government to extend the visa-free period for citizens of these five European countries.
SGT