Visiting the easternmost point of Vietnam
VietNamNet Bridge – Traveling to Doi Cape in Van Ninh District in Khanh Hoa Province requires a lot of energy and patience but the easternmost point of Vietnam is worth visiting
VietNamNet Bridge – Traveling to Doi Cape in Van Ninh District in Khanh Hoa Province requires a lot of energy and patience but the easternmost point of Vietnam is worth visiting as it is where people can enjoy the first sunlight shedding in Vietnam.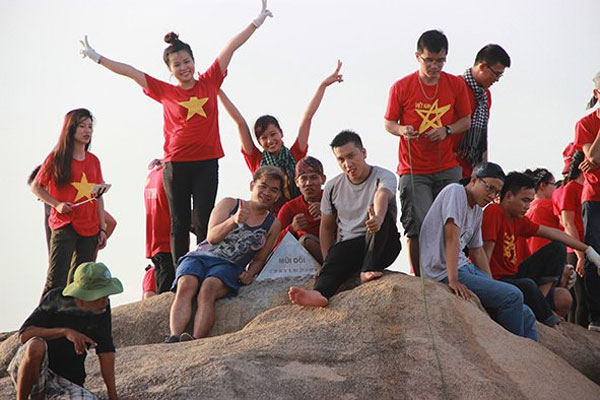 Tourists pose for photographs at Doi Cape
In order to reach Doi Cape in Van Thanh Commune, tourists can either start their journeys from Tuy Hoa City in Phu Yen Province or from Nha Trang City of the central coastal province of Khanh Hoa.
Last week, we started our trip from Nha Trang by motorbike. We ran 50 kilometers to Dam Mon Peninsula in Van Phong Bay and along the way were stunning scenes of winding roads on Co Ma Pass and white-sand pristine beaches nestled between forests and turquoise waters. From Dam Mon, we had two options to reach the cape either by boat or trekking, which is chosen by those who love adventures.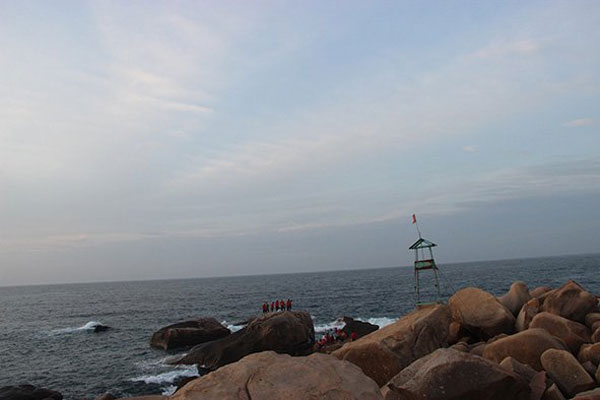 Tourists are seen amidst rocks at Doi Cape
As trekking was our first choice, we kept on driving our motorbikes through sand dunes, forests and hills. In order to avoid getting lost halfway, we hired a local who showed us the right way to Doi Cape .
The journey through sand dunes took us a lot of effort and energy, not to mention the high temperatures which made us almost exhausted. At many path sections, we had to help one another to push the bikes through soft sand and the rewards for us were breathtaking scenes of sand dunes, bushes and the crystal blue sea that took our tiredness away.
We took a rest, enjoyed delicious seafood and left our bikes at houses of locals before walking into a forest. After around three hours of trekking through the forest, we set up camps by a beach for our overnight stay and had fresh seafood for dinner before we went to sleep. We wake up in the wee hours of the next morning to go through boulder and rock clusters and observe the first sunrise in Vietnam at Doi Cape.
After the sunrise, we climbed rocks of different shapes to advance to a triangle metal stele that reads "Mui Doi" (Doi Cape). There, we stood on a giant rock, listening to the sound of waves clapping against rocks and enjoying a spectacular view of the sun going up from the horizon.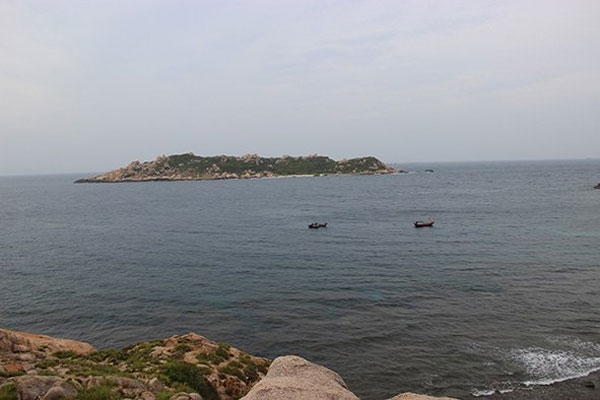 A beautiful scene seen from Doi Cape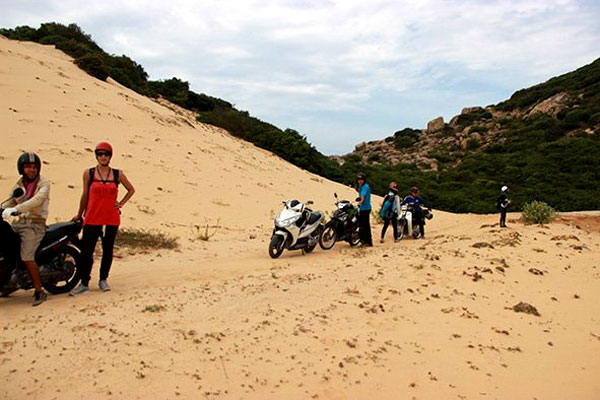 Sand dunes along the way to Doi Cape – Photos: Quang Trung
SGT