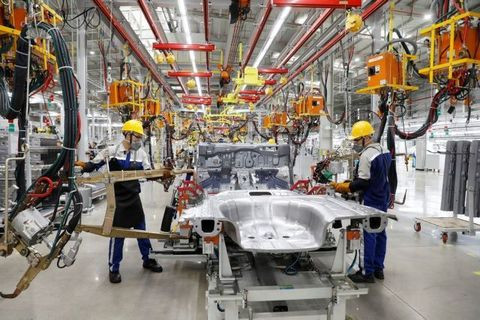 Workers assemble cars at Hyundai Thanh Cong Manufacturing Vietnam Factory in Gia Vien, Ninh Binh Province. Last year, the local auto industry recorded its highest sales volumes. — VNA/VNS Photo Duong Giang
Domestic car consumption growth will slow in 2023 after strong growth of 33 per cent in 2022. It is estimated that this year sales growth will slow just 5 per cent compared to 2022. A global chip shortage and disruptions to the supply chains of the automotive industry will hinder sales and may not ease until the second half of this year, according to a report released by SSI Securities.
Auto sales growth and car prices will likely not be as high as they were last year, as local consumers tighten their spending amid slowing global growth. Experts from SSI also said that difficult access to bank loans and increasing interest rates have forced many to delay their purchases.
In addition, buying a new car by installment payments will become more expensive and difficult as the Government's supportive policies of a 50 per cent reduction in registration fees for locally-assembled cars and delayed payment of exercise taxes have come to an end.
SSI also attributes lower car prices to the large volume of locally-assembled cars after Truong Hai Automobile JSC (THACO), a Vietnamese automobile manufacturer, successfully negotiated to assemble Germany's BMW models such as X3, X5, 3-Series, 5-Series.
TC Group and Hyundai Motor have also put Hyundai Thanh Cong Manufacturing Vietnam Factory No. 2 into operation. The US$140 million factory is expected to turn out 100,000 Hyundai cars a year once it is completed in 2025.
Besides that, electric vehicles (EVs) are expected to create a breakthrough for the automobile industry in Viet Nam. Last year, Audi and Mercedes-Benz officially announced a number of EVs in the luxury car segment. Meanwhile, both Hyundai and Kia also made their debut of IONIQ5 and EV6 models, respectively, for the popular segment.
According to local car experts, it is too early to make an assessment of the impact of EVs in Viet Nam. Automobile manufacturers are waiting to see the response from the Vietnamese Government and local consumers as Viet Nam does not have a specific strategy to develop charging station infrastructure for EVs. Moreover, the price of EVs is still quite a bit more expensive than gasoline automobiles
SSI Securities believes that the Government needs to consider three things to increase the electrification ratio of the local auto industry. It should focus on a preferential tax policy for EVs, higher taxes on fossil fuel cars and strong investment in infrastructure for charging stations.
Members of the Vietnam Automobile Manufacturers' Association (VAMA) reported that they sold 404,635 vehicles of all kinds last year, an annual rise of 33 per cent. This figure far exceeded sales volume before COVID-19 pandemic.
The nation spent more than $314 million on importing 14,500 completely built-up (CBU) cars of all kinds in January, marking a steep rise of 219 per cent in volume and nearly 150 per cent in value from the same month a year ago, according to statistics from the General Department of Vietnam Customs.
Despite the increasing number of imported cars, the VAMA reported that January sales for the whole market reached just over 17,300 vehicles, a decline of 51 per cent compared to December, 2022.
Of that figure, the sales of domestically-assembled cars reached 8,000 units, down 54 per cent, while sales of imported complete units stood at more than 9,200 vehicles, down 48 per cent
Car experts attributed last year's record sales to pent-up consumer demand for cars after two years of the impact of the COVID-19 pandemic. Moreover, the chip shortage has hampered global automobile manufacturing while creating chances for auto dealers to raise car prices by up to 50 per cent. — VNS