VietNamNet Bridge – Vietnam supports efforts on reforming the global governance system, Vice Chairman of the National Financial Supervisory Commission of Vietnam Ha Huy Tuan has said.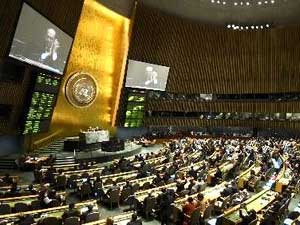 Illustrative image. (Source: AFP)
The Vietnamese representative made the remark at the thematic debate "the UN and the global economic governance" held at the UN headquarters in New York on April 15 under the chair of President of the General Assembly Vuk Jeremic.

"In consistence with the process of world economic restructuring, Vietnam supports efforts on reforming the global governance system with the aim of enhancing the capacity and efficiency of global governance institutions, improving policy coordination, and ensuring democracy through encouraging greater participation of developing countries and enabling them to get better access to international resources for economic growth and poverty reduction," said Tuan, who is the head of Vietnam's delegation at the gathering.

He added that the UN should continue to be the central body to coordinate and promote cooperation and policy among member states, focusing on building global development partnership in such areas as investment, development assistance, technology and knowledge transfer.

Vietnam appreciates the partnership between the UN and other multilateral institutions such as the G20 and regional organisations such as ASEAN, Tuan said, adding that the ties should be further strengthened.

He cited the example of the ASEAN-UN special partnership, which enables ASEAN to further contribute to implementation of UN goals towards global peace and development and, on the other hand, enhances effectiveness of the UN development agenda in one of the world's most dynamic and fast growing regions.

At the meeting, representatives from many countries confirmed that it is necessary to strengthen dialogue mechanism and policy coordination at the global level.

They said the UN should take the central role and be the forum for member countries to exchange information and policies, especially between the group of biggest economies (G-20), international financial institutions like the World Bank, the International Monetary Fund, and other UN members.

The participants also urged further democratisation of the organisation and activities of the above institutions.
Source: Vietnam Plus