VN backs efforts to stabilise Iraq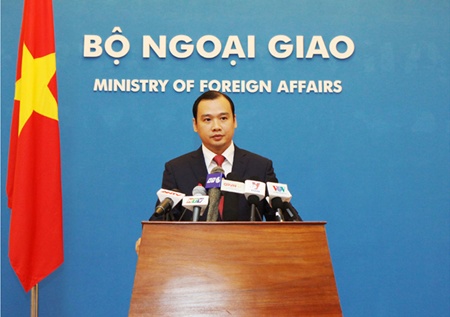 Viet Nam supported efforts by the Iraqi government and the international community to stabilise the situation in Iraq, said Foreign Ministry spokesman Le Hai Binh yesterday.
Answering questions from the media about Viet Nam's stance on recent terrorist attacks on Iraqi civilians, Binh said Viet Nam was deeply concerned about the acts and condemned them.
Binh added that Viet Nam welcomed the Iraqi President Fuad Masum's nomination of a new Prime Minister to pave the way for the establishment of a new cabinet.
He also said that Viet Nam hoped the new Iraqi government would be formed soon to stabilise and rebuild the country.
Egypt, Vietnam step up party cooperation
Vietnam is willing to consolidate and further develop the solidarity and friendship between the Communist Party of Vietnam (CPV) and the Egyptian Socialist Party (ESP) as well as between the Vietnamese and Egyptian people.
Hoang Binh Quan, head of the CPV Central Committee's Commission for External Relations made the statement while receiving an ESP delegation led by its foreign policy spokesperson Mamdouh Habashi in Hanoi on August 18.
He said that the Vietnamese Party, State and people always keep a close watch on the situation in Egypt, hoping that with the people's support and efforts made by political parties, including the ESP, Egypt will overcome all difficulties to make greater socio-economic achievements, thus bringing more social welfares to its citizens.
Mamdouh Habashi, in turn, praised the role of the CPV in the national construction and defence, noting that the Vietnamese Party is an example for the ESP to follow.
He also vowed his utmost efforts to reinforce the solidarity and friendship between the two parities as a firm foundation for increasing bilateral economic, trade and investment cooperation.
Earlier, the Egyptian guests held talks with a CPV delegation headed by Tran Dac Loi, deputy head of the Commission for External Relations, during which the two sides discussed measures to expand the friendship and cooperation between the two parties.
Congratulations on Afghanistan's Independence Day
President Truong Tan Sang on August 18 sent a congratulatory message to the President of the Islamic Republic of Afghanistan, Hamid Karzai, on the occasion of the 95th anniversary of Afghan's National Independence Day (1919-2014).
The same day, Deputy Prime Minister cum Foreign Minister Pham Binh Minh also extended congratulations to his Afghan counterpart Zara Ahmad Osmani.
VNS/VOV/VNN