aims to achieve the consistent goal of controlling inflation and stabilising the macro-economy, not to create unfair competitive advantages in international trade.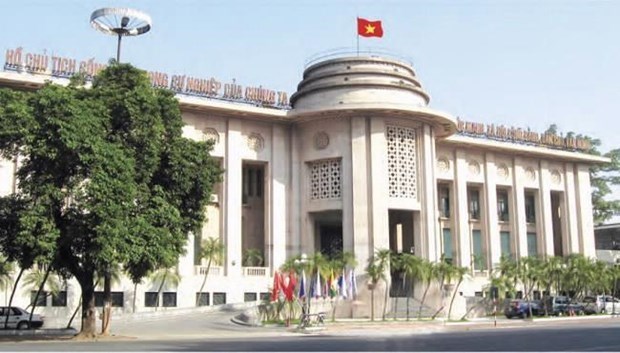 The headquarters of the State Bank of Vietnam in Hanoi 
The central bank made the statement in response to the US Treasury Department's labelling Vietnam, along with Switzerland, as currency manipulator, in accordance with the US Department of Finance December report on the macro-economic and foreign reserve policies of the US's trade partners.  
According to the SBV, the trade surplus with the US and its current account surplus are the result of a range of factors related to the specific characteristics of the Vietnamese economy.
The SBV's purchase of foreign currencies aims to ensure the smooth operation of foreign currency markets in the context of abundant supply, contributing to stabilising the macro-economy and building up State foreign currency reserves, which remain low compared to regional countries, so as to enhance national financial-monetary security.
Vietnam treasures stable and sustainable economic-trade ties with the US, the SBV said, adding that it will work with ministries and agencies on issues of concern to the US in a cooperative and mutually-beneficial spirit, towards achieving a harmonious and fair trade relationship under the bilateral action plan.
At the same time, the SBV will continue managing monetary policy in a way that will control inflation, stabilise the macro-economy, and reasonably support economic growth. It will manage exchange rates flexibly based on macro-economic balances, market developments and the objectives of monetary policy, not to create any unfair gains in international trade.
The US Treasury also put 10 countries to a watch list of those it suspects deliberately devalue their currencies against the dollar, which are China, Japan, the Republic of Korea, Germany, Italy, Singapore, Malaysia, Taiwan (China), Thailand, and India.
The US uses three criteria to determine if a country is a currency manipulator. In addition to the current account surplus criterion, the two others are a bilateral trade surplus with the US of at least 20 billion USD and intervention in foreign-exchange markets that exceeds 2 percent of GDP./.VNA
Vietnam is maintaining dialogue and consultation with the US in a constructive spirit to deal with problems in bilateral economic and trade links in a way that is sustainable and harmonises the interests of both sides,