VietNamNet Bridge - The Ministry of Finance (MOF) is planning to raise the tariff on cassava and ethanol exports in an effort to retain materials for domestic biofuel production. Cassava and ethanol bear an export tariff of zero percent.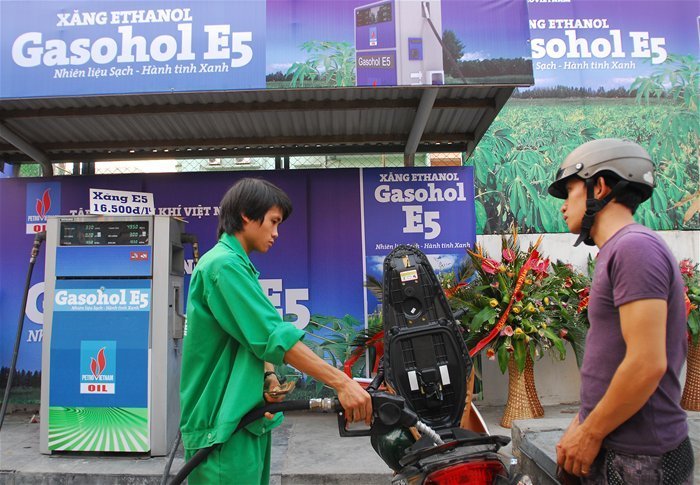 The Prime Minister, at a meeting discussing the pricing mechanism for E5 petrol, requested MOF to adjust the export tariffs to encourage domestic biofuel production.
MOF has suggested raising the export tariff from zero percent to 5 percent on cassava exports and from zero percent to 3 percent on ethanol.
Cassava is traded at VND4.3 million per ton in Vietnam, while the export price is VND4.867 million per ton, or $227.5. With the current export tariff of zero percent, exporters can make a profit of VND567,000 per ton.
Cassava, the major input material for ethanol production, is now in short supply. Ethanol manufacturers complained that the material price is on the rise, while they have to scramble for cassava with merchants who collect cassava for export to China.
If the cassava export tariff is raised to 3 percent as suggested, exporters would have to pay VND146,027 per ton in export tax. If the export price remains stable, they would still make a profit of VND421,543 per ton.
They would make a profit of VND324,192 per ton if the tax rises to 5 percent.
A slighter tax increase of 3 percent has been proposed for ethanol exports. In principle, raw material exports need to be taxed higher than processed products.
According to MOF, most of the large operational factories make ethanol from cassava, including Dong Xanh Factory in Quang Nam province (120 million liters per annum), Tung Lam in Dong Nai province (72 million liters), Binh Phuoc in Binh Phuoc province (100 million liters), Dung Quat in Quang Ngai province (100 million liters) and Dak To in Kon Tum province (72 million).
Meanwhile, a factory with designed capacity of 100 million liters per annum is under construction in Phu Tho province.
If the factories run at full capacity, they would churn out 500 million liters of ethanol, which is enough to make 10 billion liters of E5 petrol and 5 billion liters of E10 petrol.
However, the factories now have to run at a moderate level because of the lack of input materials.
According to the Vietnam Biofuel Association, the total cassava growing area that can provide materials for ethanol production in Vietnam is 450,000 hectares which provide 9.5 million tons of fresh cassava a year. The amount is just enough to process 3 million tons of dry cassava, used for animal feed, export to China and for ethanol production.
TBKTSG