VietNamNet Bridge – Dairy producers are planning to pour more money into liquid milk products as the powdered milk market is dominated by foreign firms.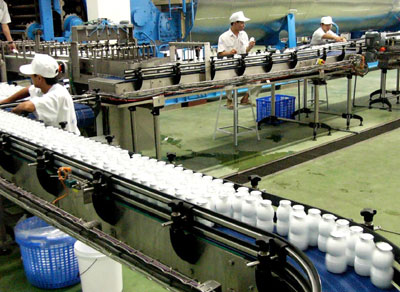 Analysts say dairy market growth comes mostly from powdered and liquid milk products which make up 74 percent (with revenue of VND45.9 trillion) of the total market value.
There appears to be little room for Vietnamese dairy producers in the powdered milk market, where foreign brands account for 75 percent of the market share.
Analysts said that liquid milk is the only choice for Vietnamese producers. Vietnamese dairy firms have gained the upper hand in the liquid milk market thanks to their vast land plots with large herds of milk cows.
According to Euromonitor, a market survey firm, liquid milk products made up 29 percent of the total value of the dairy industry in Vietnam with 670,000 tons of products put out in 2013, worth VND18 trillion. The figures are forecast to increase to 1 million tons and VND34 trillion by 2017.
Vinamilk, the nation's leading dairy producer, has reported an increasingly high proportion of revenue from liquid milk. A report showed that 31 percent of the producer's revenue in 2008 came from liquid milk, while the figure rose to 35 percent in 2013.
Vinamilk is leading the liquid milk market, which holds 49 percent of market share, followed by Friesland Campina, which holds 26 percent.
However, analysts predicted that the domestic liquid milk market may be re-mapped in the future, when a series of new players turn up and the race becomes more competitive.
Raising milk cows to control the input material supply is a development strategy followed by dairy producers attempting to jump into the liquid milk market.
The success story of TH True Milk shows the importance of the milk cow development strategy. The TH True Milk brand appeared on the market some years ago, when domestic fresh milk could not satisfy domestic liquid milk production.
A report showed that 70 percent of liquid milk products were made of imported powdered milk. In such conditions, TH True Milk, advertised as made of 100 percent of fresh milk taken from domestic milk cow farms, immediately conquered consumer hearts.
According to Euromonitor, TH True Milk now holds 7.7 percent of the Vietnamese liquid milk market.
Nutifood, the specialized powdered milk producer, has also decided to jump into the liquid milk market by signing a contract with Hoang Anh Gia Lai Group on using input materials from the group's milk cow farms.
NCDT