UN Day of Vesak commemorations wrap up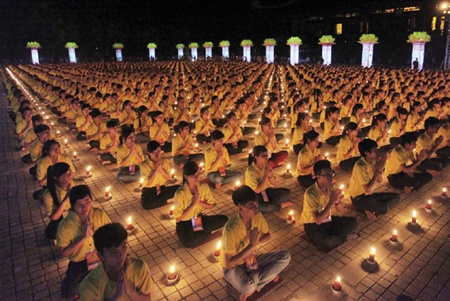 The 2014 UN Day of Vesak successfully wrapped up on Saturday in the northern province of Ninh Binh, with the adoption of a statement highlighting three sustainable development pillars.
The four-day event brought together nearly 1,500 delegates from 95 countries and territories worldwide, and more than 20,000 domestic and foreign Buddhist monks, nuns and followers.
Addressing the closing ceremony, Deputy Prime Minister Nguyen Xuan Phuc affirmed that the UN Day of Vesak in Viet Nam has become a cultural festival complete with national and international solidarity and a message of peace and love based upon Buddha's thoughts.
He further expressed his wish that, through this event, solidarity among countries will be boosted for more practical actions for peace, cooperation and progress.
Deputy PM Phuc also said he believed that the international community's aspirations, as reflected in the Ninh Binh Statement, would be realised.
According to Most Venerable Thich Duc Thien, Secretary General of the International Committee for Day of Vesak, the statement stresses the need for tireless efforts to achieve millennium development goals (MDGs) and urges world leaders to focus sustainable development on the three pillars of environmental protection, economic development and social equality.
The statement also calls on political leaders to resolve disputes related to sovereignty, sovereign rights, territorial integrity and jurisdiction over exclusive economic zones and continental shelves through negotiations and other peaceful means, in line with international law, including the 1982 UN Convention on the Law of the Sea.
A candle burning ceremony for peace was held at Bai Dinh Pagoda in the province in the evening, with the participation of about 1,500 people.
Radiation scanning system inaugurated in Ba Ria-Vung Tau
The General Department of Vietnam Customs on May 9 officially launched scanning systems for detecting radiation in goods in the Cai Mep-Thi Vai port complex.
As many as 12 portals were installed in the international container port, the Tan Cang- Cai Mep port and the SP-PSA port, all of which lie in the southern province of Ba Ria-Vung Tau.
Information collected from the portals will be transmitted to a central office for analysis and handling.
Developed under a cooperation framework between Vietnam and the US, the systems aim to deter the smuggling of nuclear and radioactive commodities into the complex.
The US hopes to be able to prevent the remote transport of nuclear materials to the country. It expects to deploy such systems at 75 sea ports in 30 countries over the world.
Vietnam's participation in the initiative demonstrated the country's cooperative goodwill in protecting global security.
The US provided Vietnam with assistance worth almost 4.42 million USD to implement the project.
The scanning systems were put into use for trial purpose in the complex from October last year. As of May 5, they had scanned more than 4,500 cases and yet to detect any radiation.
Vietnam borrows US$106 million for health improvements
The World Bank has approved a US$106 million credit for a project to develop human resources for Vietnam's health sector, according to the lender's statement released on May 8.
The project will help 32 universities and colleges train qualified doctors, nurses and health staff. It will assist in training and equipment supply for nearly 1,300 first-aid teams in 15 provinces and cities to better meet the healthcare demand of communities.
Management and policy-making for human resources of the health sector will also benefit from the credit, which is sourced from the International Development Association and affiliates of the WB.
With around US$10 million from the European Council and reciprocal capital of US$5 million from the Vietnamese Government, the funding for the project will amount to US$121 million.
Ha Tinh to punish individuals responsible for Ke Go deforestation
Deputy Chairman of the People's Committee in Ha Tinh Province Le Dinh Son has signed a decision to investigate and clarify responsibilities of individuals and groups responsible for deforestation in Ke Go Natural Reserve.
The province's People's Committee asked the Department of Agriculture and Rural Development and the Forest Management Department to instruct the Ke Go Management Board to strictly handle violators.
The Forest Management Department was asked to investigate and collect evidences of the deforestation and transfer detections to the investigation agency before May 20.
Ky Anh and Cam Xuyen District people's committees should also open an investigation against related officials and report the province before the same deadline.
Forty six trees had been chopped down in the Ke Go Natural Reserve in Cam Xuyen and Ky Anh Districts.
Earlier, the Natural Reserve Management Board suspended Le Quang Dai and Bui Duc Hanh, heads of forest protection stations No.2 and 3 for investigation of their responsibilities in the deforestation.
Deteriorated water systems leave communities high and dry
Many households in a mountainous district in Quang Tri Province have been complaining water quality stemming from low-quality constructions in the area that has deteriorated after just a short time of being put into use.
Only two out of 17 hydrants in Ruong Village are working and much of the other water supply equipment and construction in Dakrong District has not been operational for a long time without repair efforts. The situation has resulted in hundreds of households having to resort to getting their water for daily use from local streams and lakes.
Due to poor designs of the water system, including pipes and the locations of water tanks, people in the villages of Ka Reng and Khe Hien have not had access to clean water during the dry season. One villager said, "We were so happy when the new system was first installed. But it was a short-lived happiness because most of it was badly damaged after the flood in 2009."
The people of Thuan Commune face a similar situation, having to use water from the La La and Se Pon rivers, even though these two rivers are polluted from waste wate from processing plants. Using water from lake or stream to cook and bathe, the villagers face a high risk of skin or gastrointestinal infections. The communal officials have reported these problems to higher authorities and requested funds to fix the situation numerous times, but the problems remain.
Water supply constructions in A Xing Commune were built in accordance with programme 135, which aimed to help disadvantaged communities. Other equipment in Thanh and A Doi communes also cannot be used and are still awaiting repair.
Ho Van Sau, Deputy Chairman of Huong Hiep Commune People's Committee, said six water supply constructions were meant to provide clean water to 5,000 people living in ten villages. However, because of floods and the lack of protection of public property, most are damaged or in a state of disrepair.
HCM City lacks vaccines
While hand, foot and mouth disease, dengue fever, chicken pox are breaking out in Vietnamese cities and provinces, measles has still remained a concern, patients flock to hospitals in Ho Chi Minh City; accordingly the city is short of many kinds of vaccines.
A meeting has been convened by the Department of Health with centers of preventive medicine to discuss solution.
The city's center of preventive medicine reported that by April, it has 1,301 measles infections, 509 chicken pox people, 2,607 dengue fever cases and 2,944 people contracting hand-foot-mouth disease.
These above diseases have increased dozens of times higher than same period last year.
Medical officials said that hand-foot-mouth are growing at an alarming rate in 24 districts with hot-pots in districts 8, Binh Tan and Tan Phu. The peak season of the disease is in middle of May.
Nguyen Thanh Hung, Children Hospital No. 1's director, said that as of May 6, the hospital is treating 50 measles kids and 51 hand-foot-mouth toddlers. In Children Hospital No.2, 40 hand-foot-mouth babies and 68 measles kids with pneumonia complications are being treated.
Despite the city's effort to implement measles vaccination campaign for children under three, the disease continue to rise with no sign of abating. Around 250,000 kids will be immunized in the campaign.
Dr Nguyen Huu Hung, deputy director of the Department of Health, said though the city health sector makes effort to prevent, many dangerous infectious diseases are still plaguing at present.
While growth of infection cases shows no sign of abating, many medical clinics are short of various vaccines. At the reception desk in Pasteur Institute, Children Hospital
No. 1 and 2, the Nutrition center, a notice board announced that the institute has no six-in-one, five-in-one vaccines and vaccine against chicken pox.
Since chicken pox occurred in January, thousands of children have infected with the disease yet vaccine has gone. People have to wait as the Ministry is testing quality of 77,000 dozes of Varicella Vaccine imported in February.
The important thing is to publicize how to prevent spread of these diseases amongst peopan, focus on treating people contracting dangerous diseases and enhance disinfection in houses, schools, said Dr. Nguyen Huu Hung.
Hanoi to hold major medical expo
The Vietnam International Hospital, Medical and Pharmaceutical Exhibition (Vietnam Medi-Pharm Expo 2014) will be held in Hanoi from May 14-17 with the participation of 350 businesses from 30 countries and territories.
The 21st exposition will introduce visitors the latest products and technologies in the healthcare sector of Vietnam and the world at large.
A wide range of products, such as medicines, health equipment and laboratory and pharmaceutical items will be put on show across 450 pavilions.
Organised in concurrence with the expo will be the seventh Vietnam International Hospital Exhibition (Vietnam Hospital 2014), the third Vietnam International Dental Exhibition (Vietnam Dental 2014) and the eighth China Exhibition on Pharmaceutical and Medical Equipment (China Medi-Pharm 2014).
The event will also include free medical check-ups and campaigns raising the public awareness of measures against HIV/AIDS as well as a meeting responding to the World Hypertension Day.-
Ministry wants schools to teach students law, social norms
The Ministry of Education and Training has made it compulsory for teachers and student to sing the national anthem in schools on Mondays as part of a drive to instill civic sense and patriotism in children.
It also said schools have to instill national pride in students, and unions in schools have to teach students the anthem to ensure they sing it correctly.
Kindergartens should play the anthem regularly, it said.
All schools from kindergartens to high schools have to teach students good behavior based on President Ho Chi Minh's five teaching precepts, it said.
School authorities should teach students about their legal and social obigations and counsel them to cultivate awareness of and respect for traffic regulations and culture and express their feelings in an appropriate manner to curb violence in schools, it said.
The Ministry also ordered schools not to change uniforms often to avoid waste.
Cambodia urges support for tourism
Minister of Tourism of Cambodia, Thong Khon, has called for Vietnamese investors to invest more into the tourism sector in Cambodia to boost trade relation between two nations.
Speaking at a recent trade promotion conference in the Cambodian capital of Phnom Penh, Thong Khon said that tourism investments accounted for 30 per cent of all investments in Cambodia last year. More support from Vietnamese investors would help better take advantage opportunities in the tourism sector, he said.
In the first quarter of this year, the number of Vietnamese visitors to Cambodia reached 190,000, increasing 4.2 per cent over the same period last year.
Attending the conference, HCM City People's Committee vice chairwoman Nguyen Thi Hong said Viet Nam was currently Cambodia's third largest trade partner. Viet Nam has 128 investment projects in Cambodia, with total capital investment of over $3 billion.
Efforts needed to contain infectious diseases this summer
Deputy Prime Minister Vu Duc Dam has asked the health sector to take great pains to prevent contagious diseases from spreading across the community as summer is approaching.
Addressing a working session with the Ministry of Health in Hanoi on May 10, Dam noted that an epidemic prevention plan is needed as many contagious diseases such as measles, hand-foot-mouth (HFM), chickenpox, and dengue fever emerge during summer.
It was reported more than 3,000 people have contracted measles since late December 2012, resulting in 25 deaths and more than 100 other deaths closely linked to measles complications.
Most measles sufferers are children under 10 years old, of which 12.5% are under 9 months old, and 86.4% are not vaccinated against measles or unclear about their vaccination records.
While measles is showing signs of waning, hand-foot-and mouth and dengue fever are breaking out in almost all provinces and cities.
Ministry of Health statistics show since the beginning of this year 17,410 people have contracted HFM disease, including two deaths, and nearly 8,000 have been infected with dengue fever, including four deaths.
The diseases are spreading due to people's negligence of personal hygiene and environmental sanitation. Doctors warn Vietnam will face a high risk of widespread epidemics unless effective preventive measures are in place.
Deputy PM Dam asked the Ministry of Health to work harder to keep measles under control, especially the status of cross-infection at centrally-run hospitals, in order to minimise the number of deaths.
To prevent the disease spreading across the community, he asked the health sector to timely quarantine and deal with outbreaks and vaccinate children under 10 against infectious diseases.
The health sector was also required to update media agencies on the development of the diseases and preventive measures.
Haiphong student wins UPU writing contest
Pham Huong Thao, a 7th grader from Chu Van An secondary school in Haiphong has won first prize in the 43rd Universal Postal Union (UPU) International Letter Writing Contest launched in Vietnam.
The awards ceremony was held by the UPU organizing board in Hanoi on May 10.
The event, themed "Write a letter describing how music can touch lives", was co-organised by the Ministry of Information and Communications, the Ministry of Education and Training, the Ministry of Culture, Sports and Tourism, and the VietnamPost.
After five rounds of deliberations, the organizing board chose one first prize, three second prizes, five third prizes and 30 consolation prizes, in addition to other awards for the youngest entrant and the best entries from ethnic minority groups and blind contestants.
In her letter, Thao made believe she was a violin of a young boy. His father abandoned the boy and his mother for an affair with a famous female violinist, which broke the heart of the boy's mother and instilled in her a hatred for music.
As part of an effort to heal his mother's soul, the boy began to play music, quickly discovering an innate talent as a musical prodigy, to help him overcome difficulties and sadness.
The competition aims to raise young people's awareness of global social issues and to reinforce solidarity and friendship among nations, promote the participants' linguistic capability and deepen their understanding of the postal sector's role in social life.
Hanoi hosts grand requiem for world peace
A grand requiem was held at Hanoi's Thang Long Citadel on May 10 to pray for repose of those who fell victim to the past wars and natural disasters.
At the ceremony, Nguyen Thanh Son, head of the State Committee for Overseas Vietnamese Affairs (COVA), noted that the event was to commemorate fallen Vietnamese soldiers who sacrificed their lives in the struggle for national construction and defence, as well as international friends who lost their lives during lofty missions in Vietnam.
The requiem offered an opportune occasion for Vietnamese people both at home and abroad to pay their debt of gratitude to their ancestors' contributions to the cause of national defence and affirm their determination to preserve and promote Vietnam's cultural values.
Most Venerable Thich Thien Nhon, Standing Vice President of the Vietnam Buddhist Sangha (VBS), called on Vietnamese people, regardless of religion or belief, to unite to build an equitable, democratic and civilized society in the era of integration and development.
The Most Venerable said the religious mass was held as part of UN Day of Vesak 2014, which is taking place in Vietnam's Ninh Binh province.
His Holiness the 12th Gyalwang Drukpa said that Vesak 2014 has great significance as it helps humankind remember the great efforts by the international Buddhist community in building a more peaceful and happier world for all.
Le Van Huan, a Vietnamese expatriate returning from Thailand for the requiem, said the ritual was also a chance for Vietnam to elevate the image of a nation of peace, hospitality, conciliation, solidarity and development.
Fisheries Surveillance Force get first aid
The Ministry of Health presented a package of gifts, including medicine, medical emergency aid boxes and money worth VND850 million (US$40,000) to the Fisheries Surveillance Force's sub-department in the central city yesterday.
The medical equipment will help the Fisheries Surveillance Force rescue and offer first aid to injured members and fishermen fishing offshore of Viet Nam.
Student rescue teams set up in Da Nang
Seven rescue teams made up of students from Dong A University's Nursing Department will be available to give emergency first aid every weekend on the beaches of central Da Nang City.
The student rescue teams will co-operate with local rescue teams. The move aims to make the city's image more tourist-friendly.
Two prosecuted for bridge collapse
Police in the northern mountainous province of Lai Chau, have decided to prosecute two people for violating construction regulations that lead to a bridge collapse in Tam Duong District.
The accident killed eight people and injured nearly 40 others in February this year.
Investigations by the Ministry of Public Security found that the anchor screws on the bridge did not meet the required standards, reducing the bridge's load-bearing capacity, leading to the collapse.
Nguyen Van Ky and Bui Hai Son have been put on temporary detention.
Ky, director of a private construction enterprise, allowed less qualified people to supervise the construction of the suspension bridge. The construction process also failed to meet standards.
Son, a technician at Tam Duong District's project management board, failed to identify the project's contractor using substandard anchor screws.
Police unearth fake vehicle plate production unit
The Hoan Kiem District Police on Wednesday unearthed a unit which produced fake automobile and motorbike registration plates on Tran Nhat Duat Street.
Le Van Vinh, 49, was caught red-handed while he was giving a fake plate to a customer in his automobile repair shop.
Vinh's shop was searched and the police seized different tools which had been used to make the fake plates.
Vinh admitted that he had been producing fake plates for a month. Each fake automobile plate was sold for VND500,000 to VND 800,000, or US$23 to $38, whereas each fake motorbike plate was sold for VND70,000 to VND 100,000, or $3 to $4.7. So far, he had sold four fake automobile plates.
The police said that the fake plates were sold to people who wanted numbers suited to their geomancy or destiny. The fake plates were also sold to motorbike thieves, which caused public disorder and made it more difficult for the police to investigate criminal cases.
VN faces wild polio threat
The Ministry of Health has told local medical centres, institutes of hygiene and epidemiology and Pasteur Institutes throughout the country to take preventive measures against the wild polio virus which has spread globally.
The ministry's preventive medicine department said no cases had been recorded in Viet Nam, but urged local government agencies to take part in prevention methods.
Dr Margaret Chan, the director-general of the World Health Organisation (WHO), on May 5 declared the international spread of the wild polio virus a "Public Health Emergency of International Concern".
The WHO's emergency committee said the global spread of the virus this year constituted an "extraordinary event" and a public health risk for which a coordinated international response was essential.
If unchecked, the situation could result in failure to eradicate globally one of the world's most serious vaccine-preventable diseases, it said.
As of the end of last year, 60 per cent of polio cases were the result of the global spread of the wild polio virus, and there was increasing evidence that adult travelers contributed to the spread.
This year, the virus has spread from countries in central Asia, the Middle East and central Africa.
In Viet Nam, polio was eradicated in 2000 under the national expanded program on immunisation.
Polio vaccination in Viet Nam continues to be provided free to infants.
Three shots in the first, second and third month after delivery are necessary for the vaccine to be effective.
Adults who do not have immunity against the virus can also become infected.
However, children under 15 years old, especially those aged one to three, are more vulnerable to infection.
Drug trafficker gets life sentence
The People's Court of northern Hoa Binh Province gave Quach Tat Thien, 39, a life sentence for drug trafficking on Thursday.
His nephew, 22, was sentenced to 15 years in prison.
According to the indictment, Thien was hired by a man in Nam Dinh Province to go to northern mountainous Son La Province's Moc Chau Town to buy two cakes of heroin last September. Thien asked his nephew to go with him. They were caught red-handed on the way to Hoa Binh Province.
Truck-car collision kills 4, injures 1
Four people were killed and one critically injured yesterday after a seven-passenger car collided with a truck traveling in the opposite direction in the area of Ho Xa Town, Vinh Linh District of Quang Tri Province.
According to police reports, the car was apparently traveling at a high-speed and managed to pass another car before striking the truck head-on.
The five victims in the car were returning from a wedding. Police are investigating the accident.
NGO plans funded cleft procedures
US-based non-profit Operation Smile plans to mark its 25th anniversary in Viet Nam with a major campaign that will fund surgeries for children with facial and dental deformities in 25 provinces and cities.
At a press briefing on Thursday, the Operation Smile Viet Nam said simultaneous medical missions and training would be arranged at 25 sites for 25 days around the country.
It is expected to bring smiles back to the faces of around 5,000 children.
There will also be training, site discussions, seminars, and workshops on various topics for international and local healthcare volunteers and students.
Nguyen Viet Phuong, chief representative of Operation Smile Viet Nam, said the activities indicate his NGO's long-term commitment to communities in the country.
Volunteers from 25 countries will perform the surgeries and support the surgeons, including in An Giang, Bao Loc, Can Tho, Da Nang, Ha Noi, Ha Tinh, HCM City, Hue, Kien Giang, Nghe An, Nha Trang, from November 1 to November 25.
The NGO's annual fund-raising art auction, An Evening of Smile, to be held on May 17 this year.
Every year Operation Smile organises 28 surgery campaigns in the country. "With US$250 we can help a child born with cleft lip or palate deformities to change his life," Phuong said.
Every year an estimated 3,000 children are born with cleft lip or palate deformities.
Vietnam effectively uses foreign aid to cope with climate change
The Ministry of Natural Resources and Environment (MoNRE) and other relevant ministries and localities have effectively implemented foreign-funded projects to help the country raise its climate change adaptability.
The funding mobilised from foreign aid and preferential loans for such projects has aggregated nearly US$1 billion since 2010.
Noticeably, the Danish Government financed a US$40 million programme in non-refundable aid to help Vietnam increase its climate change adaptability and ease the impact caused by natural phenomena.
The Ministry of Industry and Trade, MoNRE and the provinces of Quang Nam and Ben Tre have worked together to ensure the progress of the programme.
Through policy dialogues, the Support Programme to Respond to Climate Change (SP-RCC), promoted by the Japanese and French governments, aims to strengthen activities cutting down greenhouse gas emissions in Vietnam.
As much as US$270 million was mobilised for the SP-RCC by a number of foreign sponsors from the World Bank (WB), Canada, the Republic of Korea, and Australia.
Meanwhile, the US$250 million from the WB's Clean Technology Fund (CTF) for the National Investment Programme will target energy saving for Vietnam's industrial sector and boost the development of green energy.
The stakeholders have established action plans, focusing on evaluating the negative impact caused by climate change on technical facilities, work at sea and on islands and the livelihood of vulnerable groups and poor people. They have also planned to get all social classes involved in the activities to respond efficiently to climate change.
Vietnamese students to compete at Intel ISEF 2014
The Ministry of Education and Training (MoET) held a ceremony in Hanoi on May 9 to meet with 16 Vietnamese students who will attend the Intel International Science and Engineering Fair (Intel ISEF 2014) in the US, from May 11-16.
This year's Vietnamese competitors will bring a number of topics to the event from six fields including science, technology, and environment.
They mostly come from the Hanoi-Amsterdam Gifted High School, High School for Gifted Students, College of Natural Science (Vietnam National University, Hanoi) Ho Chi Minh City's Le Hong Phong High School, Tran Dai Nghia High School, and Trung Hoa High School.
The students successfully beat hundreds of opponents across the country to earn their place at the fair and some of them won prizes in a competition for youth in Taiwan in 2014.
Addressing the event, MoET Deputy Minister Nguyen Vinh Hien said that this year, Intel ISEF 2014 will attract about 1,600 students from around the world covering a wide range of scientific topics in various fields relevant to daily life.
He expresses his hope that after the competition, the candidates will learn experiences from international friends to further develop their studies in the future.
Last year, Vietnamese students won two fourth prizes at the 2013 Intel ISEF in the fields of electricity and mechanics, and materials and biotechnology.
They are Tran Ngoc Chau, Nguyen Phuong Duy and Truong Nhut Cuong from the Le Hong Phong Gifted High School in Ho Chi Minh City, and Vu Mai Huong, Hoang Trong Nam Anh and Do Thuy Linh from the Hanoi-Amsterdam Gifted High School in Hanoi.
Vietnamese Association builds up profile in Russia
The Overseas Vietnamese Association in Russia held a conference in Moscow on May 9 to review its activities over the past year and set orientations for 2014, aiming to assist its members in integrating well into local communities.
It was reported that in 2013 the association carried out practical activities to strengthen solidarity and support the community despite Russia's unfavorable socio-economic climate and changes in immigration management policy.
It set up ten fellow-countrymen chapters and closely coordinated with the Vietnamese embassy in Russia to provide necessary assistance for Vietnamese expatriates in remote localities.
This year, the association will continue to encourage Vietnamese businesses to expand their operations to build a strong Vietnamese community in Russia, and to obey local laws to integrate deeply into their country of residence.
Vietnamese ambassador to Russia Pham Xuan Son appreciated the Vietnamese community's efforts and success over the past year. He briefed them on China's stationing of its oil drilling rig HD-981 in Vietnam's exclusive economic zone on May 2 and Vietnam's prompt reactions.
The ambassador said that Vietnam has taken all reasonable diplomatic and legal measures to guard against China's violation of its sovereignty, saying the Vietnamese embassy in Russia held diplomatic meetings with Russian authorities to inform them about the conflict.
The ambassador unveiled Russia's viewpoint on the issue that concerned parties should resolve the dispute peacefully through negotiations, in respect for each other's legal interests and international law, especially the 1982 UN Convention on the Law of the Sea (UNCLOS).
The association also spent time discussing the East Sea situation and unanimously expressed a desire to spare no efforts to protect the homeland along with their compatriots in the country.
Vietnam reaches top 4 of ASIAN Cup in Belgium
Vietnam ranked 4th at the Asian Students Football Championship, held in the city of Herentals Kermis on May 10.
Eight student football teams from Vietnam, Cambodia, Thailand, China, Singapore, the Philippines, Japan, and Laos were divided into two groups.
They played in a round-robin format to select two group winners and two first runners-up in each group to go on to the semi-final round.
Vietnam played in group 2 against other strong teams from Singapore, Japan, and Cambodia.
Vietnam successfully made it through to the semi-finals along with Thailand, Cambodia and China.
However, Vietnam failed to qualify for the final match. The Thai team clinched first place, with Cambodia and China ranking second and third respectively.
Tran Kim Thau, Counsellor in charge of the community affairs of the Vietnamese Embassy in Belgium praised the success of the tournament, adding that the event contributed to strengthening solidarity among Asian students studying in Belgium.
The annual event has been running since 2005.
Poultry, cattle diseases under control: official
Deputy Minister of Agriculture and Rural Development Vu Van Tam yesterday said that no new outbreaks of avian flu had occurred in the country and that poultry and cattle diseases were under control.
The latest outbreak of avian flu was detected in Ben Tre Province's Mo Cay Nam District on March 21.
The ministry reported that 33 provinces and cities have been affected by avian flu, with more than 211,000 poultry affected, mostly on small breeding farms.
Last year, the avian flu outbreaks occurred in only five provinces.
This year, the avian flu virus spread because local animal health divisions and government agencies discovered the cases too late, and the vaccination of poultry was not strictly monitored.
In addition, some local leaders did not allocate budgets for their vaccination programme for poultry.
Tam said that they waited too long to take action. "It was too late."
Tam asked local animal health divisions and agencies to carefully check whether agencies and others are giving the vaccinations, and to take preventive measures to protect poultry. In addition, he said they should take samples to test for viruses and the effectiveness of vaccines in order to detect new clades of the H5N1 influenza virus.
This information would help them decide whether to use a new vaccine.
Pham Van Dong, head of the Animal Health Department, said that the clade 2.3.2.1 of the bird flu virus, which was the main cause of the flu in the northern provinces, was responsible for the virus's spread in Mekong Delta provinces and cities this year.
These provinces and cities were advised to use H5N1 Re-6 vaccine to prevent the outbreaks, Dong said.
Moreover, free-range poultry breeding, which allows disease to spread more easily, should be under more strict control, he said.
Foot-and-mouth disease among cattle has also been contained, Dong said, adding that the provinces of Ha Tinh, Yen Bai and Kon Tum were the only areas where cases remained.
He warned that outbreaks could occur again in provinces and cities in the northern and north-central mountainous region or the Central Highlands in the remaining months of the year.
Agencies in these provinces and cities should continue to control the spread of the disease as well as trading and transport of cattle without labels of origin, he said.
Along with avian flu, no new blue-ear disease cases among pigs have been detected in the country over the last nine months, Dong said, adding that the JXA1-R vaccine remained an effective deterrent.
Students plant trees to mark Green Hour
Every year, students at selected schools plant trees, collect rubbish or exchange plastic bags for compostable ones that are biodegradable.
Begun in January 2012, the activities are part of Green Hour, organised by the UNESCO Art and Education Centre.
This year, four cities and three provinces took part in the programme from the first Sunday in January through the first Sunday in May.
In Binh Duong Province's Thu Dau Mot City, students at Phu My Primary School and An My High School planted trees at neighbours' houses and at their schools.
Nguyen Hong Minh Nguyet, a fifth grader at Phu My school, said the students would be in charge of taking care of the trees.
"I'm tired, but feel very happy," she said, smiling.
Nguyet and her classmates have also visited nearby houses to plant trees in the gardens of local residents.
The principal of Phu My Primary School, Nguyen Trong Hien, said the best way for students to learn about environmental protection was involvement in activities like the Green Hour.
Nguyen Xuan Vui, father of fifth grader Thien Truc, praised the programme, saying that it had helped students develop good habits at an early age.
"As adults, our awareness of environmental protection is also improved through such programmes," he said.
Nguyen Trinh Cao Son, deputy head of the environmental protection division in Binh Duong Province, said similar programmes should be organised as the students were enthusiastic about them.
The Green Hour, which is part of UNESCO's Green Talk Project, is held on Sunday mornings.
Programme coordinators said that students who take part in outdoor activities serve as visual reminders to the community of the importance of environmental protection.
Farmers to be compensated for pollution
The head of a rogue waste-treatment company who earlier admitted dumping polluted waste water into a canal in the southern province of Dong Nai, has agreed to pay compensation to an extra 106 farmers ignored in the first settlement.
The polluted water stunted crops and large numbers of fish being raised in ponds.
General Director of the Sonadezi Long Thanh Company, Do Thi Thu Hang, said it would pay the extra money, totalling US$109,000 by the end of this month.
Last June, the company paid 169 households in the Long Thanh District a total of VND11.8 billion (US$561,900) as directed by the Dong Nai Province People's Committee. However, more than 106 other households received no compensation.
The company was set up to treat and discharge waste water created by 42 manufacturing plants in Long Thanh Industrial Park.
However, it was later found that it had dumped the untreated waste water directly into the Ba Cheo Canal for three years up to 2011.
According to the Environmental Police Department, the company dumped 14 million cubic metres of untreated waste over a period of five years.
The 106 householders who missed out in the first settlement voiced their displeasure at a meeting at the commune on Thursday. It was attended by general director Hang, a delegation of Dong Nai members at the National Assembly, and local residents.
Nguyen Van Trai, a resident the Village 2 in Tam An Village, said Environmental Police Department had not clearly informed residents of the company's blame.
Tran Thi Cung, a resident from Village 2, agreed, saying the HCM City-based Institute of Environment and Resources had not assessed the damage properly.
She said householders in the upper area of the polluted canal had been given compensation, but those in the lower area had received nothing.
Land-use violations rife in capital city
Ha Noi authorities have found more than 330 projects violating land-use regulations and intentionally delaying land use fees and land lease payments, the municipal Department of Natural Resources and Environment has said.
Among the 336 projects, as many as 157 with a total area of 624 hectares either have not used the land for a year or used it improperly, including for illegal rental activities or by transferring it to other users. More than 100 projects were found to have delayed their financial obligations up to the amount of VND2.3 trillion (US$109 million).
The remaining projects have lagged behind schedule, bogged down by difficulties with land compensation and resettlement. The limited financial capacity of investors and the lack of funds to complete projects were also factors in the delay, exacerbated by a shortage of resettlement funds, changes to city land planning and a gloomy real-estate market, the department said.
The trend reveals many housing development investors have been hesitant to invest in the stagnant real-estate market and are waiting for conditions to improve before completing projects.
However, the department conceded that inspections conducted by authorised agencies needed to be tightened and that punishments were not strict enough.
Currently, the department has established an inspection team to supervise 157 projects on plots of land that have not been used for a year. The Department of Planning and
Investment would be in charge of 53 projects lagging behind schedule, with the city's Steering Committee on Site Clearance to focus on 35 projects facing difficulties in compensation and resettlement.
The city People's Committee has also assigned the Department of Finance and the municipal Taxation Administration to check 107 projects that delayed payment of land use fees and proposed punishments for investors.
Other cases that had been granted extensions to correct their violations, but failed to do so, will be required by the committee to hand back the land use right.
All reports must be submitted to the committee before the end of this month.
6.8 million USD clean water project provided for Khmer people
The Mekong Delta province of Tra Vinh has been working on a 145 billion (6.81 million USD) project to provide clean water for poor Khmer households in the locality.
Tra Vinh is home to a huge number of Khmer people. According to a recent local report, more than 15,000 poor Khmer households in the province are facing difficulties in accessing clean water.
To improve the situation, the provincial centre for water supply and environment sanitation has planned to build seven water supply stations in seven poor villages by 2015.
More than 9,000 Khmer households are expected to benefit, while over 4,500 other households living in remote areas will get an aid of 1.3 million VND each to drill well or build water contains for themselves.
So far, Tra Vinh has constructed 256 clean water supply stations, including 188 stations serving more than 16,000 Khmer households.
VNN/VNA/VNS/VOV/SGGP/SGT