* Khoai Sam (Smallanthus sonchifolius) is a famous specialty grown mostly in the northern province of Lao Cai. The leaves of the plants are used to cook soup, or boiled as a kind of vegetable, while khoai sam bulb is used as a precious medicine.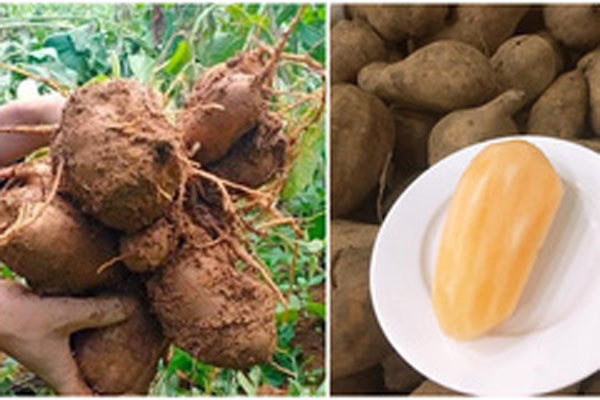 Khoai Sam (Smallanthus sonchifolius)
Khoai Sam looks like a sweet potato, but it has white or light yellow flesh. It has a fragrance like gingeng.
Khoai Sam is sold at only VND25,000-35,000 per kilogram in Hanoi.
* Booth avocado is listed among the most expensive fruits in Vietnam, and it is called the fruit for the rich with the average selling price of VND100,000 per kilogram.
However, the fruit, which is the specialty of the Central Highlands provinces, is witnessing dramatic price falls. Gardeners can sell the avocado at VND10,000-12,000 per kilogram only.
In HCM City, it is selling at VND25,000-35,000 per kilogram. The owner of a fruit shop at Ba Chieu Market said as farmers have rushed to grow this type of avocado, the prices have been decreasing in recent years.
Booth avocado is more favored than other varieties grown in Da Lat. However, because of Covid-19, which has caused demand to decrease, sales have been going very slowly.
*Meanwhile, passion fruit in Dak Lak is selling at VND2,000-3,000 kilogram only. As the prices are too low, many farmers don't intend to harvest passion fruit, leaving the plants to shed and wither.
According to Do Ngoc Nguyen from Cu M'gar District, the farming cost (seedlings, fertilizer, labor cost) is VND10 million pet 1,000 square meters, so farmers will incur a loss if selling prices are below VND5,000 per kilogram.
In 2017-2018, farmers rushed to grow passion fruit as the prices were high which brought high profits. The golden mid-2018 period saw passion fruit prices reaching VND36,000 per kilogram.
However, prices have fallen, making farmers suffer.
* Yen Bai green sticky rice, or Com, is now selling like hot cakes, which is in no way less famous than Vong's com (the com made at Vong Village in Hanoi).
Hanoi's com is selling at VND190,000-230,000 per kilogram in Hanoi, while Yen Bai's com is priced at VND160,000-170,000 per kilogram. The reasonable price and high quality have made Yen Bai's com a favorite item.
The typical characteristic of Yen Bai com is that it is very green and fragrant because the rice grain membrane is thick and contains much oil.
* Agencies in Hanoi have seized 4.1 tons of materials used to make drinks (tea, syrup and fruit jams) made by foreign countries they discovered at a workshop in Me Linh district. There were no invoices and documents on the origin of the materials. 
Hanh Nguyen

Northern farmers have been advised to increase the winter crop growing area and increase exports to China, in anticipation of a farm produce shortage there caused by severe floods.

The EU-Vietnam Free Trade Agreement, at its core, aims to liberalise both tariff and non-tariff barriers on key exports of both sides over a period of 10 years.