VN female scientist receives 'The Most Downloaded Paper' Award for research on Mekong basin
Nguyen Kim Anh and her co-workers have won an award from a Japanese prestigious journal for their research on the salinity situation in the Mekong basin.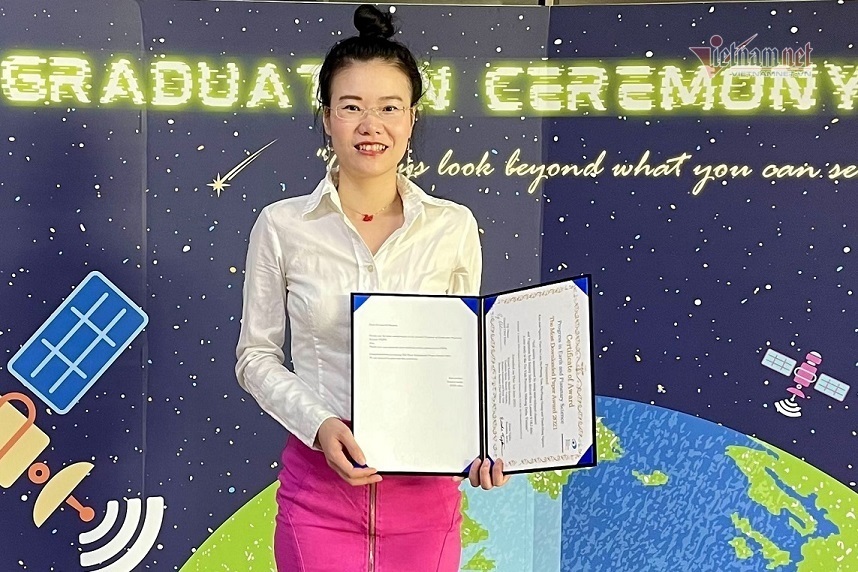 Nguyen Kim Anh receives 'The Most Downloaded Paper' Award for research on Mekong basin
The research is titled "Soil salinity assessment by using near-infrared channel and Vegetation Soil Salinity Index derived from Landsat 8 OLI Data: a case study in Tra Vinh Province, Mekong Delta, Vietnam".
Nguyen Kim Anh, head of the research team which received the award from Progress in Earth and Planetary Science (PEPS) of the Japan Geoscience Union, is principal researcher at the Institute of Geography of the Vietnam Academy of Science and Technology. She is a postdoc at the Center for Space and Remote Sensing Research (CSRSR) at Taiwan National Central University.
Anh and her co-workers had to compete with 398,780 articles published in many journals and at least 66 high-quality articles in PEPS. After one year of publishing, the article has had 17,000 views and 21 citations according to Google Scholar (14 citations according SCI).
Anh said she and her co-workers decided to conduct the research following the increasingly high saline intrusion in Mekong Delta, which affects socio-economic development of the region.
"The region has been seriously affected by global warming and sea water level rise. Saline intrusion is one of the urgent problems that need thorough study so as to design plans and solutions to deal with it, ensuring people's livelihood and production," Anh said.
The research uses optical remote sensing data, Landsat 8 OLI satellite images, to extract information about salinity through Vegetation Soil Salinity Index (VSSI), Soil Adjusted Vegetation Index (SAVI), and Normalized Difference Vegetation Index (NDVI).
The team has showed potential for spatial and physical monitoring of soil salinity in the topsoil layer. At the same time, it has proposed a method of estimating soil salinity by using indexes taken from free satellite image data with relatively high accuracy.
This is useful information for planning the development of salinity areas, thus helping reduce economic losses in areas at a high risk of saline intrusion due to climate change.
"We are very happy that the article about a pressing issue of Vietnam has received great attention. This is motivation to continue further studies in the Mekong Delta. We are proposing a comprehensive study to serve sustainable development in the context of climate change," she said.
In the last five years, she has been the author/co-author of three books, 13 international ISI articles, 10 IEEE conference papers and more than 50 international conference presentations and keynotes. 
Thanh Hung

A scientific article on Truong Thi Thuy Trang's project on a new material made from rice husks, an agricultural by-product, that removes antibiotics in wastewater has been published in an ISI-Q1 international scientific journal.  

As the first author of six scientific articles and owner of one patent, Dr Ta Thu Hang has had great opportunities to get a promotion at a leading Australian university.