VN filmmakers prepare new movies for Tet season
Vietnamese filmmakers are working on new projects to serve moviegoers during the Tet (Lunar New Year) holiday of 2023.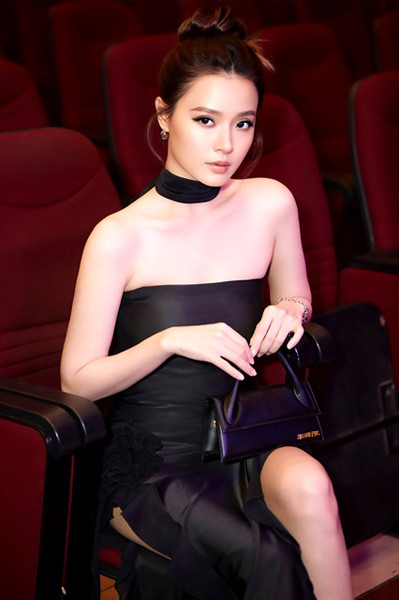 Director Luk Vân recently announced her new movie project about young people chasing their dreams.
Khi Ta Hai Lăm (When We Are 25) tells the story of a beautiful talent manager named Tue Lam who overcomes challenges to turn her boy group into pop stars.
Van invited actress Midu to play Tue Lam.
Midu, whose real name is Dang Thi My Dung, has played both major and minor roles in dozens of feature films including Thiên Mệnh Anh Hùng (Blood Letter) by Vietnamese-American director Victor Vu, and Mùa Hè Lạnh (Cold Summer) by Ngo Quang Hai.
Van told local media that "Midu is a woman who is soft on the outside but tough on the inside. That's all I need for the role of Tue Van."
Van, a graduate of the directing department at the HCM City College of Theatre and Cinematography, has gained great popularity among netizens through short films on YouTube.
Đừng Nói, Hãy Yêu (Don't Talk, Just Love) and Hà Nội, Em Yêu Anh (Hanoi, I Love You) are some of the popular films.
She released her first movie project 4 Năm, 2 Chàng, Một Tình Yêu (Four Years, Two Men, One Love) in 2016 and the TV series Khi Ta 16 (When We're 16) in 2017.
Khi Ta Hai Lăm is expected to be on cinemas on Valentine's Day.
Film producer Tran Thanh, who achieved great success with blockbuster Bố Già (Dad, I'm Sorry) in 2021, is working on his directorial debut called Mai.
The movie is written by Binh Bong Bot, who joined in blockbusters such as Tiệc Trăng Máu (Blood Moon Party) and Em và Trịnh (You and Trinh).
The story is about a woman named Mai who suffers from bad situations in her life, but is still optimistic.
According to Thanh, the film's name has three meanings. One is a woman named Mai, the other is a bright tomorrow, and the last one is the ochna flower, a kind of flower representing spring.
Comic actor Thanh rose to fame as one of the most successful film producers in Vietnam thanks to his first movie Bố Già, directed by experienced Vu Ngoc Dang, which broke ticket sale records for Vietnamese films after earning VND400 billion ($16.04 million).
The film was distributed in cinemas in Malaysia, Singapore, the US and Australia in April and May 2021.
The movie won four top prizes at the 22nd Vietnam Film Festival organised by the Ministry of Culture, Sports and Tourism, including the Silver Lotus Award for Best Feature Film, Best Actor Award, Best Supporting Actress and Best Screenplay.
In December 2021, the Ministry of Culture, Sports and Tourism chose Bố Già to compete in the Best Foreign Language Film Category at the Oscars 2022.
The movie Mai is expected to bring laughter to audiences during the Tet holiday.
Source: Vietnam News