VN garment, textile export falls short of target but surplus impressive

Vietnam's garment and textile exports were estimated at US$39 billion this year, slightly falling short of the US$40 billion target.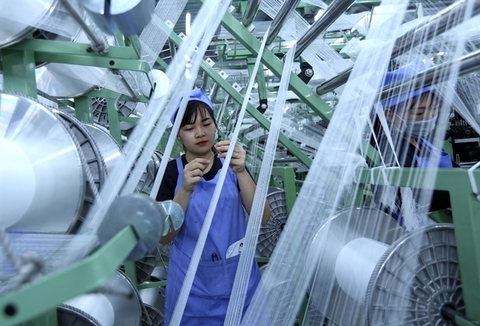 Fabric produced at Best Pacific Viet Nam in Hai Duong Province. The garment and textile industry earned US$39 billion from exports this year.
Statistics showed that 2019's garment and textile export value increased by 7.55 per cent over the previous year, still. With this result, Viet Nam maintained its position as the world's third largest garment and textile exporter, after China and Bangladesh.
Despite missing the target of $40 billion export value, the industry posted an impressive trade surplus of $16.62 billion in 2019, a year-on-year increase of 4.96 per cent.
More than 86 per cent of the $22.38 billion import value was used to produce products for export, statistics showed.
Over the past two decades, the industry saw export value increase by 22 times and contributed significantly to the country's export revenue, which hit a record of $500 billion this year, Vu Duc Giang, VITAS's chairman said.
Viet Nam now had around 7,000 firms operating in the garment and textile industry which provide jobs for nearly three million people.
At a recent ceremony to mark the 20th founding anniversary of VITAS, Prime Minister Nguyen Xuan Phuc urged the industry to focus on boosting added value and developing brands for garment and textile products.
The industry set a target of reaching export revenue of $42 billion in 2020, $60 billion by 2025 and $110 billion by 2030. — VNS

The target of exporting $40 billion worth of textiles and garments this year may be unattainable.

Vietnam's textile and garment industry is estimated to grow about 7.55 percent this year, according to President of the Vietnam Textile and Apprarel Association (VITAS) Vu Duc Giang.