VN Gov't cracks down on fraudulent origin of goods

Nine ministries and central agencies will join forces to launch a year-long campaign next month to fight smuggling, trade fraud and fake goods, especially those illegally using Made-in-Vietnam labels.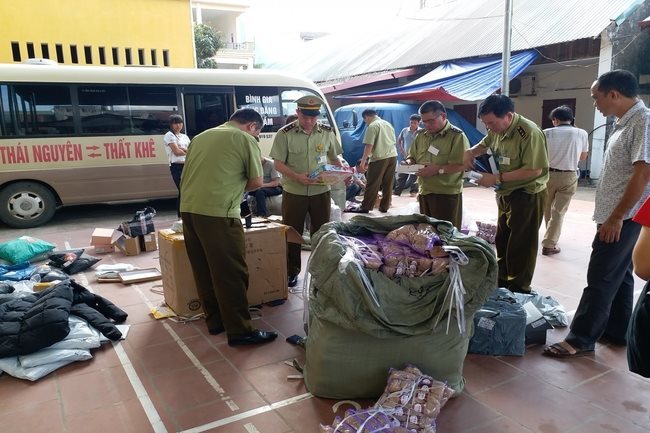 Market surveillance officials seize many kinds of smuggled goods which falsely bear Made-in-Vietnam labels
The National Steering Committee against Smuggling, Trade Fraud and Counterfeit Goods, also known as National Steering Committee 389, has recently drawn up its plan.
Under the plan, the Ministry of National Defense will mobilize its border guard forces to patrol frequently, so that the entry and exit into key trails will be closely controlled. The move aims to prevent the cross-border transportation of goods illegally bearing Made-in-Vietnam labels
Border guard forces will work with market surveillance officials to prevent the storage and sales of goods having fraudulent origin labels.
Meanwhile, the Ministry of Public Security will look into those rings that produce, store, transport and trade in counterfeit products.
For the Ministry of Finance, its customs forces should closely work together to detect goods falsely labeled as "Made-in-Vietnam" products for import and export.
The Ministry of Industry and Trade is requested to create regulations on country of origin labeling for goods made in Vietnam.
The Ministry of Science and Technology, the Ministry of Information and Communications, and the Vietnam Chamber of Commerce and Industry, among others, are also requested to work with relevant ministries, agencies and local governments to curb this kind of trade fraud.
After the United States levied tariffs on many Chinese exports, these goods are now imported into Vietnam en masse.
There are 15 types of Vietnamese goods with high export turnover to the United States. Six of them match the list of Chinese goods subject to high tariffs in the American market, said Au Anh Tuan, head of the Customs Supervision and Management Department under the General Department of Vietnam Customs, as quoted on Dan Tri news website.
Vietnam's commodities, such as wood, textile, footwear and seafood, could be on the watch list of the United States, since many Chinese investors have reportedly made modest investments in plants in Vietnam, so their products could be exported to other countries.
These firms are reported to be importing materials and semi-finished products from China, and then conduct their final stage of production in Vietnam. SGT