VN-Index hits rock bottom in past 18 years

The benchmark VN-Index on the Ho Chi Minh Stock Exchange (HoSE) took a nosedive to close at 835.49 points on March 9, recording the worst slump since 2002.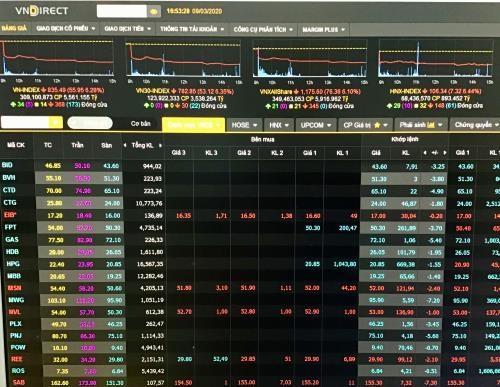 The benchmark VN-Index on the Ho Chi Minh Stock Exchange (HoSE) took a nosedive to close at 835.49 points on March 9, recording the worst slump since 2002
Vietnam's stocks saw the largest decline measured over the course of a single day since 2002 as investors grow fearful of the economic fallout from the COVID-19 outbreak, coupled with the global oil price war.
Particularly, global oil prices slumped by more than 30 per cent after Saudi Arabia cut the price and boosted its output, putting extreme pressure on the oil and gas sector.
At the close, the VN-Index tumbled by 6.28 per cent, the biggest loss since 2002, to close at 835.4 points.
Trading volume increased to 302 million shares.
Market breadth was negative, with 10 losers against each gainer, implying that the market has the jitters.
Besides, the HNX-Index trimmed significantly by 6.44 per cent to 106.3 points.
Selling was broad-based, with some airlines, oil and gas, and retail firms showing especially large declines. 23 out of 30 constituents of the VN30-Index reported a drop.
Oil and gas stocks were among the hardest hit, especially PV Gas (GAS, -7.0 per cent), PV Drilling & Well Services (PVD, -6.9 per cent), and PV Technical Services (PVS, -9.9 per cent).
Shares of Mobile World Investment (MWG) slipped 6.98 per cent to VND95,900 ($4.17) per share, and Phu Nhuan Jewelry (PNJ) also closed 6.94 per cent lower at VND75,100 ($3.27) per share.
Insurance firms, such as Bao Viet Holdings (BVH, -6.9 per cent) and Bao Minh Insurance (BMI, -6.8 per cent) also declined.
Masan Group (MSN, -4.4 per cent) fared relatively better due to the stockpiling of instant noodles amid renewed COVID-19 fears.
Airline stocks were mixed, with Vietnam Airlines (HVN, -6.8 per cent) hitting its limit down and Vietjet (VJC, - 5.8 per cent) also dropping in the closing auction, according to KB Securities.
Foreign investors continued their sell-off trend with a net of VND229 billion ($9.96 million) on the Ho Chi Minh City Stock Exchange.
Masan, VinGroup, and Hoa Phat Group were among the heaviest sold stocks.
Furthermore, investors also soured on banks' stocks since the State Bank of Vietnam announced credit growth for the first two months of the year at a meagre 0.1 per cent on-year as a result of the wide-spread outbreak.
Researchers at KIS Securities stated that downside risk is still high as investors have grown increasingly pessimistic. In the short term, the downtrend is dominant, so traders should stay on the sidelines and wait for the next bullish signals.
Notwithstanding, Vietnamese public-health authorities are escalating efforts to contain the COVID-19 epidemic, even though this action could bring about a sharp drop in business activity. The number of confirmed positive cases nationwide has exceeded 31, including nine foreigners as of late March 9. VIR
Luu Huong

The Vietnamese stock market would struggle to hold on to its threshold as analysts are afraid the market sentiment could worsen after new coronavirus-infected cases were reported over the weekend.  

Stock markets remain on edge from oil price war and weak economic data due to the coronavirus spread.