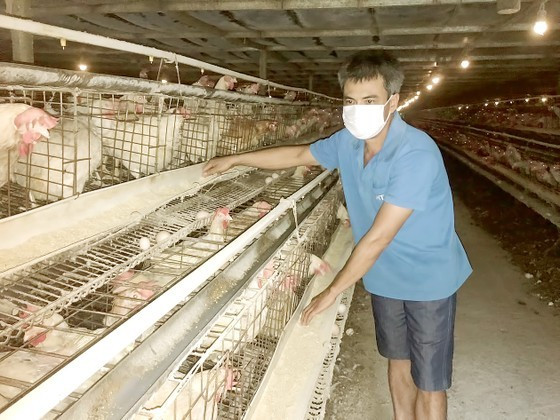 Poultry raising at a farm in Dong Quang Commune, Quoc Oai District, Hanoi.
The domestic livestock industry is encountering challenges due to the increasing dominance of FDI enterprises in the market, said Mr. Nguyen Thanh Son, the Chairman of the Vietnam Poultry Association (VIPA).
Son has stated that the livestock industry in Vietnam has experienced significant growth in recent years. In particular, the poultry sector has seen a 1.5-fold increase in the number of poultry, rising from 342 million in 2015 to 533 million in 2022.
Additionally, meat production has surged 2.87-fold from 700,000 tons to nearly 2 million tons. The output of poultry meat and eggs has not only fulfilled the domestic consumption needs of 100 million people but has also been officially exported, which was not previously possible.
There are challenges that require immediate attention in the livestock industry. The profitability of poultry production is declining steadily, while the growth of imported meat is outpacing that of domestic production.
Fierce competition between domestically produced meat and cheap imported meat has created an unstable market with domestic consumption still dominating, and processed products, especially deep processing, are in short supply.
Livestock diseases have continued to happen frequently, particularly in smallholder farming areas, which pose significant risks. Consequently, despite the growth, our livestock industry is currently highly vulnerable and unsustainable.
The most concerning issue is that in recent times, domestic livestock companies have been losing ground to FDI livestock companies, resulting in smallholder farmers and domestic livestock companies being gradually forced out of the market.
This has led to a significant decrease in the number of livestock farming households due to losses incurred in recent times while FDI livestock companies continue to expand their operations in Vietnam.
As of now, FDI livestock companies have taken over pork and poultry production in the Vietnamese market.
For instance, a recent FDI company announced an investment of over US$200 million to build an integrated livestock complex in Binh Phuoc Province.
Additionally, they are expanding their production of chicken breeding and processing network in Vietnam. Other FDI corporations and companies have also invested in large-scale projects in Vietnam, focusing on pork and poultry production.
It is worth noting that while some FDI companies have been working alongside Vietnamese farmers for many years, unfortunately, other FDI companies are competing with domestic farmers for market share.
According to Mr. Son, the main cause of this situation is the lack of capital and the significant drop in market prices, which has "knocked out" domestic livestock facilities over the past two years.
As a result, many domestic livestock facilities and companies are forced to provide livestock raising services for FDI companies in which they receive breeding animals and livestock feed from FDI companies and raise animals on their farms for a fee.
This is the solution that domestic livestock farmers have chosen to "bounce back" in the current circumstances. However, the risk is that when our farmers focus on raising livestock for FDI companies, the decision on selling prices is in the hands of foreign companies.
The tragedy, according to Mr. Son, is the higher growth rate of imported meat compared to the domestic livestock industry.
According to statistics, Vietnam's livestock industry has experienced an annual growth rate of 6.3 percent from 2018 to 2022. However, over the past two years (2021-2022), the growth rate of imported poultry meat skyrocketed to almost 60 percent, which is an alarming trend.
Recently, the influx of imported chicken meat into Vietnam has risen significantly, seriously impacting domestic poultry production. To illustrate, in 2021, companies were allowed to import up to 225,000 tons of frozen poultry meat; in 2022, this figure increased to 246,000 tons, and in the first four months of 2023, the amount of imported frozen poultry meat has already reached 51,000 tons from countries such as the US, South Korea, Brazil, and Poland.
Although importing goods is common practice when Vietnam participates in the WTO and free trade agreements, food safety cannot be guaranteed if we do not control the quality. Unfortunately, many low-quality by-products with short shelf lives are being imported.
At present, not only chicken necks and wings but also chicken organs and even chicken skin from South Korea are being imported by companies. In other countries, these by-products incur costs for processing and disposal.
Shockingly, live chickens are now allowed to be imported into the country for slaughter, which was previously strictly prohibited and only allowed for breeding purposes with strict quarantine measures.
Additionally, there is a disturbing trend of discarded chickens from farms in Thailand illegally entering Vietnam through Cambodia.
The domestic market is being flooded with imported chicken meat and low-quality by-products, sold at very cheap prices of VND30,000-VND40,000 per kg, while FDI companies are taking over market share in the local market.
This raises the question of how local farmers and domestic companies can survive.
VIPA's calculations show that the current poultry farming cost is around VND29,000-VND30,000 per kg, but the average selling price is only VND25,000 per kg. It means that farmers are selling below cost.
The Ministry of Agriculture and Rural Development needs to reconsider the permission of importing by-products and animal organs, as imported food seriously threatens the domestic livestock industry, resulting in even more losses for farmers.
Given the challenges and risks, VIPA has recommended to the Prime Minister and relevant ministries and departments to implement special policies that will support domestic companies and farmers to compete on an equal footing with FDI companies on their home turf.
They also proposed reviewing the strategy for developing the poultry farming sector in light of the oversupply situation as there are too many licensed projects without export plans.
In the next five years, local authorities should tighten the approval process for new projects unless they have a processing or export plan in place.
Additionally, it is proposed that the Ministry of Agriculture and Rural Development and the Ministry of Industry and Trade intensify negotiations to open up markets for processed poultry meat and eggs for export.
It is critical to strictly control the situation of importing foreign meat as there are many technical barriers to exporting domestic meat and eggs, while imported products are easily available.
Therefore, it is time to implement non-tariff measures and build a more reasonable technical barrier system that aligns with international norms to prevent excess imports of livestock products.
Furthermore, close monitoring of temporary imports for the re-export of livestock products is necessary, as many products used as animal feed, such as feet, heads, necks, wings, and animal organs, are still being smuggled into Vietnam as food for human consumption.
Source: SGGP