VietNamNet Bridge – Viet Nam will face Sri Lanka in the relegation battle to the next-lower group after losing 2-3 to Pakistan in the Davis Cup's qualifier in Group II Asia/Oceania zone.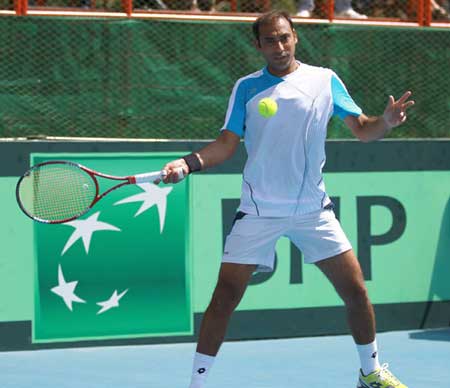 Fine form: Aqeel Khan of Pakistan made a forehand against Vietnamese Nguyen Hoang Thien during their Davis Cup qualifier match yesterday. Pakistan beat Viet Nam 3-2 to advance to the next round. — Photo vtf.org.vn
Nguyen Hoang Thien, who trounced Mohammad Abid 3-0 on the first day, could not repeat his dazzling performance against Pakistan's most experienced Davis Cup player, Aqeel Khan, yesterday (Feb 16).
The first set went on with serves lasting until the sixth game before Khan won two breaks to win 6-2.
The second set saw Thien playing better and got his first break point in the second game to lead 4-2 but Khan broke Thien in the seventh and took his service game to level 4-4.
Thien, 19, became frustrated after losing the break point and the game turned into Khan's favour with the 34-year-old player took the second set at 6-4.
Trailing 2-0, Thien seemed to lose the will to try a comeback and allowed Khan to quickly finish the set at 6-2.
In the last singles match, host player Trinh Linh Giang defeated Yasir Khan 7-6, 6-2.
"I did not play as well as I did in the first match on Friday. Besides, Khan is also a better and more experienced player," Thien conceded.
"I tried to come back at certain points during the match but I could not and instead just played a defensive game."
"Our athletes played well in David Cup in front of their home crowd for the first time," Viet Nam's head coach Michael Baroch said.
"However, they showed a lot of weaknesses and it took time to overcome those shortcomings," the Australian added.
Pakistan beat Viet Nam 3-1 in aggregate and sealed the ticket to the next round, where they face the Filipinos.
Source: VNS