VN monetary policies do not create unfair gains in int'l trade: SBV

The State Bank of Viet Nam (SBV) will be consistent in regulating monetary policies according to market developments, with no aim for an unfair competitive edge in international trade.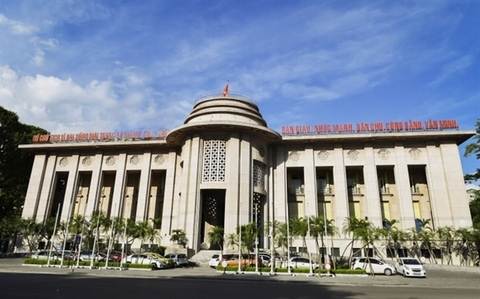 Headquarters of the State Bank of Viet Nam in Ha Noi. The SBV said it has never used exchange rates to compete with trade partners. — Photo SBV
The SBV released the statement after the US Treasury continued to name Viet Nam in a list of ten countries to be monitored for alleged currency manipulation, in its semi-annual Report on Macro-economic and Foreign Exchange Policies of Major Trading Partners of the United States delivered to Congress on Tuesday.
"The SBV has never used exchange rates to compete with trade partners and never purposely intervened in monetary policy to help with exports," the central bank said in a statement released on Tuesday.
The Vietnamese central bank said it would continue to regulate monetary policy to control inflation, stabilise the macro-economy and support economic growth at a reasonable level.
"We will continue to regulate the exchange rates flexibly in line with domestic and international market movements as well as Viet Nam's economic characteristics, with no aim of creating an unfair international trade competitive advantage," the SBV said in the statement.
During a conference to implement tasks for the banking industry in 2020 earlier this month, SBV Governor Le Minh Hung also affirmed that one of Viet Nam's priorities in 2020 was to continue working with major trading partners to prove that Viet Nam does not manipulate its currency.
"The SBV never uses monetary and foreign-exchange policies for unfair trade gain. Viet Nam does not manipulate the currency," Hung stressed.
According to the SBV, when on the list, the US Treasury will continue to look at data on Viet Nam's trade, current account balance, and macro-economic and monetary policy.
"The US Treasury will possibly discuss issues with relevant Vietnamese agencies when necessary. The SBV, in conjunction with other Vietnamese ministries and agencies, will continue to share information with them and co-operate to tackle issues of concern," SBV said in the statement.
According to the US Treasury's report, it found that ten major trading partners warrant placement on Treasury's "Monitoring List" of major trading partners that merit close attention to their currency practices include China, Germany, Ireland, Italy, Japan, Korea, Malaysia, Singapore, Switzerland and Viet Nam.
The US designates a country as a currency manipulator when that country resorts to unfair currency practices such as currency intervention or monetary policy that influences the exchange rate and commercial policy, so as to enjoy a trade advantage.
Treasury's triggers to examine currency manipulation are a current account surplus of 2 per cent of GDP; a bilateral goods trade surplus with the US of at least US$20 billion; and continuous and lengthy intervention in the foreign-exchange market with value of foreign currency purchased equal at least 2 per cent of GDP in a 12-month period.
In a report in May 2019, Viet Nam for the first time became one of nine countries to be monitored due to a trade surplus with the US and a highly positive current account balance. The report also said that a listed country would be monitored in the next two reviews.
In the latest report in January, Viet Nam remained on the watch list of currency manipulators even though it has satisfied only one condition, a trade surplus.
Viet Nam's trade surplus with the US rose to almost $47 billion in 2019 from $34.87 billion in 2018.
The country's current account balance accounted for 1.7 per cent of its GDP while its net foreign exchange purchases were equal to 0.8 per cent of its GDP.
Viet Nam's GDP reached $262 billion last year. — VNS