VietNamNet Bridge – Filmmakers are hoping to draw moviegoers into cinemas during the upcoming Tet (Lunar New Year holiday), which begins on February 8.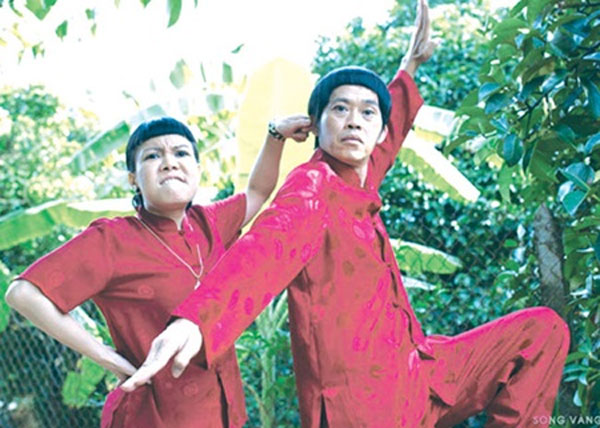 Looking for laughs: A scene in veteran director Tran Ngoc Giau's full-length comedy Tia Tui La Cao Thu (My Dad Is a Gangster), which will be released in cinemas on January 29. — Photos VNS
Director Le Bao Trung believes his seventh film, Loc Phat (Prosperity), which will be released three days before Tet, will be a hit.
"My work is a kung fu-comedy mixture that will appeal to both young and adult audiences," he said.
"My film's content features social issues," Trung said, adding that his previous movies, De Muon (Hired Pregnancy) and Vo Lam Truyen Ky (Legendary Swordsman), released in 2006 and 2007, earned a total of VND14 billion (US$622,000) at the box office.
Produced by the LBT Entertainment and Galaxy, Loc Phat tells the story of an assassin who is on a bus trying to escape from his gang.
The film's director of cinematography is Nguyen K'Linh, winner of the Golden Lotus award for the best cinematographer at the Viet Nam Film Festival last year.
"My film features comedy and exciting action, as well as serious matters like love and life," said Trung, owner of LBT Film Studios.
Veteran director Tran Ngoc Giau's Tia Tui La Cao Thu (My Dad Is a Gangster) is a full-length comedy.
The film features a large cast of famous artists, including Vietnamese-American comedians Hoai Linh and Viet Huong.
"My film highlights traditional values about love and family," said Giau, who has the reputation of making lowbrow plays and movies in both theatre and film.
"I think comedies are a perennial favourite with audiences, even more so during the festive season," he said.
Vietnamese-American director Ham Tran has made a kung fu film, Sieu Trom (Bitcoin Heist).
Ham, who began the film after asking why directors could not make a change by shooting a kung fu film for Tet, instead of releasing comedies as usual, said: "Sieu Trom features the daily life and work of hackers, focusing on a young woman hunted by a female secret agent."
With its young and attractive cast, including young rapper Suboi and fashion model Nhung Kate, the film is expected to be a draw with young audiences.
"Through Sieu Trom, I want to change audiences' tastes during Tet," said Ham in a recent interview with local media after launching the film's trailers online.
Ham made his mark with the wildly popular Doat Hon (Hollow), a blockbuster last summer that was instrumental in introducing his brand name to Viet Nam.
Critics hope Sieu Trom, which will be released on January 29, will bring a different dimension to a holiday season dominated by comedies and light fare.
Movie star and pop singer/producer Ngo Thanh Van's Tam Cam- Chuyen Chua Ke (Tam and Cam - The Secret) said that her company, VAA, the film's producer, had worked on the film's post-production but still had no screening schedule.
The 90-minute fantasy movie is based on a fairy tale, Tam Cam, similar to Cinderella.
The story tells the life of an orphan girl named Tam, played by Ha Vi, who is beautiful and hard-working, and has a kind word for every person and animal around her.
She lives with her stepmother and half-sister named Cam, played by Lan Ngoc, who always finds ways to harm her.
After facing challenges, Tam finally marries the King and lives happily ever after.
"We invested a big sum of VND20 billion (nearly U$900,000) on the film to guarantee our production's quality," said Van, who first worked as a movie director.
Last year, her film, Ngay Nay Ngay Nay (Once Upon A Time), attracted more than 500,000 people in HCM City after the first three weeks of release.
VNS