VN President witnesses signing of numerous VN-Cuba cooperation programs
President Nguyen Xuan Phuc on September 20 visited the Centre for Genetic Engineering and Biotechnology (CIGB) in Havana as part of his official friendship visit to Cuba.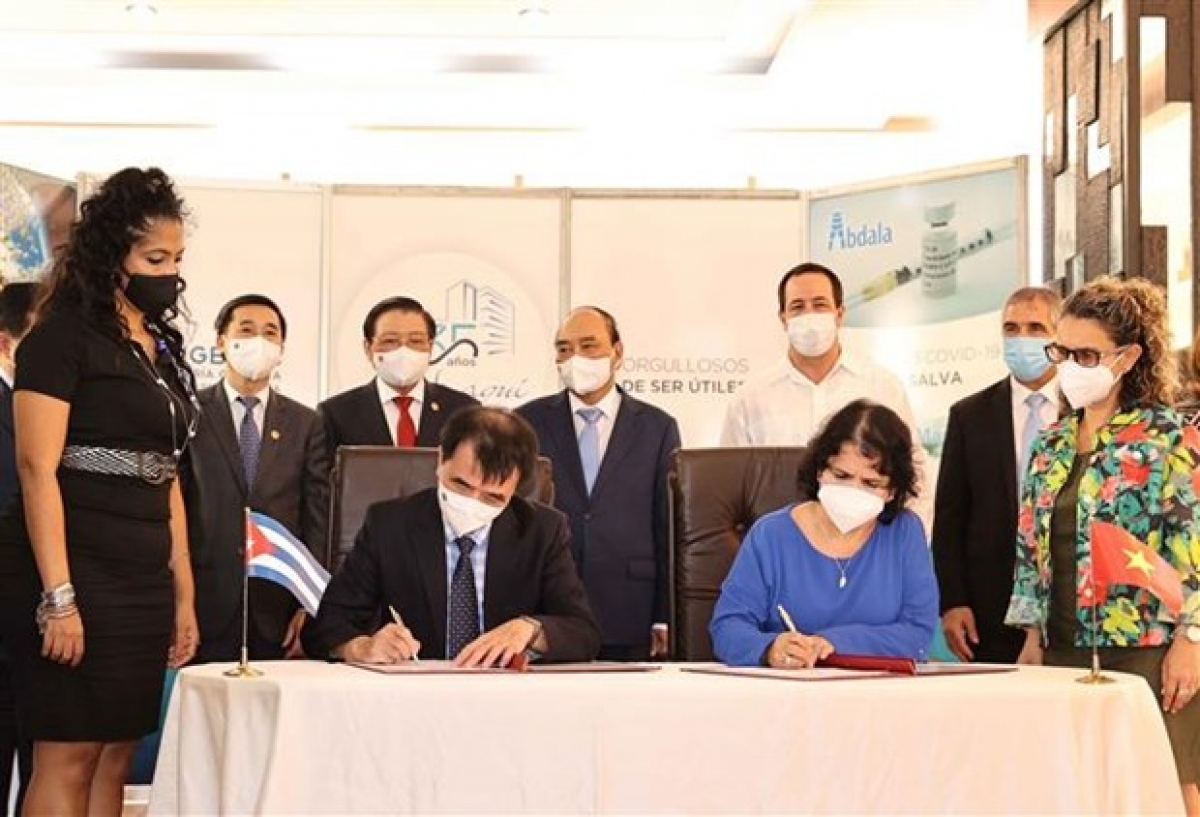 President Nguyen Xuan Phuc witnesses the signing of cooperation agreements between Vietnam and Cuba.
As a leading biotechnology centre of Cuba, the CIGB has successfully researched and produced five types of vaccines against COVID-19, including Abdala, making Cuba the first and only Latin American-Caribbean nation to research and produce its own COVID-19 vaccines.
The Center produces many pharmaceutical products such as vaccines, cancer drugs, and diagnostic technologies.
At the CIGB, President Phuc witnessed the signing of an agreement between the CIGB and the Centre for Research and Production of Vaccines and Biologicals (POLYVAC) under the Vietnamese Ministry of Health on purchasing 5 million doses of COVID-19 vaccines from Cuba. Businesses of both sides also signed deals on the transfer of Soberana 2 COVID-19 vaccine.
Upon addressing after the signing ceremony, President Nguyen Xuan Phuc said he is elated to witness this important event which is a very important success of his trip.
CIGB leaders showed their elation to see many Vietnamese partners desire to cooperate with the Center in both distribution and technology transfer for the production of pharmaceuticals, vaccines, including the Abdala vaccine.
According to Deputy Minister of Health Tran Van Thuan, during the President's visit, both nations' health ministries have reached a series of agreements on eight cooperation contents in research, training, technology transfer and production of medicines.
He expressed his hope that health care partnership between the two countries will continue to grow and flourish on a par with the sound relations between the two nations.
Following his visit to the Centre, PM Phuc visited General Raul Castro Ruz before departing Havana for Santiago, the second largest city of the Caribbean nation.
After concluding the Cuban visit, he is set to jet off to New York for a general debate of the UN General Assembly's 76th session and an array of bilateral activities in the US.
Vietnam to promote projects in Cuba's Mariel Special Development Zone: President
Vietnam will promote investment projects in the Mariel Special Development Zone in practical fields serving the development and daily needs of Cuban people, especially production of essential goods, high-tech industry and infrastructure development, President Nguyen Xuan Phuc has said.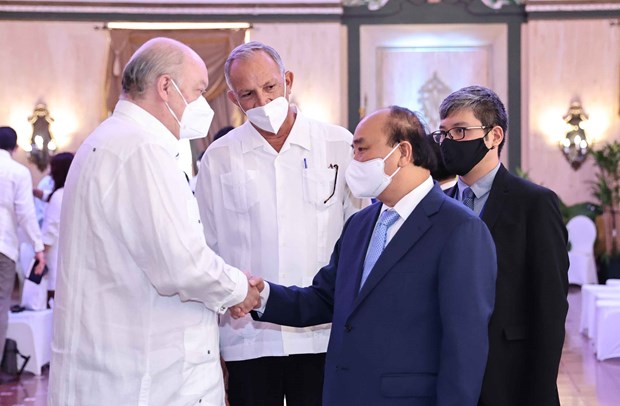 President Nguyen Xuan Phuc (front, right) receives Cuban Minister of Foreign Trade and Investment Rodrigo Malmierca Diaz in Havana on September 20 morning (local time). (Photo: VNA)
The President made the statement at a reception in Havana on September 20 morning (local time) for Cuban Minister of Foreign Trade and Investment Rodrigo Malmierca Diaz and leaders of the Mariel Special Development Zone.
At the meeting, the two sides discussed potential and advantages of the zone in the western province of Artemisa province of Cuba.
Diaz warmly welcomed President Phuc's visit to Cuba, saying it opens up many cooperation opportunities in investment, trade and economy between businesses of the two countries.
Emphasising the potential and advantages of the zone, the minister said that this special economic zone has achieved many positive results in recent years, offering good conditions for attracting foreign investment and high-tech projects to Cuba, thus promoting the country's export activities in the coming time.

Cuba issued a law permitting foreign investment in the over-400,000-hectare development zone, which has attracted projects in biotechnology, pharmaceutical production, consumer goods manufacturing, banking, construction and some other sectors. The zone offers an attractive tax exemption policy for investors and handles procedures under the single-window model in just 60 days.
So far, the Mariel Special Development Zone has approved 59 projects, 34 of which have become operational, worth over 3 billion USD in total from 21 countries. Among these projects, three are invested by Vietnam.
Leaders of the zone expressed their hope for more investment projects from Vietnam on the basis of the two countries' special traditional friendship and many cooperation agreements signed in the judicial, trade, and financial areas.
President Phuc noted with satisfaction that Vietnam and Cuba has just finished negotiations and signed an official contract under which Vietnam will buy 10 million doses of COVID-19 vaccine from Cuba. He described this as a particularly important achievement marking the comprehensive success of his official visit to Cuba this time.
The Vietnamese leader said Cuba's building of an special economic zone, industrial park, and processing area is in line with the common trend of countries worldwide.
He lauded Vietnamese firms' investment in the special development zone despite the long distance and expressed his delight at the fact that Vietnam is the second biggest foreign investor in Cuba.
President Phuc expected that Cuba will invest more in the zone's infrastructure and offer a flexible and preferential investment policy to attract more investors. Favourable and simple administrative procedures to create the best possible conditions for investors are needed, he added.
On the occasion, the President called on Vietnamese enterprises to pay attention to and increase investment in the Mariel Special Development Zone.
Vietnamese FM meets with Acting FM of Cuba
Vietnamese Minister of Foreign Affairs Bui Thanh Son held a meeting with Cuban Acting Minister of Foreign Affairs Marcelino Medina in Havana on September 19 (local time).
Son, who was accompanying President Nguyen Xuan Phuc on an official visit to Cuba from September 18-20, emphasised the important significance of the Vietnamese leader's trip in the current context, saying that it manifested the special friendship, close solidarity and comprehensive cooperation between Vietnam and Cuba.
He highly appreciated the close coordination between the Ministries of Foreign Affairs and the Embassies of Vietnam and Cuba in preparing for President Phuc's first visit to Cuba.
The Vietnamese Ministry of Foreign Affairs and its Cuban counterpart will urge other ministries and sectors of the two nations to effectively implement high-level agreements reached by President Nguyen Xuan Phuc and Cuban President Miguel Díaz-Canel, Son said.
Medina stressed that President Phuc's visit was the first official high-level activity in Cuba since the COVID-19 pandemic broke out in the country. Leaders and the people of Cuba have attached great importance to the visit, considering it as vivid evidence of consistent solidarity and timely mutual support between the two nations, he added.
The two sides agreed to continue flexibly carrying out the political consultation mechanism at the deputy foreign minister level amid complicated developments of the COVID-19 pandemic.
They also consented to strengthen coordination, cooperation and mutual support at international organisations and multilateral forums of which both nations are members, especially the United Nations.
The officials held that amid current challenges, the two sides will actively promote cooperative ties in different fields to match with fine political relations between Vietnam and Cuba for the common interests of both nations.
At the end of the meeting, Son and Medina witnessed the signing of a memorandum of understanding on cooperation between the Diplomatic Academy of Vietnam and the Raúl Roa García Higher Institute of International Relations of Cuba by Vietnamese Deputy Minister of Foreign Affairs Dang Hoang Giang and his Cuban counterpart Gerardo Penalver./.
Source: VNA/VOV