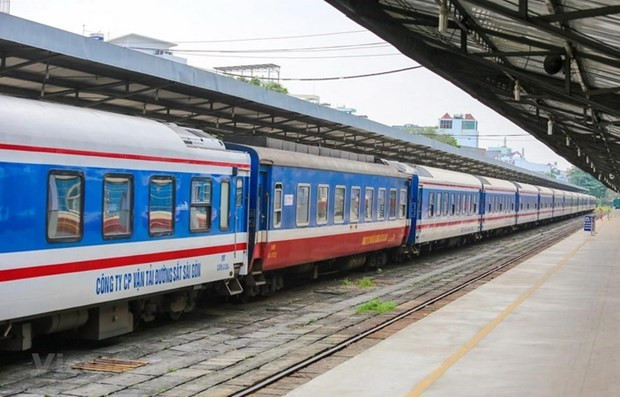 A train of the Vietnam Railways Corporation (Photo: VNA)
VNRA Deputy General Director Tran Thien Canh said the East Japan Railway Company (JR East), a leading railway operator in Japan, has sent a document to the MoT showing its interest in a project on upgrading the Hanoi - Hai Phong rail route and a railway project linking with the Hai Phong international gateway port.
In June 2022, a JR East delegation had the first working session with the MoT and the Vietnam Railways Corporation and made a fact-finding trip of the Hanoi - Hai Phong rail route.
At a recent meeting with the MoT, Spanish Ambassador to Vietnam Pilar Méndez Jiménez said her country, home to the world's second longest express railway system, wishes to cooperate with the ministry in developing the railway system, including high speed rail (HSR).
Talking to MoT officials at another meeting, a World Bank representative also voiced interest and willingness to work with Vietnam to invest in the North - South express railway project.
The MoT noted the share of rail transport has been shrinking and for many years, there haven't been any new rail routes taking shape.
The strategy for socio-economic development for 2021 - 2030, adopted at the 13th National Party Congress, requested due attention be paid to rail transport development, some sections of the North - South high-speed railway projects carried out, and the construction of urban railways in Hanoi and Ho Chi Minh City sped up.
The railway sector's capital demand by 2030 is estimated at about 240 trillion VND (10.2 billion USD), including over 46.3 trillion VND for upgrading existing routes, 112.3 trillion VND for building the high-speed railway, and over 80 trillion VND for developing new normal rail routes.
Despite many investors' interest in those projects, some experts pointed out that numerous difficulties are hampering the attraction of private and foreign investment.
Transport expert Nguyen Xuan Thuy held that with clear and transparent mechanisms, it is completely possible to attract private investment, and only when private capital is mobilised effectively can demand for railway infrastructure development be met.
The Vietnam Railway Authority said the biggest barrier to private investment attraction is that infrastructure projects in this field require huge capital while their profit is low. Meanwhile, specialised agencies have yet to issue guidance for the implementation of support mechanisms for investors.
State agencies, railway businesses, and investors are expecting improvements in railway infrastructure development following the Politburo's issuance of Conclusion No 49-KL/TW on February 28, 2023 on orientations for the development of rail transport in Vietnam by 2030, with a vision to 2045.
Minister of Transport Nguyen Van Thang said to develop the railway network for 2021 - 2030, with a vision to 2050, the ministry has proposed increasing medium-term public investment and prioritising major railway projects to enhance transport connectivity and reduce logistics costs during 2021 - 2025./. VNA