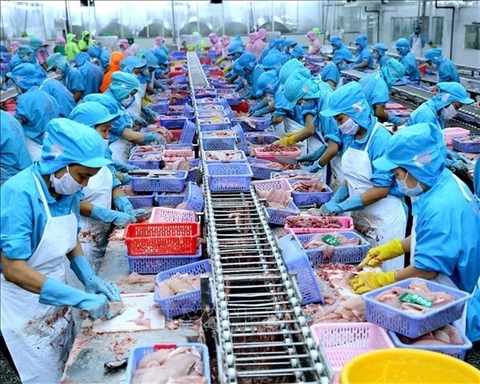 While Viet Nam's seafood exports saw a drop due to COVID - 19, exporters are not too worried about the situation. 
 Seafood exporters in Viet Nam are not too worried though import demand for their products has taken a hit due to the coronavirus epidemic.
According to Viet Nam Association of Seafood Exporters and Producers (VASEP), seafood exports to China by land account for around 20 per cent of total value, and so the border closure has heavily impacted exports in the first quarter.
VASEP forecast that in the best case, seafood exports to China in the first quarter would be 40 per cent lower than in the last quarter of last year though still 10 per cent higher year-on-year.
If the disease persists for a long time, full-year export to China could see a 6 per cent drop, it warned.
But Truong Dinh Hoe, general secretary of VASEP, said the disease's effect on exports in the first few months of the year had not been too drastic, and China's seafood imports usually pick up after March or April.
Doan Chi Thien, a management board member at Nam Viet Corporation, said the Lunar New Year holiday was extended until February 9 in most of China's provinces, and so businesses were unable to export shark catfish to them.
While shark catfish exports to China are expected to take a big hit, it is only temporary, while other markets are importing the product normally, with ones like South America and Europe in fact increasing shipments, according to Thien.
His company has been focusing on diversifying its markets and reducing dependence on only one market, he added.
Pham Thanh Tung of seafood supplier Vinh Hoan Corporation said his company hoped demand would pick up in the second quarter, adding that it had already been working on expanding its markets. — VNS

The seafood sector witnessed unsatisfactory business results in the first nine months of the year as a number of big companies reported sharp declines in profits in comparison with the same period last year.
The EU, which was once the second biggest seafood export market for Vietnam, consuming 18 percent of Vietnam's seafood exports, fell to fifth, with 13 percent, after the EU gave Vietnam the yellow card.