VN seafood processing companies lacks skilled labourers

Seafood processing enterprises in the southern province of Ba Ria-Vung Tau are facing a serious shortage of skilled labourers, affecting their production and exports.
Firms in HCMC industrial zones decry multiple obstacles
Costs cause seafood firms to sink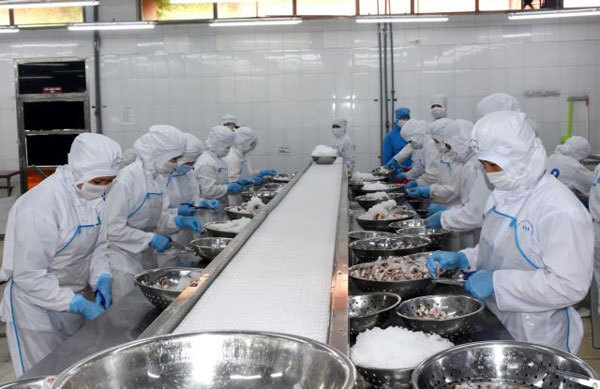 Ba Ria-Vung Tau Province's seafood processing enterprises face a labour shortage. — VNA/VNS Photo Hoang Nhi
Although many workers have been offered more attractive employment terms since the beginning of the year, the shortage has worsened.
Of 900 seafood processing enterprises in the province, about 60 per cent of them need an additional 7,000 employees.
The figure could be even higher since some companies have not registered with the province's employment service centre.
At processing factories, workers face cold and wet working environments, with unpleasant odours.
They often take the job temporarily until they find something better.
The presence of industrial parks and other industries in the province has also created a more competitive job environment.
Seafood processor The Phu Co. Ltd in Vung Tau City, for example, is in need of about 1,000 new workers to expand its production, but it has only filled 25 per cent of the jobs.
The company has nearly 300 employees, with 90 per cent of them temporary workers who often leave at different times.
To ensure that signed export contracts are fulfilled, the company has spent a lot of money to pay workers overtime.
Despite offering free accommodation and transportation, extra bonuses and mid-shift meals, many workers have left for other jobs.
Vu Xuan Duc, head of the quality management department at The Phu Co. Ltd, said most of the company's workers lived in rural areas in the province.
"When the crop season comes, they often return home to help at the farm," he said. Many of the workers are reluctant to sign long-term contracts.
The Ba Ria Vung Tau Seafood Processing, Import and Export Joint-Stock Company (Baseafood) employs 300-400 skilled workers to ensure its export volume of 200 tonnes of finished products per month.
The company currently has a shortage of 150 employees, mainly skilled workers.
Many job applicants lack skills and professionalism, while most of the company's employees are low-skilled or unskilled workers.
To improve their skills and meet the demand for higher quality products, the company has to spend time training workers.
Do Dình Hai, head of Job Introduction Office under the province's Employment Service Centre, said that seafood processing companies were being affected by changing job structures. "Workers tend to switch to other industries for a higher income," he said.
The seafood processing sector employs mostly migrant workers, but the number in this category has decreased.
Some companies have built processing factories in rural areas to find workers.
"Seafood processing enterprises should develop policies to support workers so they will stay a long time and give them training to improve their skills," Hai said.
Responsible agencies should also ensure a more balanced labour supply and demand by disseminating information about the labour market, he said.
VNS