VN steelmakers hit hard by virus outbreak as demand, prices spiral

Vietnamese steelmakers were in need of State support to minimise the damage caused by the outbreak of COVID-19, which could well reach a pandemic as dozens of countries reported new infections.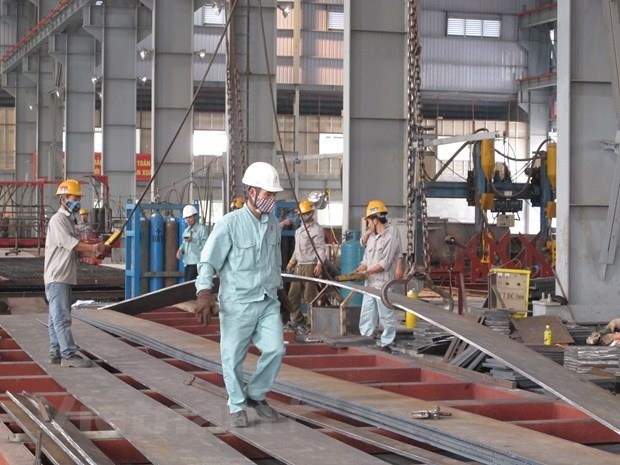 Workers at a steel mill in Que Vo Industrial Zone in the northern province of Bac Ninh
The virus outbreak, which started in China, had hurt the country's steel industry in many ways, said vice chairman of the Vietnam Steel Association (VSA) Trinh Khoi Nguyen.
Nguyen said demand for Vietnamese steel had fallen sharply as construction projects were halted and rigid measures were taken by countries to monitor the flow of goods.
According to the VSA, steel consumption across the country had dropped by 35 percent and exports had fallen by 20 percent. Other steel-related products also reported a 30-40 percent drop in demand.
For example, the Thai Nguyen Iron and Steel Company (TISCO) said sales had plummeted to 14,000 tonnes (just over 23 percent of its sales target for February). The corporation said even in the best-case scenario, it would only reach 75 percent of its quarterly target.
The steelmaker said it's in the process of reviewing stockpiles and negotiating with suppliers and buyers to ensure production continued.
On the supply side, steelmakers have been feeling the effect of a raw material shortages as major suppliers including China, Japan and the Republic of Korea were all struggling to cope with the virus outbreak with production grinding to a halt.
The association has urged the Government to come up with policies to support the industry, including cutting interest rates and extending credit lines. At the same time, actions must be taken to ensure a steady supply of raw materials across the border.
VTMSteel was among the hardest hit by the outbreak as its factory is located close to the Vietnam-China border and the company heavily relies on trade between the two countries for raw materials. As the company's stockpiles fell, operations would likely stop in March.
The Vietnam Steel Corporation (VNSTEEL) has been talking with customs and border authorities to find ways to speed things up on both sides. Meanwhile, steelmakers must also start seeking other sources of raw materials, VNSTEEL said.
Tran Tuan Anh, minister of industry and trade, said his officials had been holding talks with their Chinese counterparts to find ways to help enterprises resume production as soon as possible.
Truong Thanh Hoai, head of the ministry's department of industry, said the ministry had made recommendations to the Government to reduce key industries' reliance, including the steel sector, on China and South Korea as major raw material suppliers. Meanwhile, the department has been working alongside firms to hold trade promotions to help Vietnamese products find new markets./.VNS

The Vietnamese steel industry is expected to face difficulties this year due to an increase in production capacity, falling demand and protectionist measures by countries to reduce imports, according to experts.

The steel industry experienced many difficulties in 2019 due to stronger steel imports and reduced sales of locally made products at home and abroad.