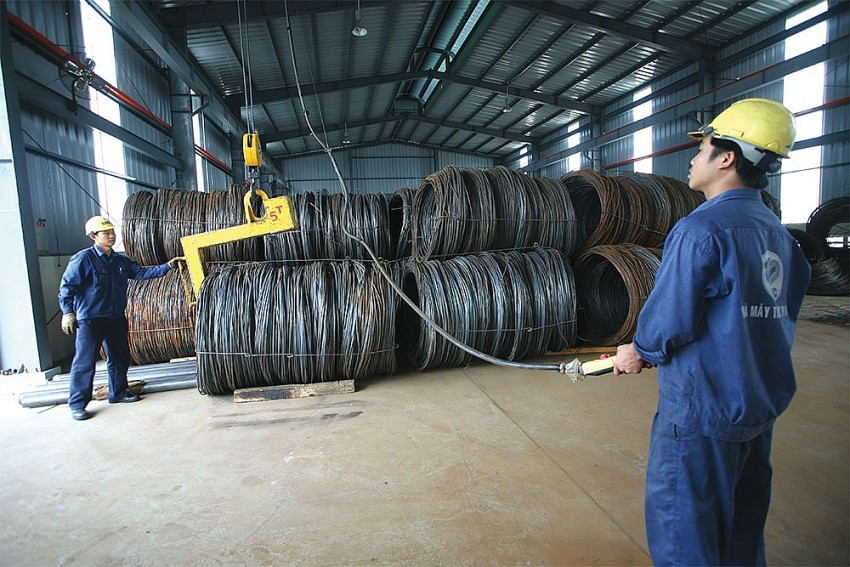 GHG emissions inventories will cause a considerable challenge for the steel industry, photo Le Toan
From October 1, steel companies exporting to the EU must adhere to the EU's Carbon Border Adjustment Mechanism, starting with greenhouse gas (GHG) emissions reporting and reduction.
At the training for steel manufacturers on GHG accounting and emissions mitigation, held on September 12 by the International Finance Corporation (IFC) and the Vietnam Steel Association (VSA), experts discussed industrial carbon reduction technologies and provided insights into opportunities and challenges related to carbon trading.
As one of the fundamental industries in Vietnam, the steel industry serves as a primary input for various sectors such as construction, shipbuilding, automotive, mechanics, and others. According to information from the VSA, Vietnam exported approximately 8.397 million tonnes of steel last year, representing a 35.85 per cent decrease compared to the same period the previous year.
The export value reached $7.99 billion, down 32.2 per cent on-year. However, in order to continue exporting to the EU, steel businesses must adhere to the carbon emission monitoring and reduction requirements.
Ma Khai Hien, director of the Energy Conservation Research and Development Center (Enerteam), assessed that this is not a small challenge for Vietnam's steel manufacturing companies, especially when Vietnam's average GHG emissions rate is currently about 23 per cent higher than the global average.
"Specifically, the average emissions rate in Vietnam's steel industry is currently at 2.51 tonnes of CO2 per tonne of raw steel, while the global average is 1.85 tonnes of CO2 per tonne of raw steel," he explained.
The Office of Sustainable Production and Consumption under the Ministry of Industry and Trade projected that the steel industry will emit approximately 122.5 million tonnes of CO2 by 2025 and around 132.9 million tonnes by 2030, accounting for about 17 per cent of the country's total GHG emissions. This makes the steel industry one of the largest emitters of GHGs in Vietnam.
Chu Duc Khai, chairman of the Vietnam Foundry and Metallurgy Sciences and Technology Association, cited an example from a World Bank project which calculated the CO2 emissions from Vietnam's steel industry in 2018 through 13 representative steel mills.
According to Khai, the project's survey results revealed that there has been a significant gap between the CO2 emissions intensity per tonne of raw steel produced in Vietnam compared to global standards, and the global standard is 1.9 while Vietnam's is 2.17. "This poses a considerable challenge to the steel industry as, during the period of 2023-2024, it must complete GHG emissions inventory following global standards, along with a commitment to achieving Vietnam's net-zero emissions by 2050," Khai emphasised.
Last year, guidelines were provided for a list of sectors and facilities required to conduct GHG emissions inventory. There are currently more than 1,900 facilities across the country that must carry out such inventory.
Khai suggested that if they intend to export to the EU, steel companies need to start conducting GHG emissions inventory, as required by the Vietnamese government and the upcoming regulations.
"These businesses should also apply more Best Available Techniques/Best Environmental Practices standards in their technological processes, initially following EU guidelines that include 95 related standards for the steel manufacturing sector. These standards cover emissions such as air, water, and energy to reduce energy consumption, protect the environment, and minimise GHG emissions," he said.
Khai also emphasises the importance of carbon storage solutions. "Vietnam has significant potential due to its oil and mineral extraction activities," he said. "Oil and mineral extraction sites are suitable locations for carbon storage. Utilising some of the oil pipelines at these extraction sites is a solution for carbon storage."
Dien of Enerteam believes that the potential for emissions reduction in the Vietnamese steel industry is still feasible. "There needs to be encouragement from the government and relevant agencies, including establishing and updating Minimum Energy Performance Standards, and the implementation of technical guidelines. Enhancing capacity and technical support to help businesses identify and understand suitable technologies for their operations is also crucial," he suggested.
In August, the State Securities Commission and the IFC introduced a handbook on GHG emission reporting. This handbook facilitates reporting of GHG emissions for businesses and organisations, making it simpler for them to comply with legal requirements.
Source: VIR