VietNamNet Bridge – The Viet Nam Symphony Orchestra (VNSO) will perform in St. Petersburg tonight after entertaining Moscow audiences on Sunday as part of the Viet Nam Culture Days in Russia programme.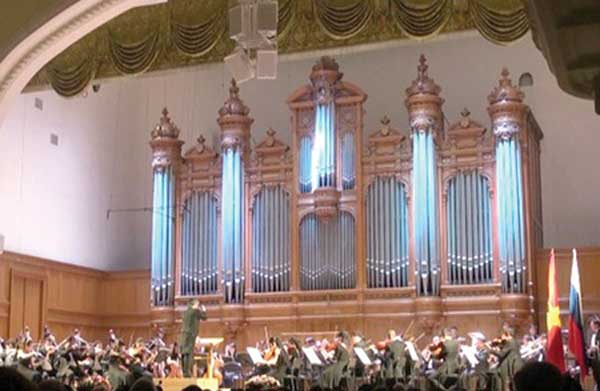 Cultural exchange: The Viet Nam Symphony Orchestra will perform in St. Petersburg tonight. — Photo vietnamplus
Under the baton of prestigious Japanese conductor Honna Tetsuji, the VNSO made its debut in Russia, performing two Vietnamese works by composer Do Hong Quan and musician Pham Minh Thanh along with one Russian classical work, Dmitri Shostakovich's Symphony No 12.
"It was a great programme. All the musicians performed very well," said audience member Lev Leonhidovich.
His fellow spectator A Galina, who has a half-Vietnamese maternal grandchild, said she enjoyed Vietnamese music, which she had heard through lullabies that her Vietnamese son-in-law sang to lull her nephew to sleep.
"I love Vietnamese music and culture very much because it is very new to me, particularly folk music. I hope to enjoy more performances of Vietnamese music," she said.
Composer Quan, whose work was chosen to open the programme, said that the performance of the "difficult" Shostakovich symphony revealed the orchestra's true talent.
"The instrumentalists succeeded in transmitting the national soul through melodies," he said.
General director of the an oil and gas company in Moscow, Ghenadi Sharonov, said the orchestra was "promising" and had "high standards". He expressed hope that the programme would expand to other Russian provinces and cities.
"We thought that culture was a good means to promote co-operation between countries. The concert tonight is an important activity to enhance the relationship and understanding between our nations," said Minister Counsellor of Viet Nam in Russia Nguyen Hung.
VNS/VNN