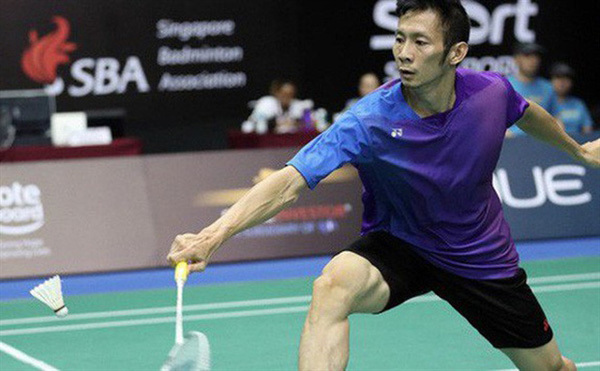 Nguyen Tien Minh. (Photo soha.vn - Illustrative image)
Couple Nguyen Tien Minh and Vu Thi Trang and national female No 1 Nguyen Thuy Linh will shoulder responsibility at the December 12-19 event.
Minh, who has been the country's number one player for more than two decades, will compete in the men's singles.
Currently world No 62, Minh will celebrate his 38th birthday days before the event. He has been Vietnam's biggest hope at every international tournament for many years.
He has competed in the last four Olympics, setting a record for Vietnam. He has collected many medals and his best results were a world bronze medal in 2013 and another bronze at the Asian championship in 2019.
He was defeated by China's legend Lin Dan in the first round of the 2019 world championship.
Minh's latest titles was at the Lagos International Badminton Classics 2019 in Nigeria, the YONEX Waikato International 2019 and the YONEX North Harbour International 2019, both in New Zealand.
At his fourth Olympics in Tokyo in July, the former world No 5 was stopped at the group level after two defeats.
Minh's wife, Trang, is the national No 2 women's single player.
She said she can't wait to represent Vietnam at the world event after months of waiting for the sport to return following the COVID outbreak.
Trang was set in waiting mode for 21 months since her last match at the Austrian Open 2020. Earlier, in 2019, Trang won titles at the JE Wilson International Series in Ghana and the YONEX/K&D GRAPHICS International Challenge in the US.
At the 2019 championship in Switzerland, Trang was ousted in the last-16 round.
"I am really happy sport is allowed to be organised again," said the world number 53. 
"For the past year, like many other athletes, I had to train in social distancing to either keep me safe from the pandemic or maintain my physique and technique.
"I am very happy to be one of three Vietnamese representatives at the world championship." 
Olympian Linh has high hopes at the Spanish event. She performed well at the Tokyo Olympics, beating two athletes who stand higher than her in the world ranking before losing to world No 1 Tai Tzu Ying of Chinese Taipei.
Linh, currently training at the Bac Ninh Sport University, told Việt Nam News she is excited for the tournament. Although a large event and just as difficult as the Olympics, she hopes for more positive results after her remarkable performance in Tokyo.
In the last two years, Linh secured one gold, three silvers and two bronzes at international events.
All three players will warm-up at the National Individual and Team Badminton Championship in Thai Binh Province later this month before flying to Spain.
"They are training hard for the world tournament which is a rare international opportunity of the national team because of the COVID-19 pandemic. Everything has been done, now we just wait to depart," said Le Thanh Ha, general secretary of the Vietnam Badminton Federation.
Source: Vietnam News

Two Vietnamese badminton players Nguyen Tien Minh and Nguyen Thuy Linh have won berths to the Tokyo Olympic Games, the Badminton World Federation (BWF) announced on June 7.