Vietnam Airlines operates special flight on first anniversary of VN-US direct flight
On the occasion of the first anniversary of the non-stop flight between Vietnam and the US, Vietnam Airlines  provided a special flight with surprises for passengers on the evening of November 26.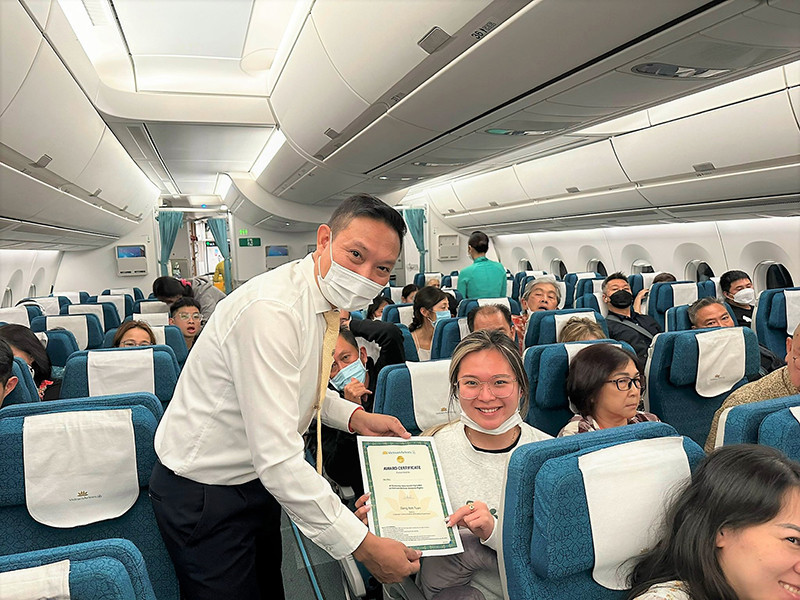 The passengers on VN98 flight from HCM City to San Francisco were given a special edition of a handbook and offered a lucky draw for a free ticket.
Vietnam Airlines cooperated with the US Farm Produce Association to serve the passengers Pho with US beef and Vietnam-style burgers – dishes designed in a creative way using materials and tastes of the two countries, together with specialties of the US agriculture, such as Washington apple, Pauly cream cheese, almond milk, soy milk, energy bars, and dried fruits and nuts such as dried blueberries, dried almonds and pistachios.
The 'American delicacies' were also served on flights on November 27, 30 and December 1 and 3.
One year ago, on November 28, 2021, the first non-stop flight to the US provided by the Vietnam's national air carrier with the Boeing 787 Dreamliner took off from HCM City to San Francisco.
The flight not only marked the success of Vietnam Airlines but also of the entire domestic aviation industry after 20 years of making efforts to satisfy the strict standards for the non-stop route between Vietnam and the US.
The Vietnam-US non-stop air route acts as a bridge that helps promote investment, trade and tourism between the two countries, and helps overseas Vietnamese to easily connect with the homeland, and affirms Vietnam airlines' capability, high quality of services, the position of the national flag air carrier and Vietnam's aviation.
Nguyen Thi Anh Hoa, director of the HCM City Tourism Department, said the air route between HCM City and San Francisco has brought great opportunities to promote tourism and trade, thus contributing to the economic development of the city as well as the country. It serves as a bridge to strengthen understanding and exchange between the two cultures, and improves the positions of HCM City and Vietnam in the region and world.
Marc E. Knapper, the US Ambassador to Vietnam, said that one of his leading purposes is promoting the connection of the people of the two countries. He praised Vietnam Airlines' capability of satisfying the US standards on aviation safety.
After one year of opening a non-stop air route, Vietnam Airlines has served 60,000 passengers and its average seat occupancy rate has been 72 percent. The carrier now provides 3-4 flights a week with next-generation wide-body aircraft.
Duy Anh