VND22trillion disbursed for socio-economic recovery, development
Deputy Prime Minister Le Minh Khai on Thursday morning told National Assembly (NA) deputies about the disbursement of support packages worth a total of VND347 trillion under the socio-economic recovery and development programme.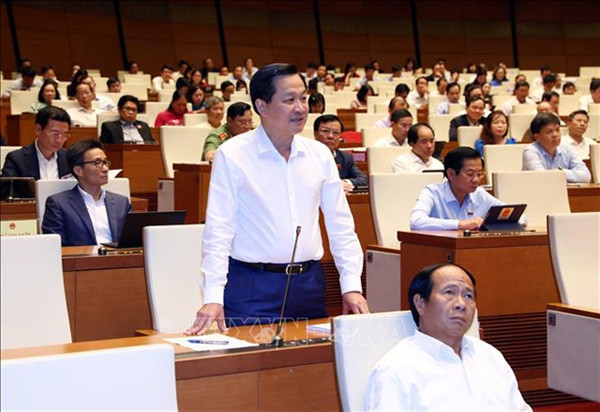 The programme is part of the key content the Politburo previously approved.
At the first Extraordinary Session of the 15th NA, Resolution 43/2022/QH15 was issued on monetary and fiscal policies to support the implementation of the programme.
Only 19 days after the NA issued the resolution, the Government issued Resolution No 11/NQ-CP on the socio-economic Recovery and Development Programme.
Khái said that the NA, the Government and its agencies worked together, organising seminars to consult experts and researchers on the programme, which then received a high consensus.
Referring to the implementation results, Khai said that in terms of policies and mechanisms, the Government and the Prime Minister, as well as the ministers, have issued 11 out of 14 planning documents.
"Developing programmes and policies are very complicated, requiring coordination between ministries and agencies. During the implementation of previous policies, there are policies that we did not do well. Many obstacles and limitations remained. In the process of policy development, the Government and ministries are also very careful because the programme offers huge financial support," he said.
Khai also said that the socio-economic recovery and development programme was a new task, not included in the long-term plan, which led to a lot of work that ministries and branches have to do.
"Up to now, we have confirmed that all documents on mechanisms and policies have been fully promulgated by the Government by the end of May," said the Deputy Prime Minister.
Regarding the implementation of support packages, Khai clarified that the total support package was VND347 trillion. Of that, VND46 trillion was used as the financial reserve fund to buy vaccines and medical equipment.
A package worth VND64 trillion is for tax exemption and reduction. The Government has issued Decree 15 to reduce VAT from February 2022, with interest rates cut from 10 to 8 per cent.
The other VND38.4 trillion is for credit policy. There are five policy programmes that have been built and up to now have disbursed VND4.586 trillion, out of VND19 trillion, for this year.
A package of VND6 trillion is to reduce the opportunity cost of tax payment reductions of VND135 trillion in the programme. The Government introduced two decrees in May on reducing special consumption tax on cars and reducing some taxes.
In addition, about VND6.6 trillion of the money is to support workers in rental housing. However, the allocation of capital and disbursement in localities is not clear, so the implementation is slow. In the coming time, the Ministry of Finance and the Ministry of Labour, Invalids and Social Affairs will continue to coordinate with localities to disburse this package as soon as possible, Khái said.
About VND176 trillion is for public investment, of which commercial banks' interest rate support is VND40 trillion.
The final package is VND134 trillion for infrastructure investment, of which investment for transportation is VND103 trillion, Khai said, adding that due to following requirements of the Law on Public Investment, this package was implemented slowly.
"Up to now, it can be said that we have basically completed the policies. We have disbursed VND22 trillion out of VND347 trillion, which is also very important proof for us to believe that the support packages will be implemented well in the coming time," Khai told the NA.
Suggestions
NA deputies on Thursday continued to discuss the implementation of socio-economic development plans for last year and the first five months of this year, proposing specific solutions for further development.
Deputy Le Minh Tri from HCM City, said that despite positive results in COVID-19 pandemic control and recovery, its impact along with the uncertainties of the world situation and geopolitical conflicts affected the domestic situation.
"People and businesses are currently facing many difficulties. Prices increased, but workers' wages did not increase, even decreased, or increased but not significantly. Enterprises have to bear high input costs to restore production and business," he said.
"Tax exemption and reduction policy are correct and timely to help curb prices and inflation as well as directly support people and businesses," he said.
"The National Assembly and the Government need to study, evaluate and supplement the tax exemption and reduction deeper than 2 per cent and extend the application period not only in the year but in two years or longer," he suggested.
Tri said that after some violations in the health sector were detected and prosecuted, the organisation of auctions, procurement of drugs, biological products and medical equipment was stalled. The cooperation and investment in new generation medical equipment between private and public sectors were also halted.
"We have the right policies but there are loopholes and mistakes during the implementation. If something is wrong, it should be corrected to ensure the quality of medical examination and treatment services," he said.
Deputy Nguyen Van Thi from Bac Giang Province said that agriculture played an important role in Vietnam's economy but the investment of the state budget and social resources in agriculture in recent years has not been commensurate with its contribution.
Moreover, farmers are currently facing many difficulties including high prices of fertiliser and animal feed while the price of agricultural products has not increased, which has greatly affected the income and life of farmers.
Thi called for policies to support agricultural and rural economic development.
Thi said that the current restructuring of the agricultural economy needs to start converting production methods from household scale, small production to cooperatives, in association with promoting attraction of businesses to invest in agriculture to form better links between farmers, cooperatives and businesses.
The Government should have more appropriate mechanisms and policies to promote collective economic development in agriculture, particularly those relate to land use, taxes, capital and technologies.
Source: Vietnam News