VND9 trillion of soft loans for realty companies
VietNamNet Bridge – The State Bank of Vietnam has issued a circular on providing low-interest loans to support the housing segment in line with Resolution 02/NQ-CP, under which as much as 30% or VND9 trillion of a credit line
VietNamNet Bridge – The State Bank of Vietnam has issued a circular on providing low-interest loans to support the housing segment in line with Resolution 02/NQ-CP, under which as much as 30% or VND9 trillion of a credit line of VND30 trillion will be set aside for local property companies at an annual rate of 6%.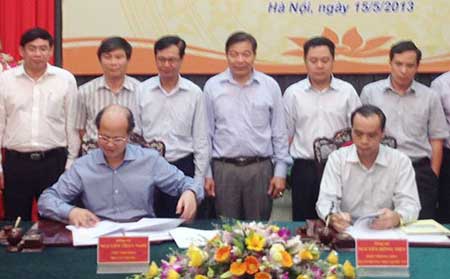 Deputy Minister of Construction Nguyen Tran Nam (L) and Nguyen Dong Tien, Deputy Governor of the State Bank of Vietnam, are seen at the signing ceremony on the issuance of the circular.
Developers of low-cost housing projects and commercial homes that are allowed for conversion into low-cost homes will be subject to the soft loans. Besides, the preferential credit will also target tenants and homebuyers of low-cost homes and commercial ones of less than 70 square meters each priced at no more than VND15 million per square meter.
Five local banks are entrusted by the central bank to join the program, namely Agribank, Vietinbank, Vietcombank, BIDV and MHB, with a preferential rate of 6% per annum effective for 2013. The central bank will revise the lending rate for the following year in December annually, which is put at 50% of the average lending rate in the banking industry but is not more than 6% per annum.
Target tenants and homebuyers will be allowed to take out loans from the program for a maximum ten years while corporate borrowers are entitled to a maximum five years.
The central bank will disburse recapitalization loans of VND30 trillion to the aforesaid lenders based on their outstanding balances to customers within a maximum 36 months from the effective date of the circular on June 1, 2013. The recapitalization rate is 1.5 percentage points lower than the lending rate that the banks offer to customers at the same time.
Although the VND30-trillion package only focuses on low-cost and commercial homes measuring no more than 70 square meters offered at below VND15 million a square meter, realty companies expect its positive impacts will spur the property market in the near future.
According to Nguyen Van Duc, deputy director of Dat Lanh Real Estate Co., the subsidized rate of 6% annually over a period of three years is so helpful in the current tough conditions, adding the preferential loans for up to ten years are unprecedented.
Sharing the same view, Le Huu Nghia, director of Le Thanh Company, said the credit aid is arranged for the low-cost home segment only but its spillover effect will save other housing segments as well as reviving the whole realty market and the building material industry.
Source: SGT