Volunteers swing into action for season of exams
VietNamNet Bridge – As more than a million students sat for the national high school exam yesterday, volunteers with the programme Give Strength During Exam Season were busy helping candidates from other provinces
VietNamNet Bridge – As more than a million students sat for the national high school exam yesterday, volunteers with the programme Give Strength During Exam Season were busy helping candidates from other provinces who came to the big cities to take the exam.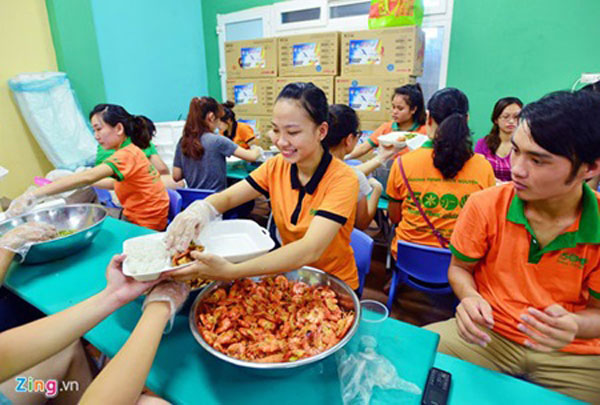 Volunteers from Com 5,000, a charity group, prepare free meals for national high school exam candidates in Ha Noi. — Photo zing.vn
Thousands of free meals were distributed at dozens of exam locations all over Ha Noi on the first day. Although these meals were small, they were full of human sentiment, which was shared with examinees from disadvantaged families.
Ha Noi charities like Com 5,000 (VND5000 Meals for Charity) and Hao Tam (Kind Heart) provided the meals.
The volunteers brought these meals to exam locations, and distributed them to examinees and their relatives.
According to the Ha Noi Youth Union, as many as 12,000 volunteers participated. Their main duty was working at the bus and train stations to receive and help candidates.
"This is the third year we've conducted the programme, which was widely supported by candidates and their parents," said Bui Quang Long, manager of the group Com 5,000.
This year the group plans to distribute about 3,000 free meals to examinees. Volunteers will also hand out water, bread and paper fans during the exam.
To prepare the meals, Long, his partners and nearly 200 volunteers bought the materials in the afternoon and then cooked them that night to make sure they didn't rot. It needed to be prepared by 7 a.m. to be shipped to exam locations.
Despite the hot weather, volunteers tried their best to make sure the meals include necessary nutrition.
About 3,200 examinees have registered to receive meals at 18 exam locations such as the University of Civil Engineering, the Trade Union University and the Water Resources University.
"I want to make a small contribution to help examinees from other provinces," said Tran Thi Thanh, a final-year student at the Ha Noi Teachers' Training College.
"I received the same help when I took the exam several years ago," she said.
The group originally planned to distribute 2,000 meals, but it decided to increase to 3,200 meals due to the high number of registered students, said Nguyen Thu Dao, the group's main chef.
He hoped the community would learn more about the group after the exam, and that more and more kind-hearted people would be willing to support the group in its other charity activities.
"Students' happiness when receiving the free meals inspired me to continue my job, despite the difficulties," Dao said.
VND5,000 Meals for Charity was launched in 2012. It is a volunteer club affiliated with the Ha Noi Youth Union. The target beneficiaries are poor patients, unemployed and working poor, and vulnerable orphans.
Taking her daughter to take part in the national high school exam, Tran Thi Dong nearly melted when she received a free meal voucher at the University of Natural Sciences' exam location. She expressed her thanks to the programme and the charities that had helped her and many poor people like her enjoy simple happiness.
"I hope my daughter passes the exam with high scores and is able to take some meaningful actions in the future," Dong said.
Dao Hong Trang, head of Kind Heart, said over the past few days she and a group of 20 volunteers had been busy calling for food donations and preparing other kitchen utensils for the cooking.
Kind Heart prepared about 400 meals and cups of lemonade every day for examinees and their relatives at the Ha Noi University of Science and Technology's exam location, she said.
"We were once examinees so we can understand the hardship of students coming to Ha Noi from other provinces," said Ngoc, a member of Kind Heart. "As such, we work together to offer free portions for them."
Deputy PM cheers on high school test-takers
Deputy Prime Minister Vu Duc Dam yesterday morning (July 1) visited a national high school exam testing centre at the Ha Noi University of Science and Technology to encourage students and parents on the first day of the exam, during which the temperature hit a blistering high of 41 degrees Celsius.
Students take the foreign language exam yesterday afternoon at the Ha Noi-based Water Resources University.
Dam said that 2015 marked the first year of the national high school exam. The test scorers should be fair and exact, and take the exams seriously.
"So, students and parents, do not worry," he said.
Due to the extremely hot weather, Dam ordered the exam's steering committee in Ha Noi to arrange medical staff available to help candidates in case of emergencies.
Dam also sent his thanks to university volunteers who supported the candidates despite the extreme heat.
The national high school exam officially started yesterday, with more than a million of candidates in 38 testing centres throughout the country. Candidates took the 180-minute mathematics test in the morning and the 90-minute foreign language test in the afternoon. The exam will last four days.
Nguyen Van Hung, a student taking the exam at Tay Bac University, said after finishing his mathematics test that he'd been told the exam follows high school curriculums very closely.
If a candidate studies carefully, he or she should be able to get at least a five or a six out of 10, Hung said.
Giang Duc Huy, who took the exam at Tay Nguyen University's testing centre, said the English test was long and difficult.
The Ministry of Education and Training yesterday published hotlines and emails to receive complaints from students and parents about the national exam.
People could make phone calls to the national high school exam's steering committee via 04.36231138, 04.36230816, and 04.36231137 or via thi-ts@moet.edu.vn, or contact with the ministry's inspectors via 04.36231285 and 01644756210 or thanhtradiaphuong@moet.edu.vn.
People could directly send their complaints to the Minister of Education and Training Pham Vu Luan via pvluan@moet.edu.vn.
Also yesterday, Minister Luan came to testing centres in the northern provinces of Thai Nguyen and Bac Giang to see how localities were handling the exam.
VNS