VSA warns of sanctions against Chinese steel
VietNamNet Bridge – Given the massive imports of steel products from China due to a zero tariff, the Vietnam Steel Association has written to the China Steel Association warning of petitioning anti-dumping duties on steel products
VietNamNet Bridge – Given the massive imports of steel products from China due to a zero tariff, the Vietnam Steel Association (VSA) has written to the China Steel Association warning of petitioning anti-dumping duties on steel products from the neighboring country.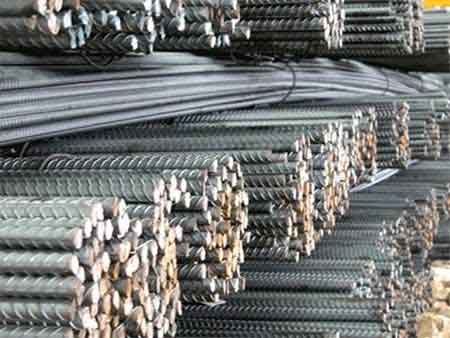 Illustrative image.
In a document sent to chairman Xu Le Jiang of the China Steel Association in the middle of this month, VSA underlined its concerns on the negative impacts of Chinese steel products on domestic production, especially cold-rolled steel coil (CRC), and boron-containing structured steel made by Chinese companies.
Pham Chi Cuong, chairman of VSA, complained in the document that Vietnam's steel industry had suffered from the hefty volume of Chinese steel imported into the country at low and unfair prices. Vietnamese steelmakers deem this as the action of dumping by Chinese steel suppliers, he insisted.
VSA therefore asked the China Steel Association to supervise and take necessary actions to tackle the problem. "Otherwise, affected Vietnamese steelmakers will propose measures to cope with the consequences such as self-defense policy or anti-dumping actions against Chinese enterprises," VSA said in the document.
In fact, the problem that Chinese construction steel products containing boron alloy has sparked outcries over trade fraudulence in Vietnam since 2009. At that time, taking advantage of the loopholes in regulations that allow alloy steel imports to enjoy a preferential tax rate of 0%, Chinese steelmakers have added boron to construction steel to dodge the higher tax on other ordinary steel products.
Given such trade fraudulences, the Ministry of Finance then revised the import tariff on hot rolled-alloy steel bars and rods for construction up to 10% from the previous level of 0%. Besides, construction steel products mixed with boron alloy have been classified as items subject to an import tax rate of 10% since 2012.
However, Chinese suppliers in making customs declarations have self-classified their products as steel for purposes other than construction to continue enjoy the 0% tariff, while in fact such products after entering the country are solely used for construction projects.
Boron-containing steel volume imported from China made up over 12% of total construction steel sale volume in the country as of July 31, at more than 350,000 tons compared to 427,000 tons for the whole year of 2012, according to the General Department of Customs.
Supposed that some 70% of such imported steel is used for construction, the Government lost a tax revenue of some VND420 billion in this year's January-July, exclusive of corporate income taxes and VAT. On top of that, along with the current oversupply at home, the unreasonable preferential tax rate on Chinese steel imports has further thrown local steelmakers into difficulties.
Source: SGT