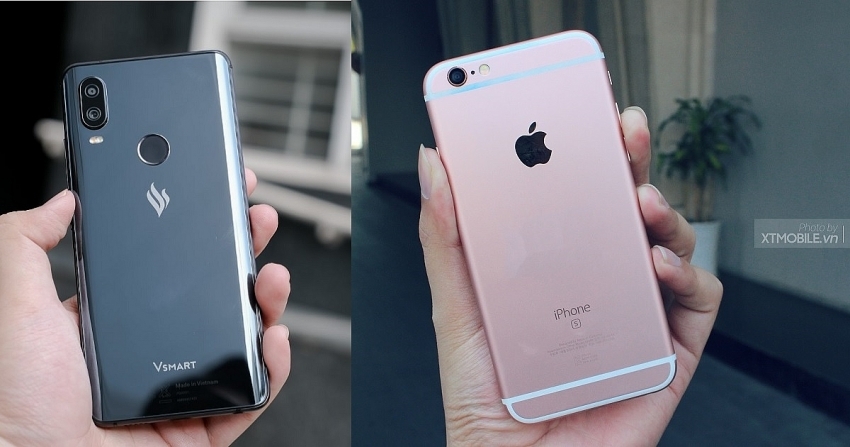 Vsmart surpassed Apple in sales through traditional retail channels. Photo: XTMobile
According to the latest statistics from GfK, Germany's largest market research institute and the fourth-largest market research organisation in the world, in January 2020, Vsmart brand of billionaire Pham Nhat Vuong held a 7.7 per cent share of the smartphone market in the traditional retail segment. Meanwhile, Apple held 6.5 per cent.
With this result, Vsmart ranked fourth in sales in this retail channel in Vietnam in January, followed by Apple. The top three positions belong to Samsung, Oppo, and Vivo.
In the traditional retail channel, Vsmart's market share has been continuously increasing by 5.8, 6.6, and 7.7 per cent in the three months since last November. In January, Vsmart sold 107,498 smartphones, while Apple sold 90,745 iPhones in Vietnam in the traditional retail channels.
Although its sales have been relatively stable in the traditional retail channel, Apple has a large market share in the online sales channel. The firm accounts for 15.7 per cent in non-traditional retail channels in Vietnam, only ranking behind Samsung. Meanwhile, Vsmart holds a 7.8 per cent market share in this channel.
The total number of smartphone devices sold via the online channel in Vietnam in January was only 226,705 compared to the 1,396,072 sold through the traditional retail channels. However, by holding the second-largest market share in this channel, Apple has surpassed Vsmart in total sales by a slight margin.
Altogether, in January, Vsmart sold 125,181 smartphones and Apple sold 126,338 or 1,157 fewer devices.
According to an industry expert, Vsmart had good sales thanks to a half-price promotion programme for Vsmart Live a few months ago, then a VND2 million ($86.95) discount for the new Vsmart Active 3.
If Vsmart can participate in the upcoming project to popularise smartphones among the Vietnamese populace by the Ministry of Information and Communications, its market share will continue to increase sharply, the analyst said. However, with continuous discounts, Vsmart seems more set on increasing its market share rather than maximise profit.
According to GfK data, apart from Samsung and Oppo, which are firmly holding the first and second positions in the smartphone market, Apple's third position is under siege by rivals Xiaomi, Realme, Vivo, and Vsmart. The market share of these brands is relatively even, lagging quite far behind the second position, Oppo. VIR
Dang Duong

Samsung Electronics Co. on March 6 said it will temporarily move some of its smartphone production to Vietnam, after shutting down a local factory following a positive coronavirus test there, according to Yonhap.

Vietnam is planning to sell smartphones costing just VND500,000 (US20) under a smartphone universalisation programme, Minister of Information and Communications Nguyen Manh Hung said.