A war-time tunnel has been discovered in a garden in Binh Giang Commune in the central province of Quang Nam's Thang Binh District.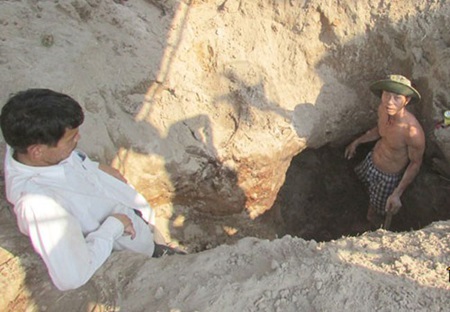 Chairman of the commune's People's Committee, Nguyen Van Anh, told Viet Nam News yesterday the tunnel was built during the resistance against French colonialists.
It was discovered when a villager dug up a bamboo root in his garden on Thursday.
"The tunnel was built by villagers during the early period of the French war in 1947. It sheltered guerrillas and protected militia from raids by the French, and then the US Army in the late 1960s," Anh said.
"The 6km-long tunnel, which leads to a secret exit beside the Truong Giang River, was a safe shelter for Vietnamese forces for years," he said.
He said the excavation of the entrance was delayed until the area was checked for landmines and bombs.
According to the communal administration, the tunnel was discovered by Sai Gon regime troops in a raid in February, 1965. It was then blown up with explosives and grenades.
The chairman said the tunnel, which served as a shelter, logistics and military command base, was where heroine Truong Thi Xang died in 1965.
He said Xang, who was born in 1947, went down the tunnel to advise nearly 300 revolutionary officials hiding during a raid by Sai Gon troops.
He said the woman was shot dead as she came out from the tunnel after helping the troops escape. She was declared an Armed Forces heroine for her sacrifice.
Anh said villagers had decided to seek for aid to restore the tunnel as a war museum of war and historical relic.
In 1997, the 32km Ky Anh tunnel in the province was restored as a national historic relic and a tourist destination.
Tunnel networks in Quang Nam and Quang Tri provinces, and the Cu Chi tunnel in suburban HCM City, played an important role in the war against the Americans between 1965-72.
VNS