Warning for VN stocks after new infection reports

The Vietnamese stock market would struggle to hold on to its threshold as analysts are afraid the market sentiment could worsen after new coronavirus-infected cases were reported over the weekend.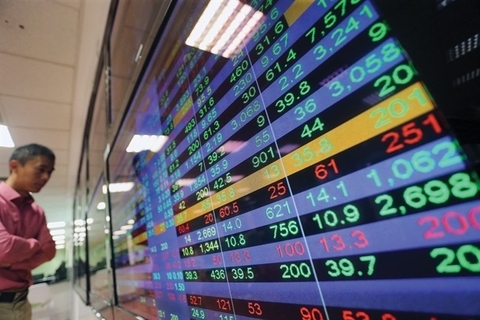 An investor watches share prices on a screen at Saigon Securities Inc. The benchmark VN-Index on the Ho Chi Minh Stock Exchange gained a total of 1.05 per cent last week.
The benchmark VN-Index on the Ho Chi Minh Stock Exchange gained a total of 1.05 per cent to end last week at 891.44 points.
The HNX-Index on the Ha Noi Stock Exchange jumped nearly 4.03 per cent during the week to end at 113.66 points.
The market grew strongly as investors aimed to pick up the stocks that had dropped sharply since the market returned from Tet holiday on January 30.
Prior to last week, the VN-Index had lost a total of more than 11 per cent while the HNX-Index had gained a total of 3.10 per cent.
Fears about the coronavirus, named COVID-19, and its impact on the global economy dampened investors' confidence in risky assets such as stocks.
Investors around the globe tried to offload their ownership in listed companies and looked for shelter in safe havens such as gold and government bonds.
But the decline of local markets brought Vietnamese shares back down to cheaper levels and encouraged investors to start buying.
According to analysts, the average price-to-earnings per share (P/E) ratio among Vietnamese shares has fallen to 13x from more than 16x recorded before Tet.
The 13x ratio is equal to the ratio recorded in 2016 when the VN-Index was around 600 points.
That means Vietnamese shares have got cheaper than they were before the national holiday and that lured investors back last week.
Analyst Nguyen Huu Binh told tinnhanhchungkhoan.vn that local stocks had been pushed down to their low levels.
"This is a real big chance for investors with a taste for long-term holding," he said.
But last week recovery may be disrupted and short-lived as Viet Nam over the weekend reported new COVID-19 infected cases.
The Ministry of Health on Sunday reported nine more cases, raising the total number of virus infections to 30, after the number had stood at 16 for two weeks.
Nguyen Trung Du, director of investment department at VNDirect Securities Corp, said the worldwide developments of the coronavirus would still weigh on the market sentiment.
"The market sentiment would be unpredictable in the coming week after latest case updates," he said.
"It's difficult to count on a strong rebound for local stocks at the moment. We would be lucky if the market would just go sideways or avoid a dive in the coming days."
Analyst Binh said the latest update of infection cases might make the market move in a negative channel this week.
"People panicked after the number of new cases was updated. Investors' confidence would be hit hard and they could only calm down if positive news is released," the analyst said.
Smaller stocks targeted
Small-cap and mid-cap stocks have gained strongly in recent weeks while large-caps are being weighed down by strong selling.
When the market goes negative and opportunities fade in the large-caps, investors tend to turn attention to smaller stocks, which has been normal for the last few years, analyst Du at VNDirect Securities said.
"It could be risky for the market as a positive market would be made of blue chips, in which institutional investors are present and their investment decisions would give directions for the whole market," he said.
Phan Dung Khanh, director of investment department at Maybank Kim Eng Securities Co, said it is normal for small-cap stocks to have comparatively strong growth compared to large-caps.
"If the market conditions turn bad, investors would look into other investment channels. If they still stay on the stock market, penny stocks would be targeted for low prices and they are suitable for quick trade," he said. 
Vietnamese shares plunge on mounting investor fears
 
The VN-Index on the Ho Chi Minh Stock Exchange plummeted 5.79 per cent to close the morning trade at 839.85 points. Photo cafef.vn
Vietnamese shares plunged on Monday morning, in line with the global downturn, as the spread of the novel coronavirus (COVID-19) worsened around the world outside China, sending investors to safe-haven assets like gold.
The VN-Index on the Ho Chi Minh Stock Exchange plummeted 5.79 per cent to close the morning trade at 839.85 points.
On the Ha Noi Stock Exchange, the HNX-Index gave up 6.12 per cent to 106.69 points.
Across Asia, major stock indices also witnessed a crash with Japan's Nikkei losing 5.7 per cent, South Korea's Kospi down more than 4 per cent, China's Hang Seng down 3.5 per cent and Australia's S&P/ASX plunging more than 6 per cent.
Nearly 110,000 people have been diagnosed with the virus, with the number of deaths topping more than 3,800 globally. The number of infected people in Viet Nam also increased to 30 yesterday, rattling nerves of investors.
All 30 largest shares by market value and liquidity on the Ho Chi Minh Stock Exchange lost value, 12 of them dropped by the daily maximum of 7 per cent.
Oil prices nose-dived 30 per cent on Monday after the collapse of OPEC's supply cut agreement with Russia also weighing on local shares of energy companies.
PV Gas, PetroVietnam Drilling & Wells Service (PVD) and Petrolimex all lost 7 per cent while PV Power slipped 6.8 per cent.
Liquidity remained good with 278 million shares worth VND5 trillion (US$214.6 million) being traded in the two markets in the morning.
Meanwhile, prices of gold continued to be high, around VND46.8 million and VND47.5 million ($2,008-2,039) per tael this morning.
The afternoon trade starts at 1pm. — VNS

Margin lending may be allowed on the Unlisted Pubic Company Market (UPCoM), the State Securities Commission (SSC) vice chairman Pham Hong Son said on Wednesday.  

Loo roll has become the top "panic buy" item in several countries after coronavirus fears.