We cannot paper over our feeble research efforts
VietNamNet Bridge – Last month, a farmer in southern Phu Yen Province surprised everyone with the successful demonstration of a machine he designed and made for sugarcane cultivation.
VietNamNet Bridge – Last month, a farmer in southern Phu Yen Province surprised everyone with the successful demonstration of a machine he designed and made for sugarcane cultivation.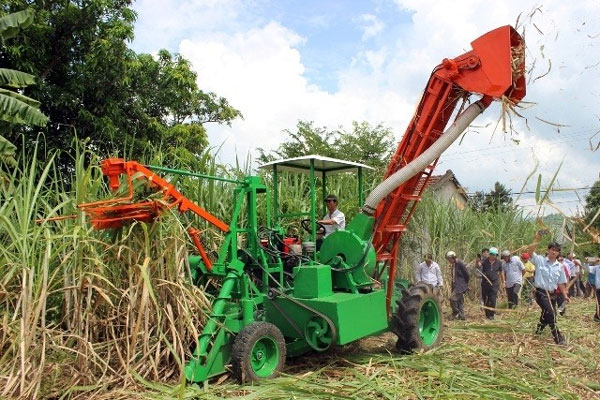 Last month, a farmer in southern Phu Yen Province surprised everyone with the successful demonstration of a machine he designed and made for sugarcane cultivation. — Photo nhandan.com.vn
The machine turns the soil, digs furrows and throws soil back after the sugarcane is planted. It works with a driver sitting in front and two people sitting behind to place the sugarcanes cuttings in the soil.
Phi Anh De, 40, a mechanic in the central coastal province's Son Nguyen Commune, is a school dropout. His academic pursuit stopped after primary school. However, this has not prevented him from fashioning several machines that can considerably ease a farmer's workload and make farming more efficient.
De's new machine made headlines in Viet Nam shortly after the Web of Science, a multidisciplinary research platform which enables simultaneous cross-research of a range of citation indexes and databases, announced that over 15,000 papers by Vietnamese scholars have been published in international journals over the last five years.
While this marks an annual increase of 17 per cent, Viet Nam has been left behind by neighbouring countries in terms of both quantity and quality. The number of internationally published papers equal one third of Thailand, a quarter of Malaysia, one fifth of Singapore, and twenty five times less than South Korea. Việt Nam's population is seventeen times that of Singapore, three times that of Malaysia, and almost one and a half times Thailand.
According to a study by Scientometrics for Viet Nam (S4VN), a project that provides information on scientific research results by Vietnamese universities and science research units, the rate of Vietnamese scientific papers published in Q1 journals (leading journals in the ISI system) dropped from 41 per cent in 2010 to 38 per cent in 2015.
This means that despite the increase in the number of papers published in international ISI publications, a larger percentage is in the "second class" category.
In effect, it also means that an "uneducated" farmer-mechanic like De is putting one over the nation's 9,000 or so professors and associate professors, 24,000 PhD holders and more than 100,000 Masters degree holders.
Also around this time, a group of independent researchers announced their findings after spending three years collecting data and conducting a ranking of 49 universities in Viet Nam. The results shocked many and stirred up a controversy among educators over the study's credibility.
For instance, Hue University was ranked third in the quality of training although its College of Education had very low admissions standards this year. It was accepting high school students with just 12.75 marks out of 30 (42.5 per cent). The Ha Noi University of Technology has advanced facilities, but it was ranked 25, far below other institutions generally seen as much less developed.
The authors of the ranking, however, clarified that their weighting was based on three criteria: 40 per cent for research performance, 40 per cent for quality of training and 20 per cent for institutional facilities and governance.
The first criteria was quantitatively measured (number of ISI-indexed articles per year), impact (number of citations) and productivity (percentage of published papers per faculty member).
This ranking might be surprising and new to many people in Viet Nam, because these have been, for the most part, implicitly based on their attractiveness to students. And this attractiveness could sometimes be distorted and non-scientific. Students might choose a university because they feel it is easier to get a job after graduation.
The fact is that Vietnamese students rarely base their search on a university's scientific research background. They do not ask if a university has done any research that has been applied successfully in production and contributed significantly to the country, to people's livelihoods.
This lack of interest in scientific research could a major reason behind Viet Nam lagging behind other neighbouring countries in terms of getting papers published in leading international journals. Hence this new ranking method is important.
Viet Nam is on its way to becoming a more developed country that is more integrated into the global economy. One of the most important factors in sustaining or fostering this development is the sci-tech progress we make. We must remember that scientific publications bring the most up-to-date information on many subjects to scientists, researchers, and society as a whole.
There is global consensus that higher education has to create new knowledge through research and technological development, transfer the knowledge to the next generation through teaching and training, and arouse passion for creativity, professionalism and civic responsibility in the learner.
In order that a university does not become "just another high school", research has to be one of its most important tasks.
In an interview in May this year, Deputy Minister of Education and Training Bùi Văn Ga admitted that professors in universities have to focus too much on lecturing and less on scientific research, which means universities' leaders have not paid enough attention to research and development. He also said that investment in science and technology was still limited, which meant universities lack labs, equipment and links with enterprises.
It is time Viet Nam thinks more seriously about improving the scientific temperament in the country.
China has been investing billions of dollars in education since the 1990s, especially higher education and scientific research. South Korea has its Brain Korea 21 programme, which is a human resource development initiative of the government. The objective of BK21 is to produce the next generation of world class leaders in many fields by upgrading research infrastructure and quality. Taiwan, has the "Development Plan for World Class Universities and Research Centres."
These countries have also adopted measures to internationalise human resources in scientific research, re-organised university operations and issued policies supporting research and researchers.
Viet Nam can no longer afford to be left behind. We need to give much greater priority into improving the quality of higher education in the country – and the bedrock of this effort, which fosters innovation, a word that is constantly on our leaders' lips, is quality research.
Genius is 1 per cent inspiration, 99 per cent perspiration, goes the famous quote. No need to sweat this, as far as national development is concerned – that perspiration is scientific research.
Thu Van
VNS