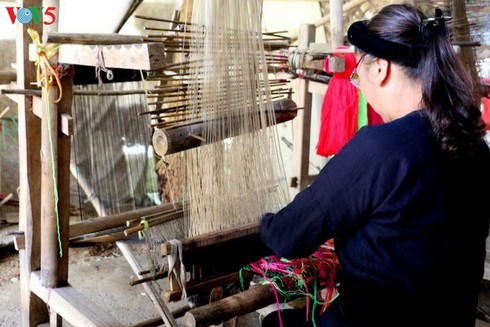 The loom of the Tay people is made entirely of natural bamboo.
They are well-known for their colorful patterns which have been passed from generation to generation. The craft is most active in Phu Ngoc commune, Ha Quang district.
Luong Noi is the only village in Ha Quang district that has preserved its ancient weaving techniques and tools. There are 30 looms still being used in the village, which is located inside the Non Nuoc Cao Bang UNESCO Global Geopark.
Hoang Thi Nhuan, a researcher of Cao Bang folk culture, said "Luong Noi villagers began weaving brocades about 500 years ago. Their products quickly became famous. In the old days, they grew the cotton themselves."
Traditional skills include spinning yarn, framing, creating patterns, and weaving fabric, all of which require patience, meticulousness, and creativity. Each pattern is a combination of dark, bright, warm, and cool colors placed harmoniously against an opalescent background, making the Tay brocades distinct from those of other ethnic minority groups.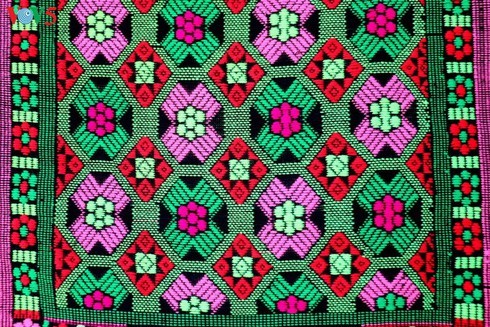 Artisan Nong Thi Thuoc. 
"The Color scheme is very important in weaving brocades. There are embossed patterns in vivid colors which stand out against submerged patterns representing the earth. The colorful embossed patterns symbolize all the things on earth. That's the way the Tay people perceive the universe," said researcher Nhuan.
There are 20 different patterns in the Tay brocades, including plum blossoms, peach blossoms, apricot blossoms, rare wild flowers, and animals, such as deer, horses, and birds.   
"Our ancestors initially grew cotton to weave clothes. Then they made blankets, mosquito nets, pillows, and mattresses. The patterns have evolved. While working in the field, we think about creating new flower patterns – how the threads should be arranged and how many threads and colors should be used," artisan Nong Thi Thuoc of Luong Noi village told VOV.
The Tay women weave brocade to make blankets, slings, bed wraps, and traditional costumes. The looms are built entirely of natural bamboo by the Tay themselves. The artisans design brocade patterns in their head without writing anything down, according to artisan Thuoc.
"Each weaver needs to think of the number of threads and colors needed to produce the desired patterns. Some patterns need 20 bamboo sticks to create a frame. Others might need as many as 100," she said.
"Traditionally, the flower pattern of the Tay people had 8 petals. Now the design has changed to meet different modern tastes. But no matter how much the brocade products have evolved, they still reflect the Tay culture," said researcher Nhuan. VOV5