Welcoming the year of digital data for Vietnam
In 2022, the government assigned more important functions and tasks in digital transformation, government, economy, society, technology, and electronic transactions to the Ministry of Information and Communications.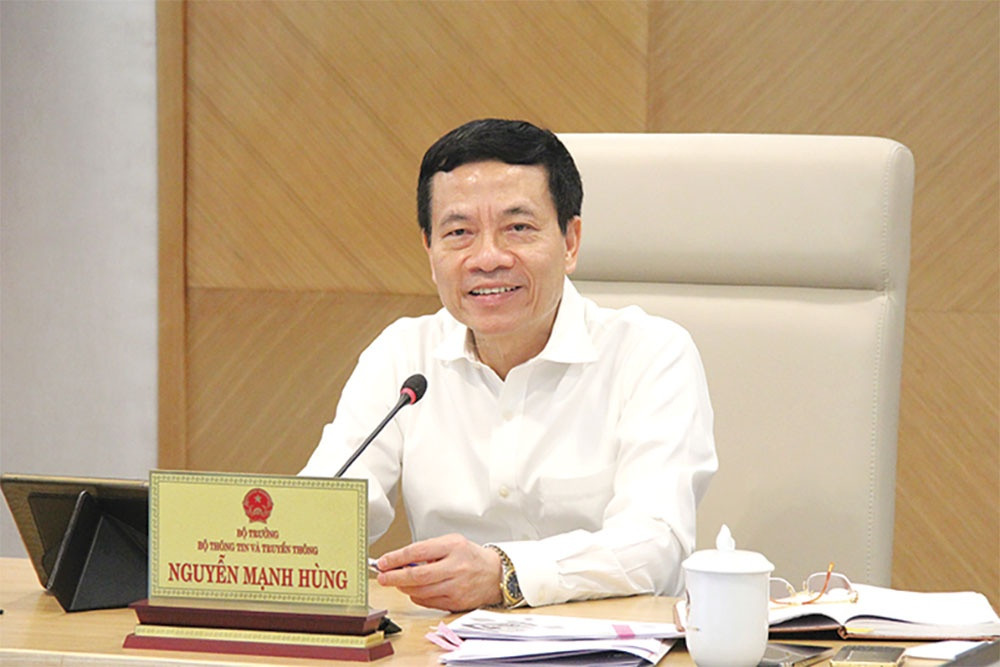 Mr. Nguyen Manh Hung - Minister of Information and Communications.
The resolution of the sixth Plenum of the 13th Party Central Committee has officially considered digital transformation as a breakthrough new development method to help accelerate industrialisation and modernisation.
Many industry laws have been amended in this term, such as those on radio frequency, e-transactions, telecommunications, and digital technology.
We also issued several decrees about managing cross-border platforms in the spirit of Vietnamese rules. Domestic and foreign businesses in Vietnam are now managed the same, removing reverse protection where domestic enterprises were tightly controlled, and foreign enterprises were treated loosely.
In 2022, the ministry focused on building a national strategy for each industry and sector. Some have been approved for issuance by the prime minister, while the rest are in the final stage of completion.
The year saw total progress in digital transformation, which has become comprehensive, with all ministries, sectors, and localities issuing resolutions and related programmes.
In Vietnam, transactions on connection and data sharing have increased nearly 5-fold. Community digital technology groups in villages have been established and put into operation.
Last year, Vietnamese digital tech businesses also strongly ventured into the international market. They made business and investments in digital transformation in developed countries like the United States and Japan.
Overseas revenue in telecoms for Viettel reached $3 billion, while FPT's IT and digital transformation revenues reached around $1 billion. Without expanding in the overseas market, it is hard for Vietnam to become a developed country with a high income.
In November 2022, we held, for the first time, a national conference on policy communication to emphasise the role of policy and media, and especially changing media perception. The prime minister has sent out a message that the media is a function of the government, and all levels that need to organise the apparatus and have a budget dedicated to the media.
Substantial results will be in focus in 2023 and it will be a year of digital data. This is to protect individual data; build databases of ministries, agencies, and localities; open data connectivity and sharing; and data security.
The Ministry of Information and Communications will take the lead on this data year, creating fundamental changes, generating data, and tapping into it to create new values that make a fundamental difference in digital transformation.
It will also be a year of implementing strategies. The ministry will issue guidelines for them, make assessments, and announce indicators for the new strategies. So far, there has been a lack of clear strategy and guidance. In the past, new strategies have been designed but locked in a drawer and forgotten about.
In 2023, the ministry will focus on substantial results. Specifically, in terms of the post industry, it will assess and control the quality of services. Regarding telecommunications, it will be a year for the commercialisation of 5G.
Regarding online public services, the focus will be on increasing the percentage of cases actually processed online. In digital transformation, increasing the number of accounts using Vietnamese digital platforms to at least 50 per cent.
After years of standstill in international cooperation activities due to the pandemic, the ministry will launch campaigns to support Vietnamese digital tech businesses doing business abroad or planning to bring Vietnamese knowledge and technology to international markets.
Our telecommunications, IT, and digital technology have many stories to tell. Going international is also a way to compete with the best companies. We can only be excellent when we have excellent opponents and realise them.
The next 10 years and beyond will see important transitions from IT to digital tech, from IT application to digital transformation, and from individual software to digital platforms. Technology has become the basic productive force, talent the basic resource, and innovation the basic driving force.
The three factors of technology, talent, and innovation are absolutely decisive for the fields of IT and digital technology. Vietnam must open its wings to fly, and make strong movements in digital tech for a year of strong and ever prosperous development.
Nguyen Manh Hung
Source: VIR